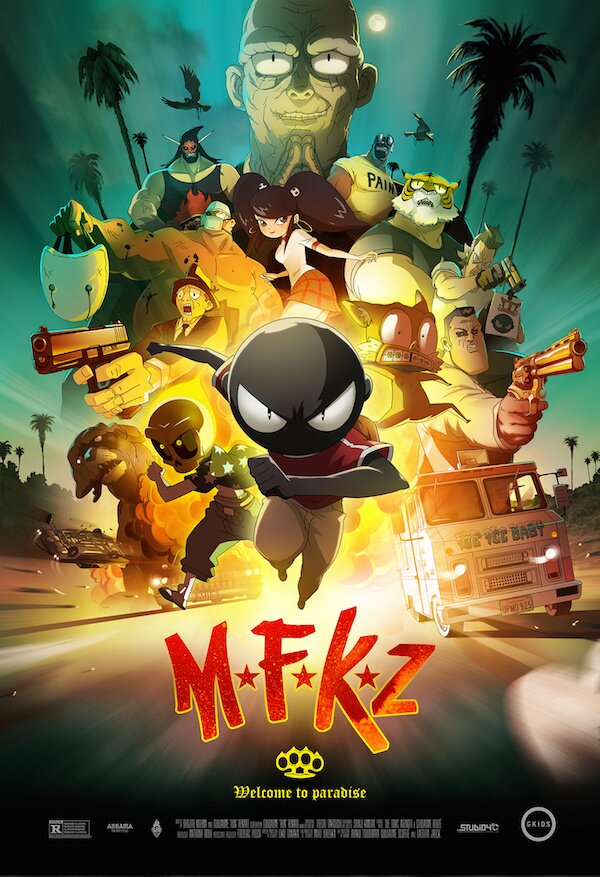 MFKZ Ticket & Merch set Giveaway!
COMING TO THEATERS October 11 & 16
ABOUT THE MOVIE

Genre-mashup MFKZ is the collaboration of French comic artist Guillaume "Run" Renard and ultra-hip Japanese animation house Studio 4°C, creators of Tekkonkinkreet, Genius Party and Mind Game. The Tekkonkinkreet dream team of Shojiro Nishimi and art director Shinji Kimura reunite to bring to life a dark but stunningly animated sci-fi vision that mixes anime, film noir, and Lucha Libre in an orgy of video game-inspired mayhem. The film centers on young Angelino and his skull-and-flame pal Vinz, who live in a seedy tenement in an LA-inspired dystopian metropolis – a burnt-out, gang and cockroach-ridden neo-urban hell. Following a scooter accident Angelino starts experiencing migraines and strange hallucinations, as well as fits of rage-inspired superpowers, as he slowly awakens to the truth of his origins: he is half-human and half-Macho, a supernatural alien race that is bent on taking over the planet.

🎁 GIVEAWAY 🎁
We're giving away 10 ticket and merch to 5 lucky winners!
Entry deadline: September 30, 2018, 11:59 PM (PDT)
You must reside in the US to enter.
You may only enter once; multiple entries will be deemed invalid.
After the entry deadline, winners will be contacted and asked for their preferred movie showing time and theater.
Only winners will be contacted.
You've reached the max order limit for this product.
No more can be added to your cart.