Follow
Following
Follow This Label
You'll receive email updates on new products with this label.
Formed in 2005 by voice actor Kisho Taniyama and guitarist Masaaki Iizuka, Granrodeo (or KISHOW+e-ZUKA) is a Japanese rock band specializing in anime soundtracks. As of 2016, they have published six studio albums under the aegis of Lantis (some under the label Glory Heaven): Ride on the Edge, Instinct, Brush the Scar Lemon, Supernova Crack Star Flash, and Karma to Labyrinth. They also created the soundtracks for popular anime including Kuroko's Basketball, Blassreiter, Togainu no Chi, and Code:Breaker, as well as participated in compilation albums for Muv-Luv and Gundam among others.
They have three best-of albums and 23 singles to date including "Punky Funky Love," "Rose Hip-Bullet," "Modern Strange Cowboy," "Ai no Warrior," and "Infinite Love" with "Trash Candy," the opening theme for Bungo Stray Dogs, coming out later in 2016. They often collaborate with bassist Ikuo (Bull Zeichen 88, Lapis Lazuli, Abingdon Boys School, and Minami Kuribayashi) and share an album with FLOW titled 7-seven-.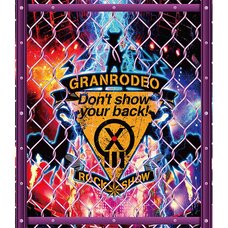 GRANRODEO Live 2018 G13 ROCK☆SHOW Don't Show Your Back! Blu-ray
Special Order