Puella Magi Madoka Magica the Movie: Rebellion Mami Tomoe (Bath Towel Ver.) 1/8 Scale Figure
Mami's unforgettable bath scene recreated in figure form!
©Magica Quartet/Aniplex, Madoka Movie Project
Product Name: Puella Magi Madoka Magica the Movie: Rebellion Mami Tomoe (Bath Towel Ver.) 1/8 Scale Figure

Series: Puella Magi Madoka Magica the Movie: Rebellion
Manufacturer: Aniplex+
Sculptor: Tokunaga Hirohan
Specifications: Painted, 1/8th scale, nnon-articulated figure with stand
Recommended Age: 13+
Dimensions (approx.): 190.5 x 101.6 x 101.6 mm | 7.5" x 4" x 4" (with stand)

Notice:
Order Limit: 3 per person
TOM Points cannot be used on orders containing this item.
Enjoy this exclusive 1/8th scale figure of Mami Tomoe from Puella Magi Madoka Magica the Movie: Rebellion from Aniplex+! With this item, fans can relive the unforgettable bath scene before Mami heads out to fight the Nightmare. Here, Mami's feminine personality shines as she steps onto a bath mat covered only by a towel. The soft lines of the towel reveal Mami's curves, while the cutie's gentle and demure expression is sure to break some hearts! Recreate the magical charm of Puella Magi Madoka Magica with this special figure!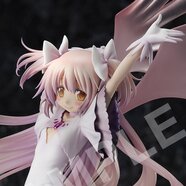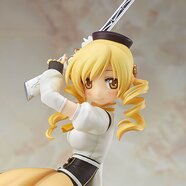 ---
Your Recommended Products
---
---
Product Review
1 out of 1 people found this review to be helpful.
I purchased Mami as a gift for a friend this past winter. I was surprised with the quality as soon as I saw her. Aniplex figures usually are some of the best quality ones but even so, the actual figure looks even nicer then the display one. Perfect for any fans of PMMM
Anybody who is a fan of Ms. Tomoe should definitely buy this figure.
It's hard to tell from the pictures, but the towel is more pink than is shown. It also has a more "Cloth" look to it. Instead of being smooth it has a "rough" texture making it more realistic. They also did a good job with other small details such as painting her toenails.
This figure is gorgeous! The shading and texture on the towel make it look just like a real towel. Mami's hair is sculpted and painted wonderfully and her facial expression reflects her gentle and caring nature.
No disappointment here. Again remarkable craftsmanship and shipping time/care.
The figure is fine as it is. What I don't understand is how she drop her price ?
adorable figure, you pretty much get what you paid for. I'd recommend it for anyone who adores mami as much as I do!
the quaility of the figure is ok.
---