Thank you very much for your tremendous support and constructive feedback towards the Holo Wedding Dress Ver. Project!
Together with the sculptor and production staff, we have carefully reviewed all the comments and feedback we received from the fans. Based on your feedback, we have updated the figure through fine adjustments made to the parts, the depths of the carved details, and in other aspects as well. We're very happy to say that the Holo figure looks more adorable than ever!
We didn't create this figure on our own, though. It's the result of your passion towards Holo and the Spice and Wolf series! We sincerely hope that you will absolutely love the final version!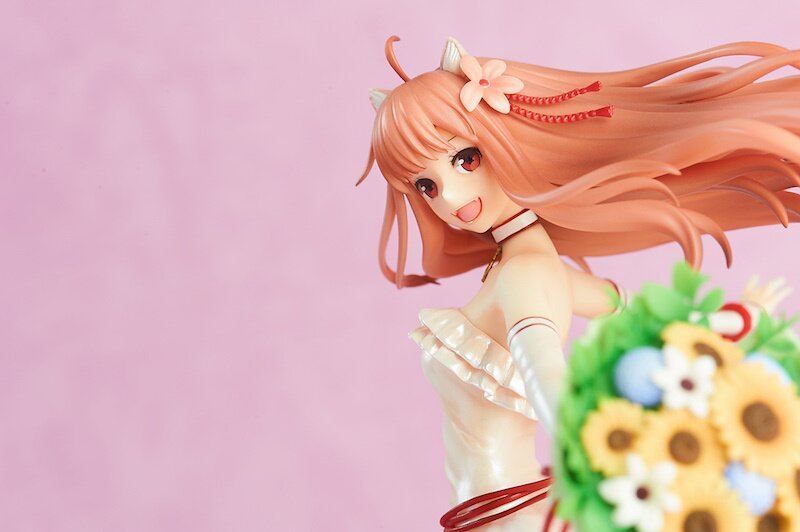 The Holo Wedding Dress Ver. figure is based on the dazzling image of Holo in her wedding dress that was featured on the cover of the Spice & Wolf Illustrations Art Book by Ayakura Jyuu. Her hair and the fabric of her skirt are carried by the breeze, giving her a refreshing look.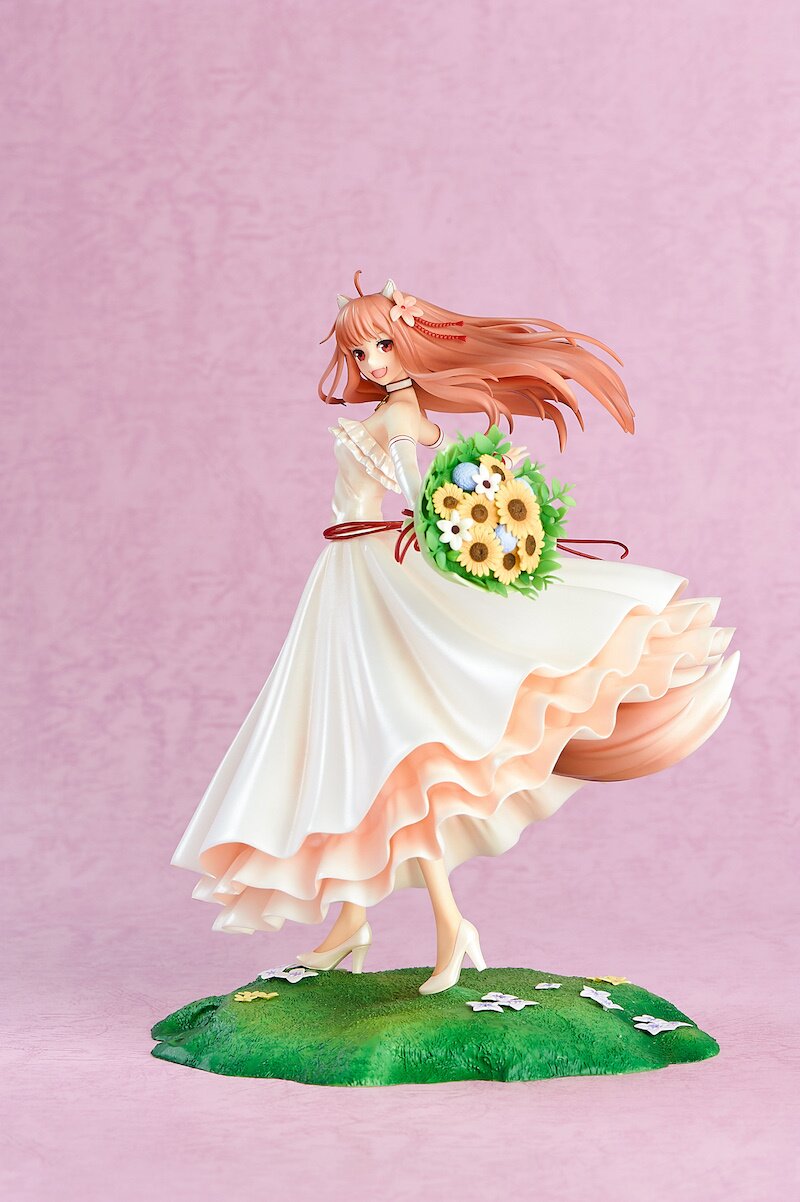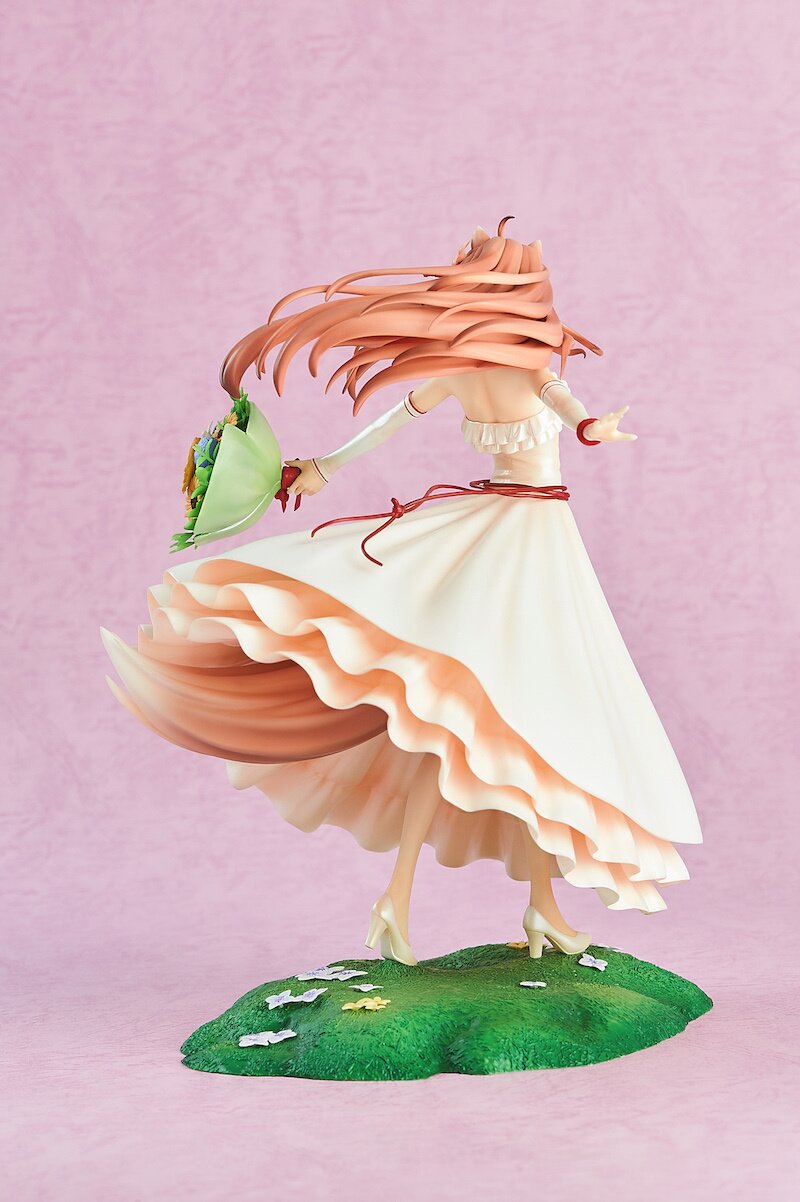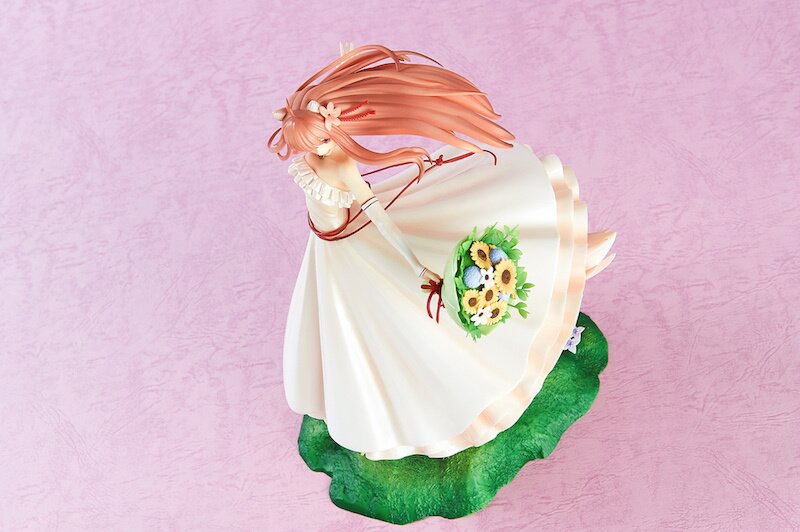 The following changes have been made to the Holo Wedding Dress Ver. Sample Figure revealed in February 2017:


Enhanced sense of movement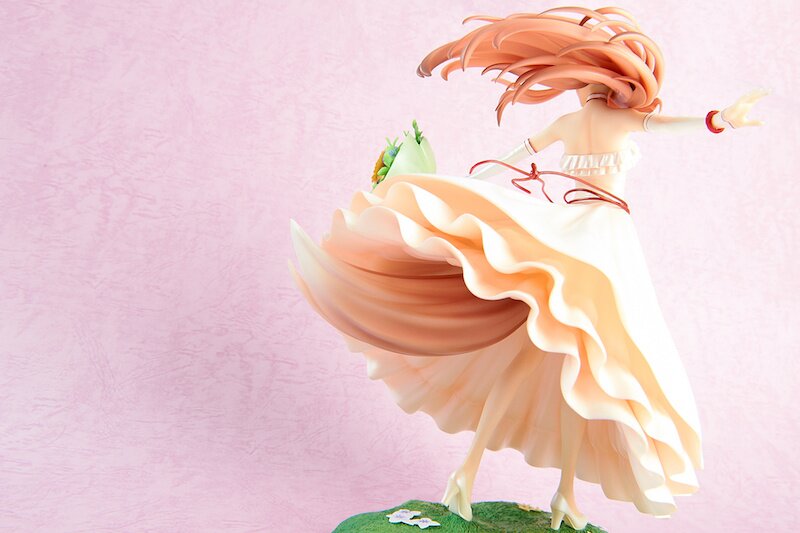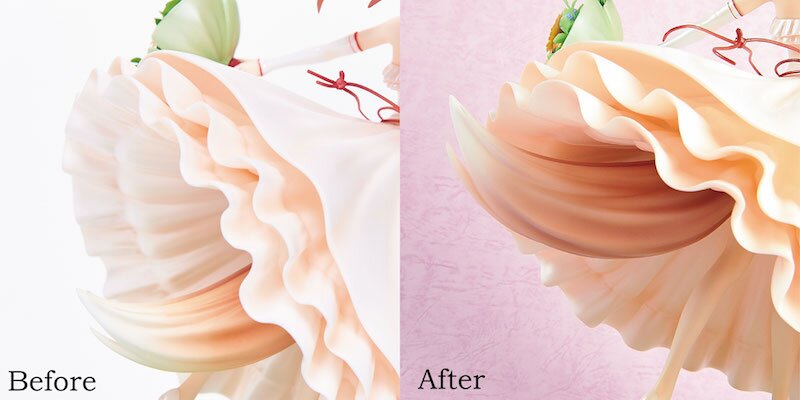 Because Holo's tail embodies her colorful personality, we adjusted its angle to highlight its spirit and vitality.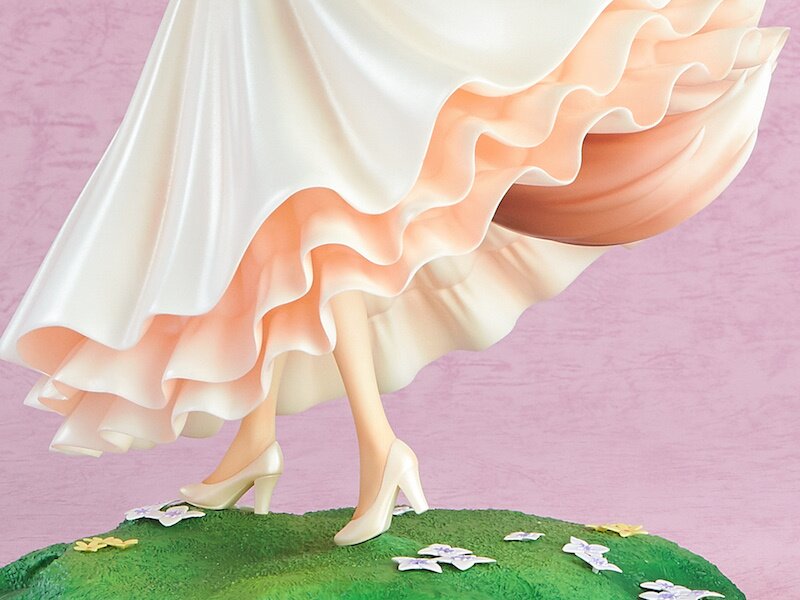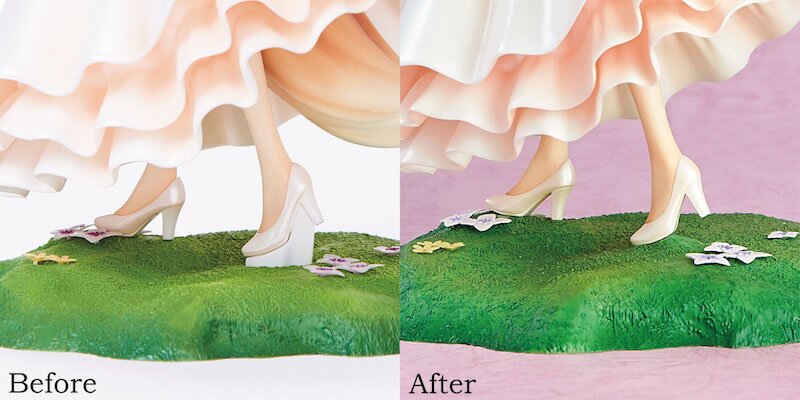 Furthermore, we removed the supporting base under her shoe to maintain the overall image of the figure. To present the world of Spice and Wolf in a natural and simple fashion, we removed as many potential distractions as we possibly could.
Further refined details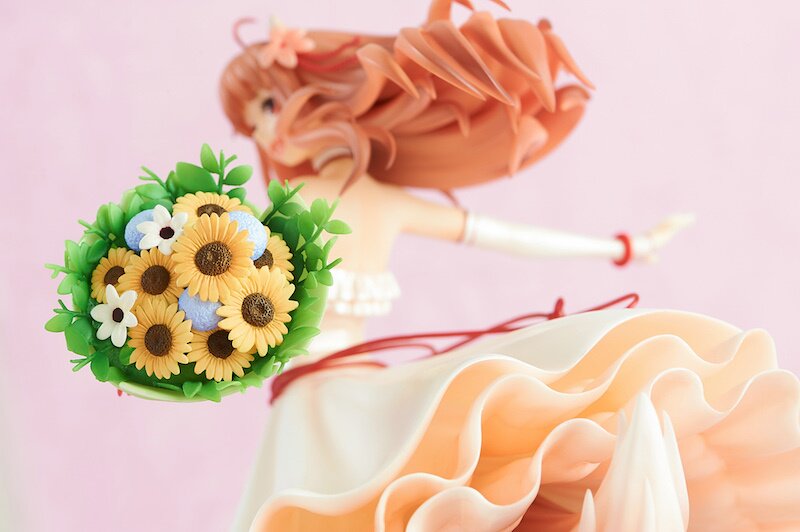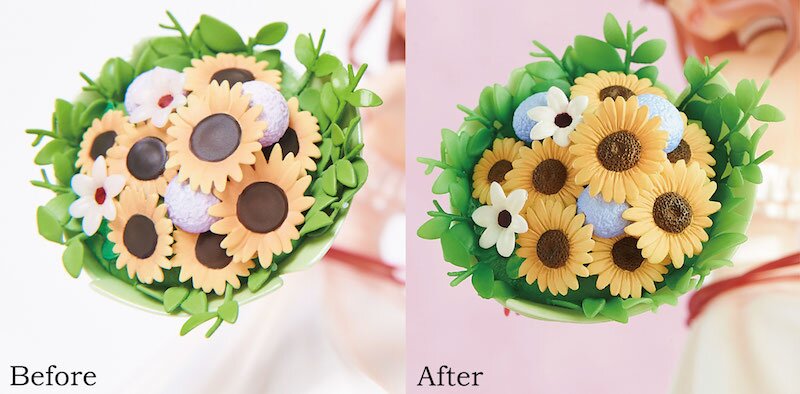 The bouquet shown with the figure during Wonder Festival has been upgraded with fine adjustments and details, giving it a sharper and much more realistic appearance.
Improved resemblance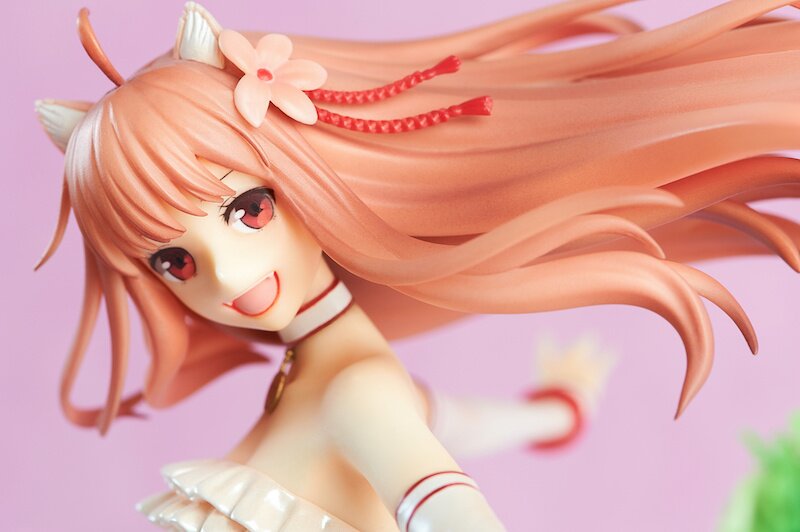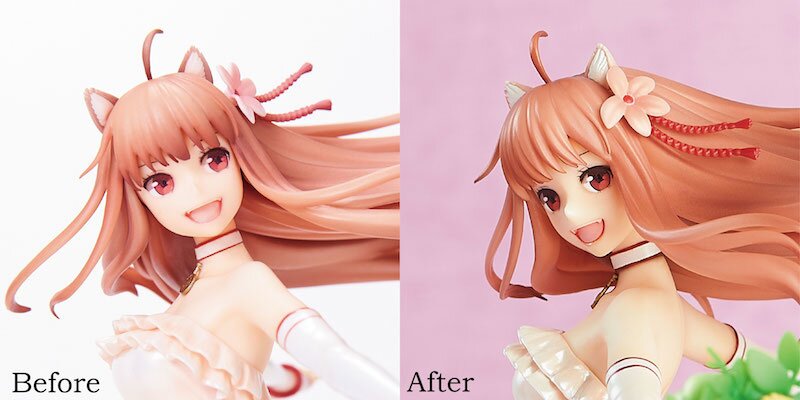 Holo's ears and fangs have been adjusted for maximum resemblance to the original illustration. Her fangs are now more conspicuous, which contribute to her mischievous expression.
A number of other adjustments have also been made. We have updated the figure according to your feedback with as much detail as possible.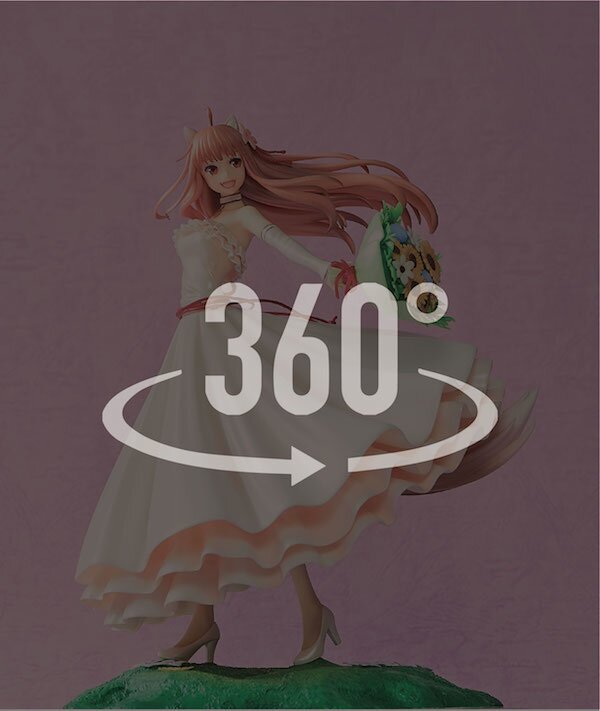 Drag to rotate the image.
This figure accurately portrays the elegance of Holo as she dances in the wind. Experience her charm to the fullest with the 360° image above!

Product Title: Spice and Wolf Holo Wedding Dress Ver.
Series: Spice and Wolf
Price: 11,800 JPY (before tax and shipping)
Release Date: November 2017
Specifications: 1/8 scale ABS & PVC figure
Distributor: Tokyo Otaku Mode Inc.
Manufacturer: Myethos









Holo in her wedding dress, crafted to perfection as a figure for your collection.


February 2006: The very first volume of Spice and Wolf was published by Dengeki Bunko.
February 2016: Ten years pass since our hero and heroine set off on their incredible journey.
In celebration of the ten-year journey that Spice and Wolf and its fans have taken together, various exciting projects are underway in Japan. The "Spice and Wolf & Isuna Hasekura 10th Anniversary Official Site" launched in April 2016, and the new series "Spice and Wolf: Spring Log" and "Spice and Wolf New Theory: Parchment and Wolf" are being released, too.
But Spice and Wolf isn't popular only in Japan, it is a series loved and celebrated by fans worldwide. At Tokyo Otaku Mode, we believe that the celebration should involve fans throughout the world. That is why we expressed our desire to join the official anniversary project, and how our own "Spice and Wolf 10th Anniversary Project" took off.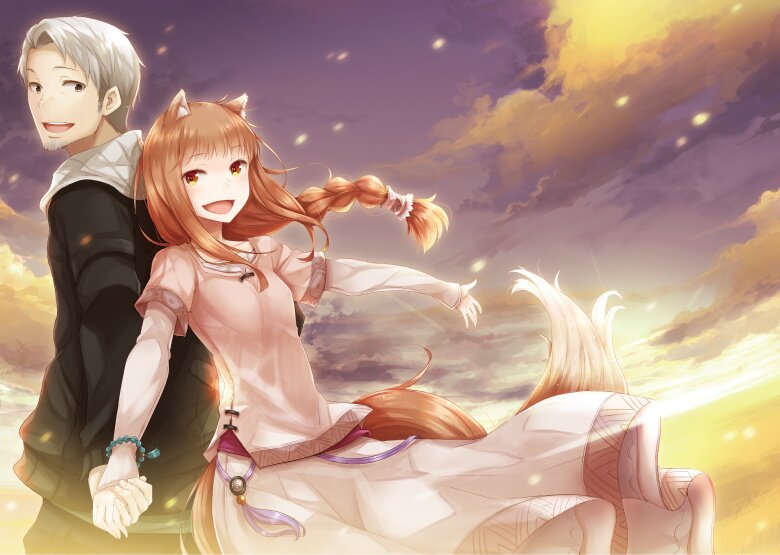 Reflecting on the ten years since the series began, the dazzling sight of Holo in her wedding dress, as seen on the covers of Spice and Wolf Volume 17 and the Spice & Wolf Illustrations Art Book by Ayakura Jyuu, is definitely one of the series' highlights.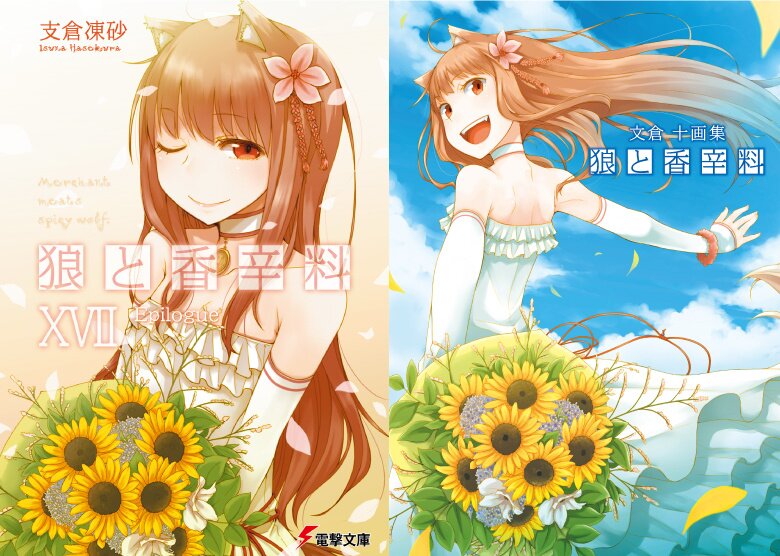 The enchanting beauty of Holo as she dons her wedding dress has captured the hearts of countless fans. Yet, to this day, merchandise which feature Holo in her ravishing white gown remain extremely few. Fans have waited expectantly for very long―too long, if you ask us.
Answering to the anticipation of eager fans, we present Holo Wedding Dress Ver. as the ultimate collector's item―a gorgeous 1/8 scale figure, crafted to stunning perfection.
The dynamic, exuberant Holo depicted on the cover of the Spice & Wolf Illustrations Art Book was brought to life through the collaboration of Tokyo Otaku Mode and figure manufacturer Myethos. We wanted to create a product that would live up to (and perhaps even surpass) the expectations of Spice and Wolf fans around the world. That is why we took on the greater challenge by choosing to create a figure―the one item which sits at the pinnacle of all Japanese merchandise.
Now, we are proud to deliver in beautiful figure form a memento of the special day that will live on in the memories of all fans forever.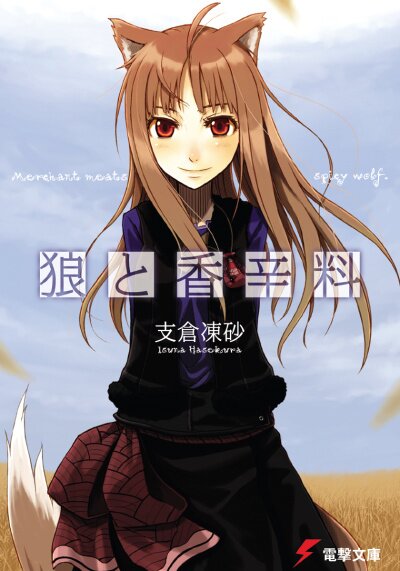 Winning Silver in the 12th annual Dengeki Novel Prize literary awards, Spice and Wolf is a light novel series by Isuna Hasekura which delivers a new kind of fantasy world, centered around economics rather than swords and magic.
The story follows the journey of the traveling merchant Kraft Lawrence, who meets a young girl with the ears of a wolf and a tail of luscious fur, claiming to be the "Goddess of Harvest", the Wise Wolf, Holo. Their unique tale cleverly interweaves elements of economics, adventure, and action.
Spice and Wolf has been adapted into a TV anime series, a game, a comic series, and various other forms of media, and has been localized into various languages, including English, Chinese, and France, boasting popularity worldwide.
The official website commemorating the 10th anniversary of the series launched in April 2016, featuring new stories "Spice and Wolf: Spring Log" and "Spice and Wolf New Theory: Parchment and Wolf", and a wide range of other content.
Spice and Wolf & Isuna Hasekura 10th Anniversary Official Site
http://hasekuraisuna.jp/






Project Organizer: Tokyo Otaku Mode Inc.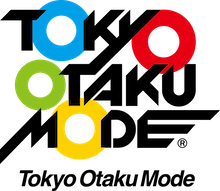 Manufacturer: Myethos





Q: When will I be charged?
A: You will be charged immediately upon backing the project.
Q: When will rewards be shipped out?
A: Rewards are scheduled to be shipped out in January 2018.
Q: Where will rewards be shipped from?
A: Rewards will be shipped directly from Tokyo Otaku Mode in Japan.
Q: I noticed that all prices are displayed in Japanese Yen. If I am paying with foreign currency, how will exchange rates affect my payment?
A: Rates may differ between credit card companies. Please contact your credit card company for further information.
Q: Will I need to pay any additional import duties, VAT, customs taxes, or local handling fees when receiving my reward?
A: Depending on your country's customs laws, you may be required to pay a tax before obtaining your package. In some areas, such as the United Kingdom and France, the local postal service may charge an extra handling fee for processing packages affected by customs taxes. Payment of customs taxes and any possible handling fees is the responsibility of the purchaser.
Q: Why can't I click the "Reserve" button?
A: Please ensure that you have filled out your payment method and shipping information and try again. Instructions are available here.
Q: Are the rewards that ship to Japan and ship internationally different?
A: No. The rewards are the same. The only difference is the shipping cost.
© 支倉凍砂/アスキー・メディアワークス/「狼と香辛料II」製作委員会
Illustration:Jyuu Ayakura