[The general sales page is here!](https://otakumode.com/shop/5a66d2c99a7a1350679eb4f3)
Starting out as a TV show in 1995 and gaining popularity through the Rebuild film series, Evangelion has captured the hearts of countless fans.
The iconic Spear of Longinus from the series is now available in tweezer form!
Although tweezers are quite common and often used in everyday life, it is rather difficult to come across one of high-quality. It is an item where cost does not necessarily equate to quality.
However, we were able to mass produce the Spear of Longinus in the form of high-quality tweezers with the technology the human race has built up.
Plucking even the deepest ingrown hair will become an easy task with the Tweezers of Longinus.
We are confident that the Tweezers of Longinus will offer performance and quality that truly lives up to the Longinus name.
![file](https://d3ieicw58ybon5.cloudfront.net/ex/800.100/project_description/28f56e96e55a407080a2cc48d82d58ae.png) ■But why tweezers? "But why make the Spear of Longinus in the form of tweezers?" This may be a question that a lot of you have in mind. The reason is simple; the Spear was the perfect shape for tweezers! Normal tweezers are only approximately 8 centimeters long, and can only be handled with your fingertips. In comparison, the Tweezers of Longinus are longer. They are approximately 11 centimeters long and will fit perfectly in your hands.
■Functional design
An incredible amount of thinking and planning was put into the design of the Tweezers of Longinus.
While recreating the form of the Spear of Longinus, the design prevents deformation and damage even when the tips are bent outwards.
■What are they capable of?
The tips of the tweezers are constructed to clamp together with precision.
They can hold on tightly to normal hairs, short hairs, fine and downy hairs and thorns.
■The tweezers will be shipped inside sliding cases that allow users to carry them safely and withdraw them easily for use.


■High quality tweezers made in Japan
The tweezers are crafted using wire electrical discharge machining, a technique which is rarely used for mass produced items. This technique allows for precise machining in 0.001 mm intervals, which is far more precise than even the most skilled tweezer craftspeople. We were able to create an extremely precise grip using these techniques on stainless steel. ![file](https://d3ieicw58ybon5.cloudfront.net/ex/800.450/project_description/4b8b51802588469a848667d9daa58a5c.png) ![file](https://d3ieicw58ybon5.cloudfront.net/ex/4256.2832/project_description/2e16632dadae410e9d2b83e633483bc1.jpg) The preciseness of the tweezers allows them to pick individual fibers from tissue paper (approx. 15μm). Say goodbye to dull tweezers and those that accidentally cut hairs instead of plucking them. Each piece is crafted in a small-scale workshop in Kanagawa, Japan by wire cut craftsmen who have polished their skills for a long time. ![file](https://d3ieicw58ybon5.cloudfront.net/ex/800.400/project_description/45689517ab9b4c81aeeb1fd34478ac0d.png) ■Limited titanium versions The Titanium Tweezers of Longinus will only be available through pre-orders in limited quantities. Titanium is a rare metal that is durable, light, and resistant to rusting, and these titanium tweezers are only available now. The Titanium Tweezers come in two colors: red and blue. Only 300 pieces of each version are available, and no plans of further production have been made yet. This may be the only chance to purchase them! ![file](https://d3ieicw58ybon5.cloudfront.net/ex/800.270/project_description/7a224ecb541049b4b238a2197d6bbe82.png) ■Core-shaped stand Transparent acrylic stands shaped like the Angel's cores are also available and perfect for the tweezers. ![file](https://d3ieicw58ybon5.cloudfront.net/ex/800.450/project_description/e2f573a95a444aa09de243dbf628806a.png) Product name: Tweezers of Longinus Series name: Evangelion Price: ・Tweezers of Longinus (Stainless version) + Core stand set: 3600 Yen (Excluding Tax) ・Tweezers of Longinus (Titanium version) + Core stand set: 9259 Yen (Excluding Tax) Release date: Planned for September 2017 Materials: ・Tweezers: stainless steel / titanium ・Stand: acrylic Distributor: Tokyo Otaku Mode Inc. and wāqwāq Inc. Manufacturer: wāqwāq Inc.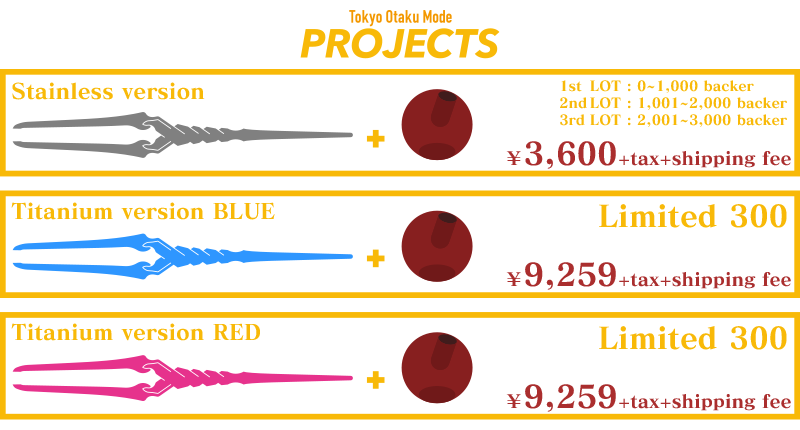 Normal sales (for all products except for the Titanium versions*) will begin after pre-ordered items have been shipped at the following prices.
・Tweezers of Longinus (Stainless version): 3600 Yen (Excluding Tax)
・Core stand: 1800 Yen (Excluding Tax)
Pre-order the Tweezers of Longinus to receive a free core stand! This deal will not be available during normal sales!
*The Titanium version will not be available for normal sale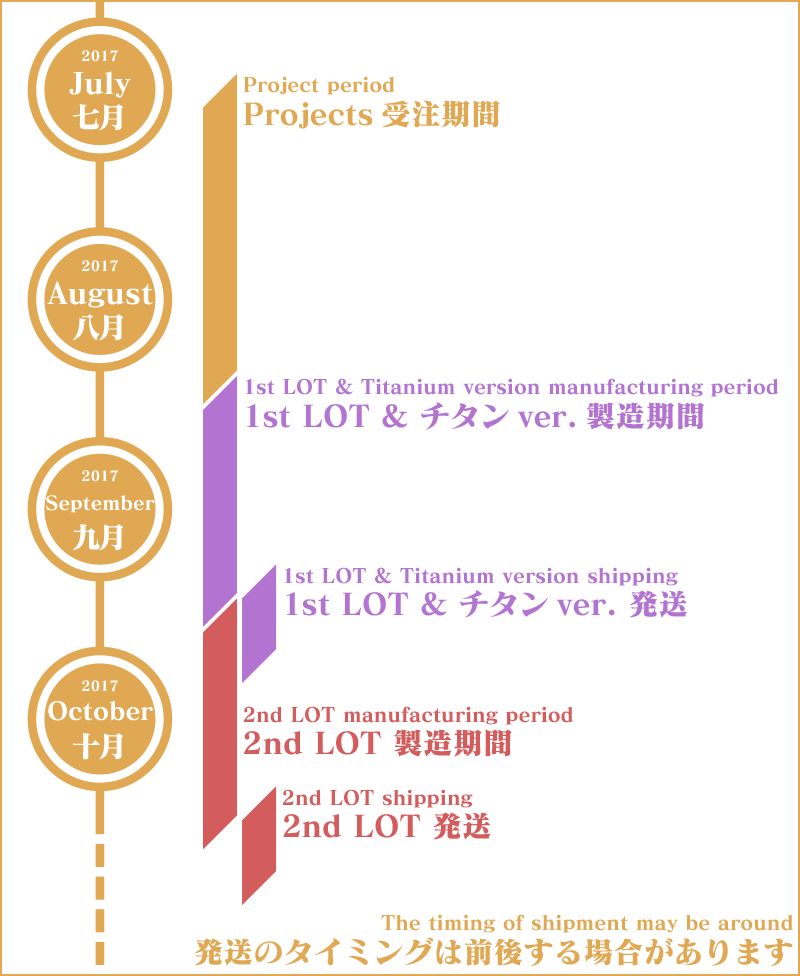 Evangelion, which started with the TV series "Neon Genesis Evangelion" that began broadcasting in 1995, is one of the most popular anime worldwide. Set after the global cataclysm Second Impact, the series depicts the young boys and girls who pilot humanoid battle weapons called Evangelion and their fight against mysterious invaders called Angels. In 2007 a new movie tetralogy titled "Rebuild of Evangelion" began, capturing the hearts of fans of all ages. Three movies in the tetralogy have been released to date.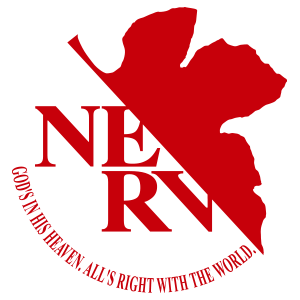 ■Project owners:
wāqwāq Inc. and Tokyo Otaku Mode Inc.

■Manufacturer: wāqwāq Inc. The Tweezers of Longinus will be crafted and distributed by wāqwāq Inc., a company with the motto of "Bringing your wants to reality". http://waq2.com wāqwāq Inc. offers intriguing miscellaneous products, as well "cosme play", a character themed cosmetics brand. Producers manufactured by wāqwāq Inc. are not just cute; they are carefully crafted in Japan and are guaranteed to be of high quality.
Q: When will rewards be shipped out?  A: Rewards are scheduled to be shipped out in September 2017.
Q: Where will rewards be shipped from?
 A: Rewards will be shipped directly from Tokyo Otaku Mode in Japan.
Q: I noticed that all prices are displayed in Japanese Yen. If I am paying with foreign currency, how will exchange rates affect my payment?
 A: Rates may differ between credit card companies. Please contact your credit card company for further information.
Q: Will I need to pay any additional import duties, VAT, customs taxes, or local handling fees when receiving my reward?
 A: Depending on your country's customs laws, you may be required to pay a tax before obtaining your package. In some areas, such as the United Kingdom and France, the local postal service may charge an extra handling fee for processing packages affected by customs taxes. Payment of customs taxes and any possible handling fees is the responsibility of the purchaser.
Q: Why can't I click the "Reserve" button?
 A: Please ensure that you have filled out your payment method and shipping information and try again. Instructions are available here.
Q: Are the rewards that ship to Japan and ship internationally different?
 A: No. The rewards are the same. The only difference is the shipping cost.
Q: When will normal sales begin?
 A: They will be available after all shipments for the pre-orders are complete.
©khara