2018 has arrived and if you haven't started planning your year yet, it's time to pick up a pen and get drafting! Luckily, you'll have plenty of inspiration with these ace lucky bags, or fukubukuro, which contain everything you'll need to get you off to a flying start this January.
1. Stationery galore at Muji!
A trip to Muji is always filled with treats, especially in the holiday season! Absolutely packed with pens, notebooks, stickers, memos, and just about everything else you need to get the most out of your studying life, this stationery grab bag is a very special bargain.
2. Stick it with a LOFT Lucky Bag!
Stickers are the stationery lover's secret weapon and you can increase your arsenal tenfold with this amazing lucky bag from LOFT. Hearts, dots, characters, musical instruments and handy labels - the answer to all your sticker related dreams!
3. Ride a river of cuteness with Swimmer~
Swimmer's 2018 New Year fukubukuro is a veritable treasure trove of adorable stationery! Pens, pencils, clear files and other desk accessories - it's all up for grabs with Swimmer.
4. Cock-a-too at this lovely Birdie Bag available at Tokyu Hands!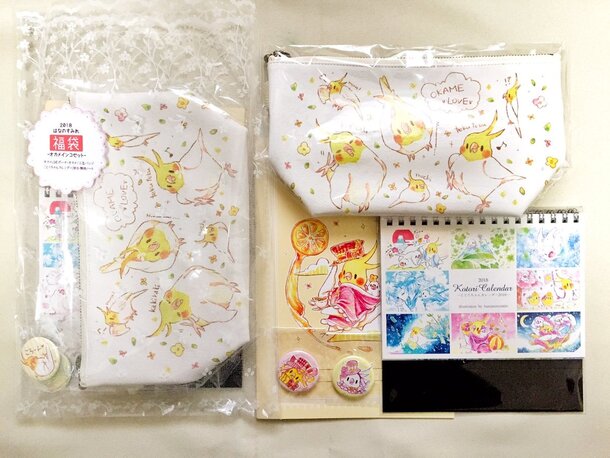 Not one, not two, but three lovely birds have come together to present this adorable stationery collection offered through department store Tokyu Hands. Choose from Cockatoo, Java Sparrow, and Budgie designs, which will contain triangles pouches, calendars, mini tin badges, notebooks and more! Definitely something to crow about…
5. Art supplies from Sekaido to fuel your 2018 creative dreams!
The perfect bag for any artist, this Sekaido selection includes a array of painting tools, notebooks, pencils, pens, scissors and even a frame for your finished work of art!
With so many fantastic lucky bags, it's easy to satiate your stationery cravings. If you're in Japan, make sure to look around for a great start to 2018!
This is a Tokyo Otaku Mode original article.