CG-i is a new printing technology designed and developed by Banpresto specially for CG art, and three hundred framed "Shinsen Mikoshi" prints by artist fuzichoco will be available made-to-order starting Jan. 20, 2018!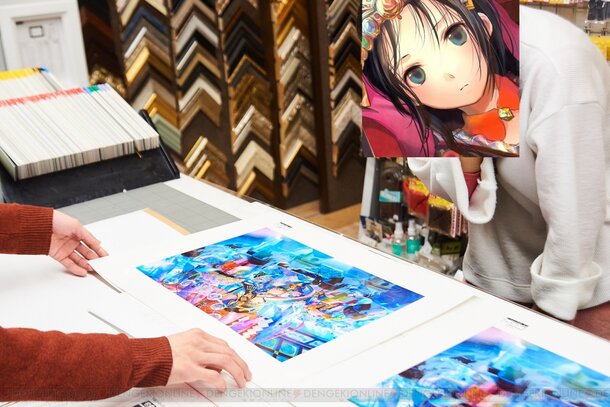 DENGEKI ONLINE visited Bumpodo and for a two-part interview with fuzichoco and other associated members of the project. Part 2 of the interview can be found here.
A quick review of CG-i technology
For those of you who haven't heard of it, CG-i is an output standard released by Banpresto in September 2016, designed and developed specially for CG illustrations.
When CG illustrations are printed using conventional printing technology, colors painted with RGB colors (red, green, and blue), are converted into CMYK (cyan, magenta, yellow, and key plate, or black). This is because standard printing ink can't render RGB colors.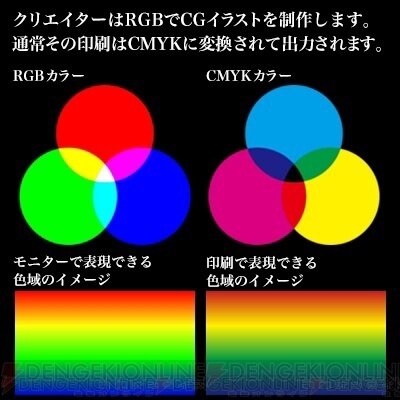 There are certain colors that are "lost" during the conversion. Thus, CG-i was developed as an output standard to recreate the "colors" and "textures" seen on the computer screens.
Witness the differences between illustrations printed in CG-i and CMYK!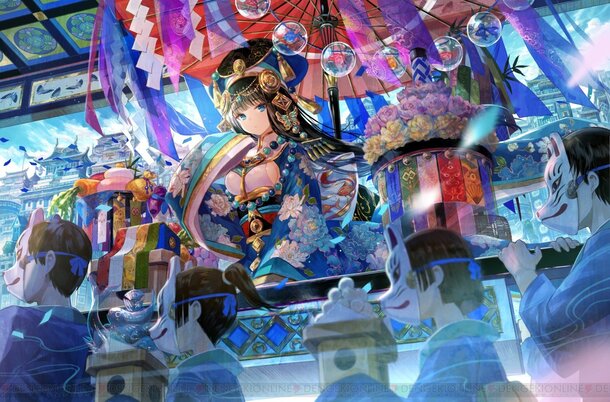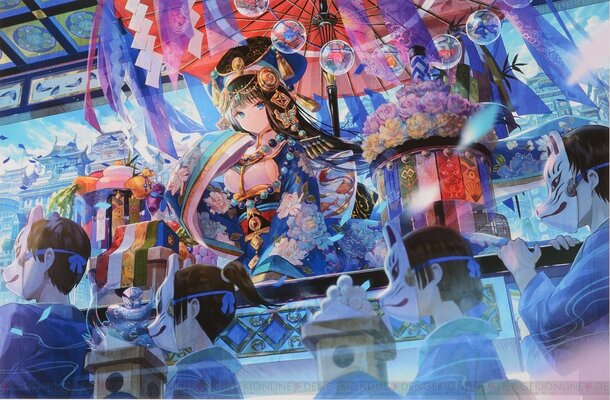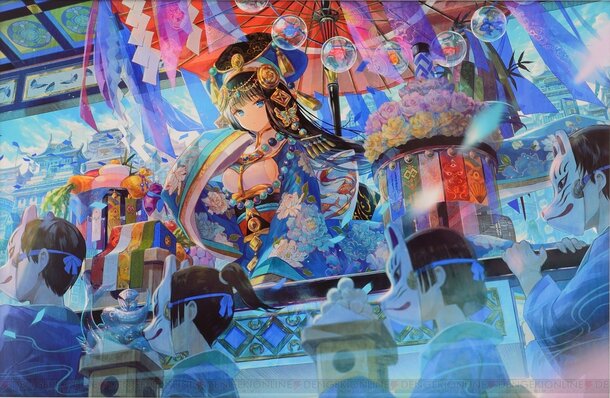 You can see that the colors of the CG-i recreation are much closer to the original CG compared to the CMYK standard version!
How did fuzichoco react to the CG-i illustration? DENGEKI ONLINE also spoke to Takao Mitsuteru of Banpresto, who was in charge of developing CG-i.
The theme of the illustration is "blue", a difficult color to recreate using CMYK!
―What was your reaction to the CG-i output?
fuzichoco: I felt like this when my piece "Flow of Goldfish Through a Celestial River" was released in CG-i too, but the vibrant colors are really beautiful! I get the impression that the vividness of digital illustrations are printed straight to paper. I can also enjoy looking at the details forever, since they're so sharply recreated.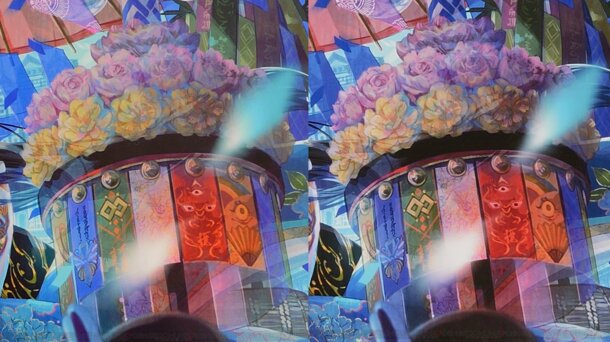 You can clearly see the differences between the two methods, especially in the top right sections.
―So, the "Shinsen Mikoshi" is the second time for your masterpieces to be released in CG-i.
fuzichoco: It is, and I'm very thankful (laughs). I use hues that are unique to CG illustrations, and there are parts that can't be recreated using standard printing methods. CG-i, on the other hand, allows for astounding recreations, so I'm simply happy that my works were able to become a part of it.
―Where did the motivation to release fuzichoco's works in CG-i, Mr. Takao?
Mr. Takao: When we released CG-i a year ago, we asked Tokyo Otaku Mode if they knew any creators who could collaborate with CG-i, and that's when fuzichoco's name was brought up. An extremely wide variety of colors are used in her illustrations, which made us believe that we could create something great if we recreated them, and had "Flow of Goldfish Through a Celestial River" released with CG-i.
After this, we wanted to ask creators who used the technology to draw a piece dedicated to CG-i, and asked fuzichoco again.
―What kind of strong points do you think were created in "Shinsen Mikoshi", Mr. Takao?
Mr. Takao: I was able to witness the illustration from its mid-creation, and I believed that we could definitely express the transparency of the piece. We would especially want people to focus on the confetti drifting throughout the piece, which can't be made through normal outputs.
The character's head ornament is also a point to focus on, since each one of the gold patterns on the black material can be clearly seen, as well as reflecting colors, which can only be recreated with CG-i. It would be difficult to create the pale colors around the umbrella and pink/bluish sleeves on the kimono with normal printing technology.
fuzichoco: That's right. The distinct qualities of overlapping of colors are lost when using CMYK. Blues and purples are especially difficult to recreate.
The character's complexion and yellow sections of the sleeves of the kimono give off a beautiful glow, without being affected by the blue that surrounds it.
―What do you think when comparing CMYK and CG-i outputs side by side?
fuzichoco: The overall hues, especially around the cloth coming out of the umbrella are clearly different. They would become darker in conventional printing methods, but CG-i preserves the transparency.
―Did you deliberately choose to use a lot of blues and purples that are hard to recreate in CMYK?
fuzichoco: I did. I heard that this piece would be dedicated to CG-i, so I used colors that were hard to recreate with conventional printers (laughs). As you can see, blue is the theme color.
―Are there other sections where you think are well-presented?
fuzichoco: The details I put into the character's eyes and patterns on the kimono, as well as the townscape, are also beautifully output. The contrast between the highly saturated reds in the umbrella and blue is vivid too.
―Are there any difficulties or problems when digitally creating illustrations?
fuzichoco: It's hard to envision the printed results in a precise digital environment. Understanding the colors, and especially to which degree details would be expressed is difficult when working through a computer screen.
―By the way, how long did it take to finish "Shinsen Mikoshi"?
fuzichoco: I didn't draw it off at once, so I don't know the exact amount of time, but it would be about four to five days. It's definitely more than other recent illustrations.
―There must be an unbelievable number of layers used for a masterpiece like this...
fuzichoco: This is an approximation, but there are over 100 layers. When I create illustrations, I start with a line drawing, and impasto-esquely layer colors after underpainting. I merge the layers at a certain stage, so I'm not exactly sure of the exact number of layers.
CG-i fuzichoco: "Shinsen Mikoshi" making video
In Part 2 of the interview, we will learn more about fuzichoco's masterpieces, and interview Hisaya Tamaki, the Framemeister of Bumpodo too! What kind of process does fuzichoco go through when releasing an item?
Part 2 is scheduled to be released in early January, 2018.
Product Details
Product Page: https://otakumode.com/shop/pickup/fuzichoco_cgi

Preorder Start Date: Jan. 20, 2018 at 12:00 am
Preorder End Date: Feb. 19, 2018 at 11:59 pm (available while stocks last)
Product Size (approx.): 454mm x 605mm x 21.5mm
Shipping Date: Begins mid-May 2018
Price: 38,000 Yen excluding tax (41,040 Yen including tax) + Shipping fees 2,000 Yen excluding tax (2,160 Yen including tax)
Weight (approx.): 2.5kg
Target Age: 15 and older
Official CG-i Output Certificate: Paper w/300 exclusive serial numbers
※All serial numbers excluding 001 will be randomly distributed regardless of purchase order.
(C) Nisio Isin / Kodansha, Illustration VOFAN