CG-i is a new printing technology designed and developed by Banpresto, and three hundred framed "Shinsen Mikoshi" prints by illustrator fuzichoco will be available made-to-order starting on Jan. 20, 2018!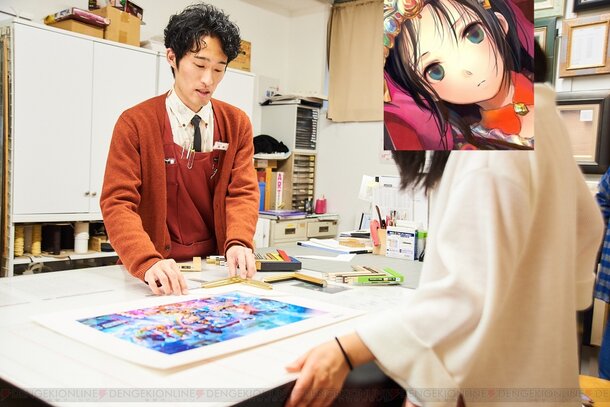 In Part 1, we saw fuzichoco's reaction to the vibrant print, as well as hearing about the strengths of her illustration in CG-i.
In the second half, we'll be hearing more from fuzichoco as well as Mr. Tamaki at Bumpodo, where she chose the frame for her masterpiece.
A quick review of CG-i technology
For those of you who haven't heard of it, CG-i is an output standard released by Banpresto in September 2016, designed and developed specially for CG illustrations.
There are certain colors that are "lost" during the conversion. Thus, CG-i is an output standard developed as a result of the pursuit to recreate the "colors" and "textures" seen on the computer screens.
Witness the differences between illustrations printed in CG-i and CMYK!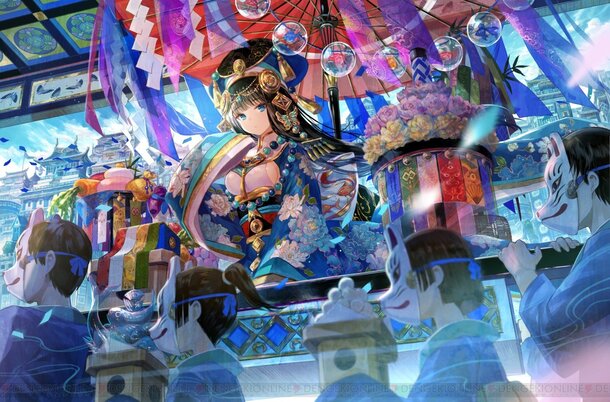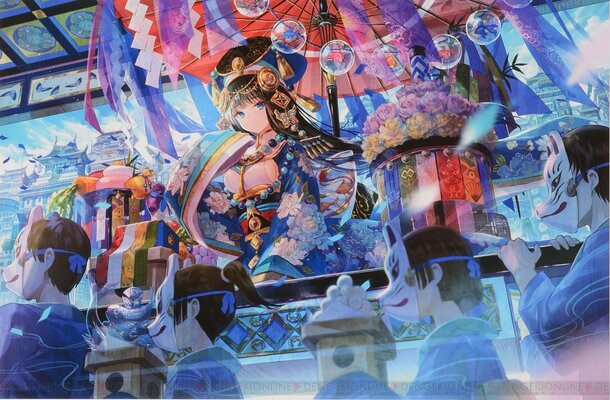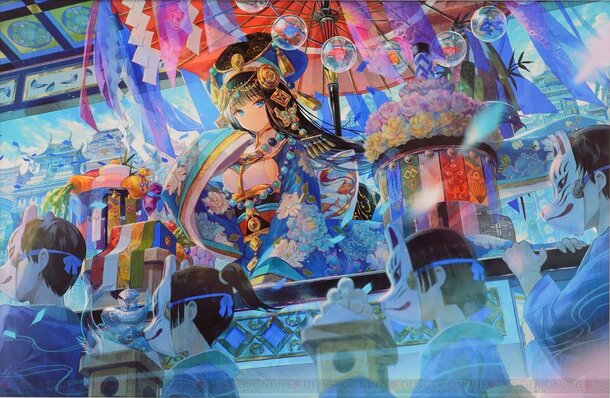 You can see that the colors of the CG-i recreation are much closer to the original CG compared to the CMYK standard version!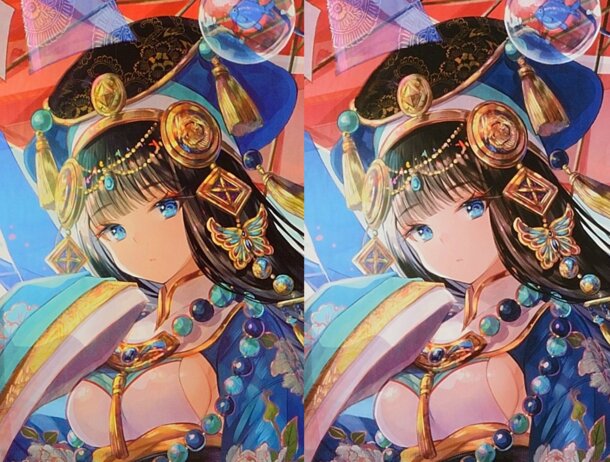 Now that we have an understanding of CG-i, it's time to see the rest of the interview.
How did you feel about choosing frames, and what are your standards?
―So far we have asked about your artwork during the interview, and we would also like to talk about the frame you chose. Have you ever chosen a frame for your own artwork?
fuzichoco: It's something I've hardly done, and I would usually leave it to someone else. I was shown an actual sample in a frame, and it was a fresh experience to try out different frames.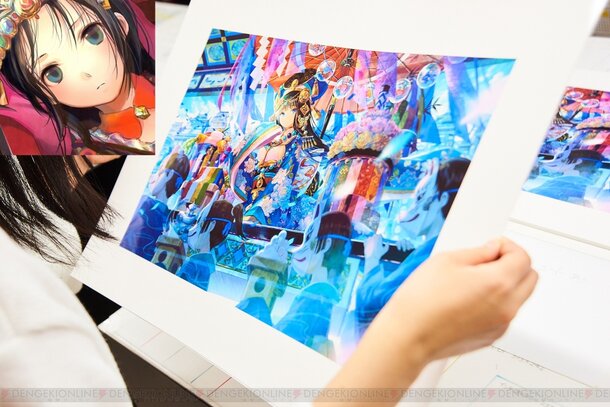 ―Did you have an image of the frame from the beginning?
fuzichoco: I did. I had a vague plan to use a thick black frame in my mind, but the picture sort of sunk into its colors when I actually fit it in. It was great that I had Mr. Tamaki to advise me.
Mr. Tamaki: The most important thing to keep in mind when choosing frames, is that "the frame is to bring out the piece, not to hinder it". However, a low profile frame wouldn't match fuzichoco's brilliant, intricate artwork.
I thought that a vivid or majestic frame would work perfectly in order to bring out the piece, and decided to suggest this frame. Since CG-i gives the illustration great depth, a deep colored, shiny frame matches it better than a simple wooden one.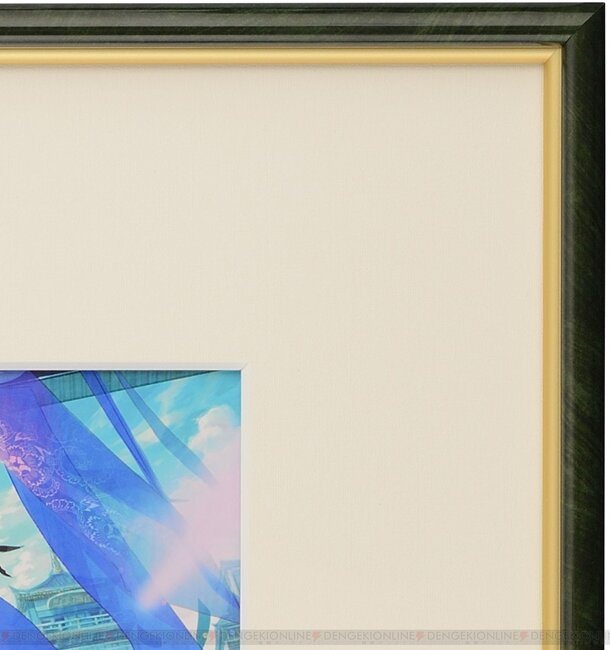 ―Did you have an idea of what kind of frame to use when you saw the illustration, Mr. Tamaki?
Mr. Tamaki: I did. In fact, I did have a broad idea when I saw fuzichoco's illustration beforehand. For example, wooden pattern frames fit antique printmaking better than gaudy decorative ones. They can be narrowed down depending on the artwork.
―I believe that it's difficult to settle on a good combination, given the great number numbers of frames and mat boards.
fuzichoco: There is an infinite number of combinations, so it would have been impossible for me to decide on one by myself (laughs). I tried red and black mat boards, but eventually found that a white one would be best. Pure white and cream color mat boards leave very different impressions, even though they can both be described as white. Frame choosing is very deep.
―It seems that Mr. Takao put in thought into other CG-i printed illustrations, seeing that they were also sold in frames.
Mr. Takao: Illustrations printed CG-i are surely wonderful, but they lacked something when they were simply displayed on a piece of paper. I wanted to escalate CG-i printed pieces to a "picture", and I needed a frame to do that.
―Can we have one last comment for our fans?
fuzichoco: "Shinsen Mikoshi" is a product that recreates all of the colors I wanted to express, so please enjoy it and hang it in your room.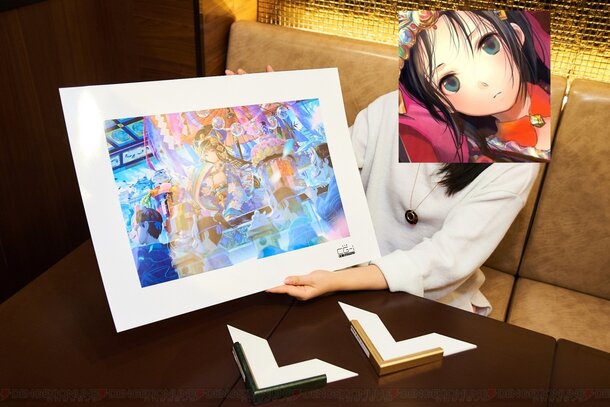 Preorder Start Date: Jan. 20, 2018 at 12:00 am
Preorder End Date: Feb. 19, 2018 at 11:59 pm (available while stocks last)
Product Size (approx.): 454mm x 605mm x 21.5mm
Shipping Date: Begins mid-May 2018
Price: 38,000 Yen excluding tax (41,040 Yen including tax) + Shipping fees 2,000 Yen excluding tax (2,160 Yen including tax)
Weight (approx.): 2.5kg
Target Age: 15 and older
Official CG-i Output Certificate: Paper w/300 exclusive serial numbers
※All serial numbers excluding 001 will be randomly distributed regardless of purchase order.