Commemorating the TV anime adaptation of the game Sengoku Night Blood, "Army Theme Songs" sung by each of the 6 Supreme Commanders are being released with music videos! Today the 4th came out: the Uesugi Army Theme Song sung by Toriumi Kosuke, and to celebrate its release, there's a Twitter campaign in action! Sengoku Night Blood fans are also being distributed at Comic Market 92.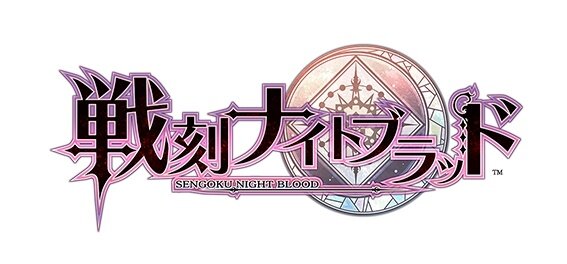 ■ 4th Army Theme Song Sung by Each Army Commander Released
"Seigiron" By Uesugi Army Supreme Commander Uesugi Kenshin (CV:Toriumi Kosuke) Released!
With the TV anime's release just around the corner in october, theme songs for the different armies are coming out with music videos and on CDs. Today the 4th came out! It's called "Seigiron" and it's sung by the commander of the Uesugi army, Uesugi Kenshin (CV:Toriumi Kosuke).
【Seigiron】 https://youtu.be/cdpdEA8RNVI
Lyrics: Teruji Yoshizawa
Composition: Sasaki Hisao
Arrangement: Ihashi Naruya
Singing: Uesugi Kenshin (CV:Toriumi Kosuke)
Illustrations: Shiki Sakigumi
★ Twitter Campaign!
3 people who retweet the tweet that mentions the Uesugi Army from the Sengoku Night Blood official Twitter will receive a "SenBura"nran♪ iTunes/Google Play Gift Ticket (3,000 yen)!
① Follow the official Twitter (@senbura_info)
② RT the following tweet through the official Twitter account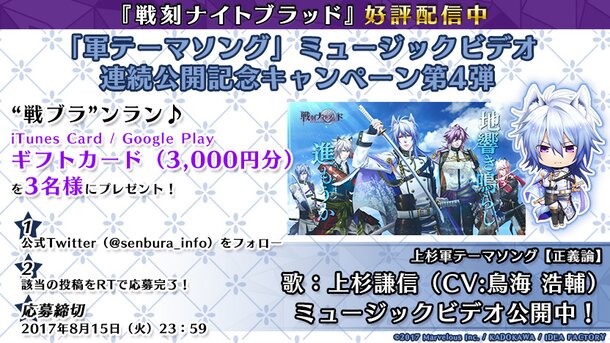 Applications End: Aug. 15 at 11:59 pm

The 5th music video will be for the Date Army and called "Kakuran Romanticist," and it'll be sung by Date Masamune (CV: Umehara Yuichiro)!
■ Sengoku Night Blood Fans Being Distributed At Comic Market 92
Sengoku Night Blood fans are being distributed at the Ponican and Onsen booths at Comic Market 92 being held at Tokyo Big Sight. If you happen to be at the event, stop by!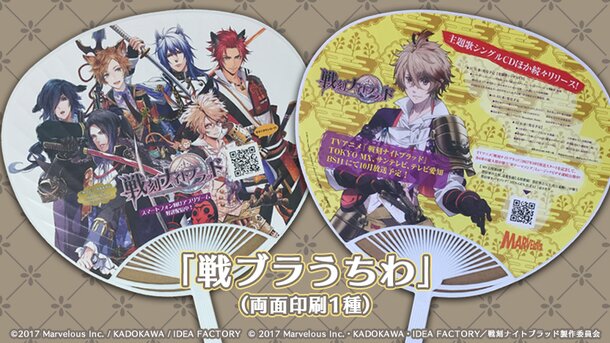 ◆ Sengoku Night Blood Fan Distribution Booth Locations
①Ponican Booth
Booth: W1 Hall / No.1151
Distribution Period: 8/12 from 12:00 pm ~ 2:00 pm
Distribution Method: Free in front of the booth
※Time may vary slightly depending on the situation that day.
※May also be distributed outside the above time.
② Onsen Booth
Booth Location: W3・4 Halls / No.3141
Distribution Period: Aug. 11-13
Distribution Method: Customers who purchase goods at the Onsen booth will receive 1
※Only available while supplies last.
Event Details
Name: Comic Market 92
Dates: Aug. 11-13
Hours (Company Booth): 10:00 am-5:00 pm (closes at 4:00 pm on the last day)
Location: Tokyo Big Sight
Organization: Comic Market Preparation Committee
Admission: Free
For the latest details about Sengoku Night Blood and campaigns, be sure to check out the official site!
Sengoku Night Blood
■ Release Date: Currently Available
■ Genre: War Love Fantasy
■ Compatible OS: Smartphones (OS / Android)
■ Price: Free-to-play (in-app purchases also available)
■ Copyright: ©2017 Marvelous Inc. / KADOKAWA / IDEA FACTORY
■ Official Site: http://senbura.jp
■ Official Twitter: https://twitter.com/senbura_info