The Yuri!!! on ICE anime adaptation ended late last year...but luckily for dedicated fans, exciting events have no end in sight! A new collaborative effort between Saga Prefecture in Kyushu and Yuri!!! on ICE has birthed a new project titled "Sagaprise"!
The project, which kicked off successfully on Mar. 6, takes place in both Tokyo and Karatsu (a city in Saga Prefecture, said to be the backdrop for the anime).
The Tokyo event is being held at at the Meiji Shrine's Ice-Skating Rink. Only for a week can fans visit the shrine to pose with various cut-outs of their favorite characters! As expected, throngs of fans turned up to be photographed with their favorite figure skaters!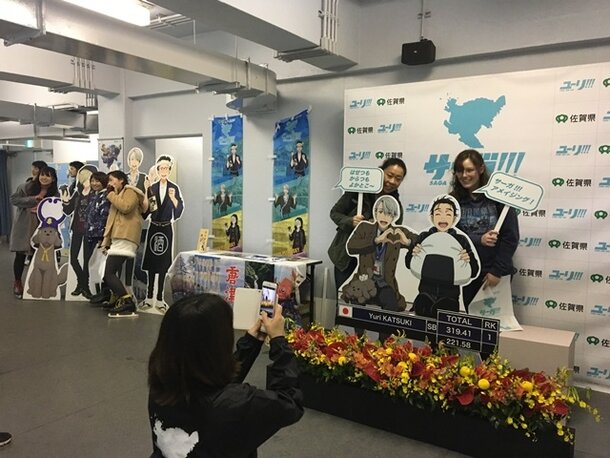 Unlike the Tokyo event, the Karatsu event lasts for around two months! Not only can visiting fans find charming local products and collaboration goods for sale, but they can also enjoy limited-time collaboration menus alongside original postcards and coasters. Original posters and life-sized panels will also be exhibited throughout the city.
To commemorate the opening day for the event, fans gathered at Karatsu Station where the Mayor of Karatsu Mine Tatsurou finally revealed the life-sized panels and posters to an enthusiastic audience. Mayor Mine also commented, "This collaboration is really between Hasetsu and Karatsu. We're overjoyed to receive so much love from fans of Yuri!!! on ICE." (Hasetsu is the fictional city in Yuri!!! on Ice, based on Karastsu.)
Yuri!!! on Ice - Tokyo
Duration: Mar 6 ~ Mar. 12
Location: Meiji Shrine's Outer Garden Ice Skating Rink
Yuri!!! on Ice - Saga
Duration: Mar. 6 ~ May 7
Location: Saga Prefecture's Karatsu City
(c)Hasetsu Town Association / Yuri!!! On Ice Production Committee