If you're on the hunt for a sweet treat to enjoy while you laze around Gudetama-style, Bourbon's got your back! Bourbon Corporation is a Japanese company that specializes in delicious confectionery and tasty snacks, and its chocolate-filled Gudetama Custard Pudding-Flavor Mochi rice cakes will be available at convenience stores and train station stores across Japan for a limited time only from Tuesday, March 7.
Gudetama Custard Pudding-Flavor Mochi are mochi filled with custard pudding-flavor chocolate ganache. The sumptuous chocolate ganache is made using fresh cream, and the combination of custard pudding flavor and soft mochi texture is a match made in heaven!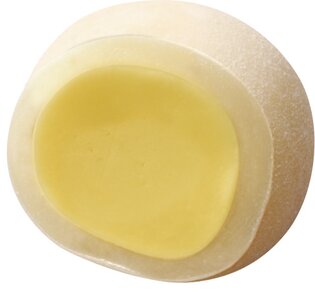 The packaging is decorated with an adorable design starring Sanrio's popular Gudetama character, and the egg-like mochi inside are perfect for a Gudetama-themed treat! Each box contains two packs of mochi, and each pack contains a fork so you can dig in without getting your hands messy.
Product Details
Name: Gudetama Custard Pudding-Flavor Mochi
Contents: 8 pieces (2 packs each containing 4 pieces)
Release Date: Tuesday, March 7, 2017
Available Exclusively at: Convenience stores and train station stores in Japan
Recommended Retail Price: ¥220 (plus tax)
Shelf Life: 6 months