The 500 Type Eva shinkansen is the result of a collaboration between JR West and the Evangelion franchise, and it's been thrilling passengers since it first started running in November 2015. Now fans can immerse themselves in the world of Evangelion even more, as the 500 Type Eva will be used to take passengers on a very special tour! Not only does this tour involve the 500 Type Eva train, but it also features a life-size cockpit just like inside an Entry Plug! This tour is part of the "Shinkansen: Evangelion Project," and it's organised by Kinki Nippon Tourist Co., Ltd.
Usually this train runs from Shin-Osaka Station to Hakata Station, but this tour will take passengers directly to the Hakata Sougou Railway Yard. It's not usually possible to alight at this railway yard, but passengers taking part in the tour will also be able to enjoy a tour around it. This makes it an exciting opportunity for railway enthusiasts as well as Evangelion fans!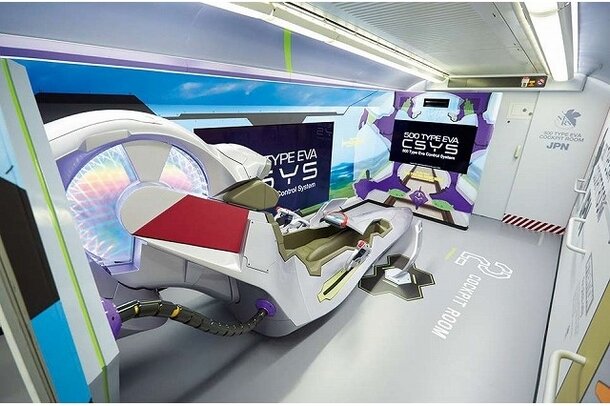 This tour is only available through Kinki Nippon Tourist and there are a number of plans available. Seventy lucky passengers will be able to experience the life-size Entry Plug cockpit in the 500 Type Eva's first carriage, go on a tour around the Hakata Sougou Railway Yard, and spend one night in Hakata. These tickets cost from 39,800 yen to 42,800 yen per person for adults, and the tour will depart from Shin-Osaka Station. Thirty tickets are available for the plan that includes the Hakata Sougou Railway Yard tour and one night in Hakata, costing from 31,800 yen to 34,800 yen. These tickets also come with the very special gift of a 500 Type Eva Original Bath Towel!
If you're visiting Japan and want to experience a ride on the 500 Type Eva while doing a little sightseeing, there are also travel plans that take in the sights around Japan's Kyushu area. Why not check out the Nagasaki Ropeway Round-Trip Course or the Huis Ten Bosch Theme Park Entry Ticket Course?
The tour starts when the train departs Shin-Osaka Station at 8:11 am on April 1, arriving at Hakata Sougou Railway Yard at 11:58 am. The train then leaves from Hakata at 1:47 pm the following day, arriving at Shin-Osaka Station at 4:24 pm.
With the rare opportunity to take a look around the Hakata Sougou Railway Yard, this tour has a lot to offer railfans as well as Neon Genesis Evangelion fans. The day of the tour coincides with the last day of spring vacation, so it's also a perfect way for families to end the holiday with a bang!
Tour Dates, Stations & Departure/Arrival Times
Departing from Shin-Osaka Station:
Date: Saturday, April 1
Times:
・Departs Shin-Osaka Station: 8:11 am
・Arrives at Hakata Station: 11:40 am
・Arrives at Hakata Sougou Railway Yard: 11:58 am
Departing from Hakata Station:
Date: Sunday, April 2
Times:
・Departs Hakata Station: 1:47 pm
・Arrives at Shin-Osaka: 4:24 pm
Train: 500 series 8 carriage 500 Type Eva (489 seats)
Other stops on the route: Shin-Kobe, Himeji, Okayama, Hiroshima, Kokura, and Hakata.