VR has been a massively hot topic in recent news, with increasing investment from companies and consumers in every imaginable field of life. While we're still far away from a VR device in every household, it's no longer an impossible reality to be immersed in the sights and sounds of virtual worlds.
But what about the other senses? The vast majority of VR devices only lend users alternative ears and eyes, so there's still a long way to go until we can completely experience different realities.
In order to fill this gap, San Francisco-based company VAQSO has been working hard to develop VAQSO VR, one of only three VR devices in the world that simulate the sense of smell. We were lucky enough to attend a demo of this unique "scents device" down at DMM.make in Akihabara for some serious VR excitement!
First, we heard about the device and its background from VAQSO CEO and co-founder Kawaguchi Kentarou and Special Adviser Kurosawa Fumio.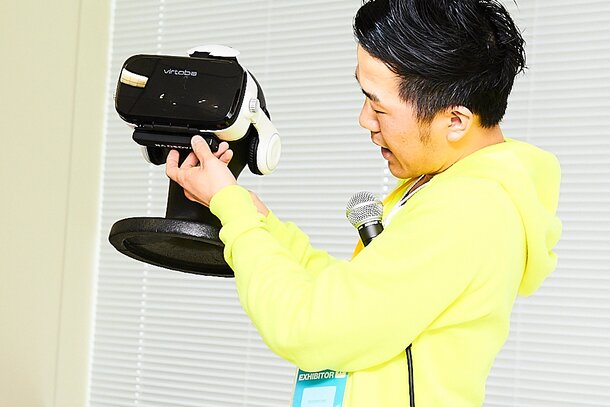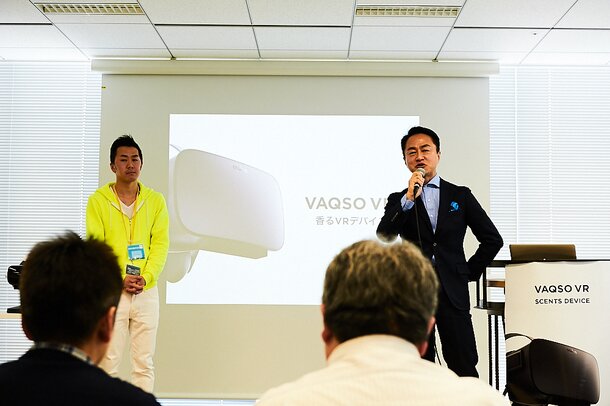 Then, we jumped straight into it and gave the VAQSO VR a go. The demo was a game where we had to shoot at incoming soccer balls, basketballs and, as a nice surprise, peaches!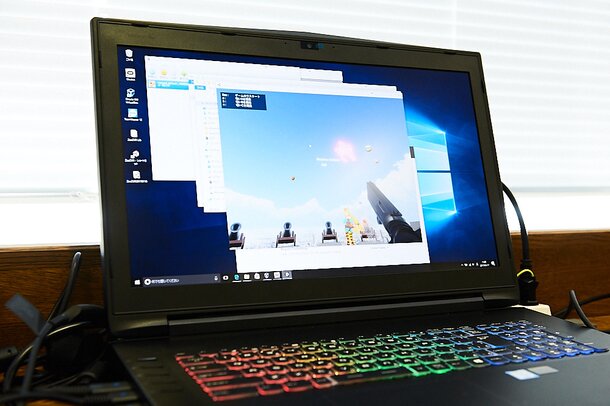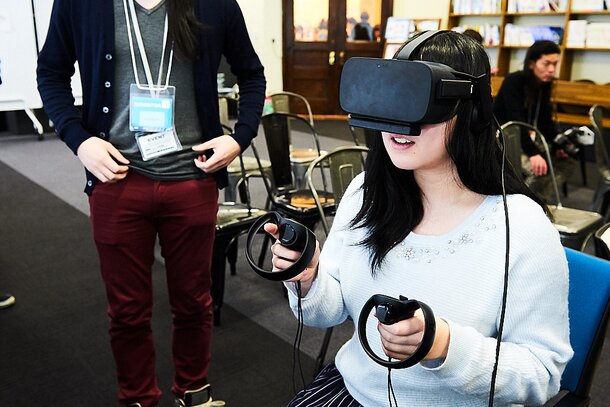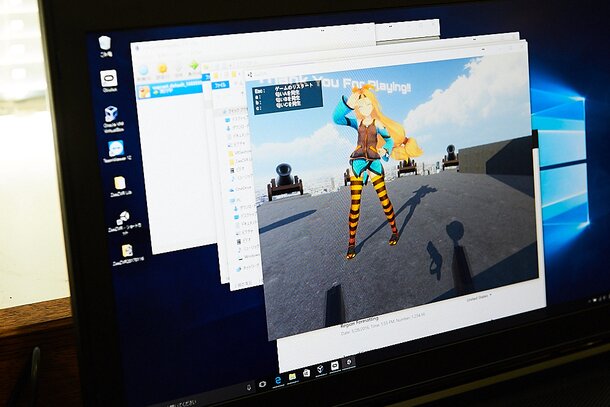 So, how does it work? First, you just need to attach it to the headset! There's minimal fuss because it's wireless and stays joined with an interior magnet. Not to mention, it's the smallest VR scent device in the world. At 120×35×15 mm, the entire device is about the size of a chocolate bar and weighs only 50 grams.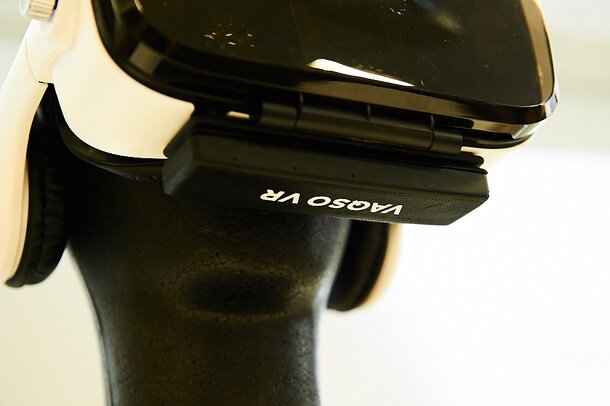 The actual scents are reproduced from cartridges inserted inside the device, which could range from the rotting flesh of a zombie to fried chicken cooking, to the scent of your love interest's shampoo as she walks by! What we experienced was the smell of gunpowder and a pleasant peachy smell after exploding some innocent peaches.
While it can only fit 3 cartridges at present, the developers have planned to increase this to 5-10 cartridges by the time it is released as a product. Each cartridge will last for about 30 hours and has to be switched for different games. VAQSO plans to upgrade this to a month to a few months for the actual release. But hey, this is basically magic, so we're definitely not complaining!
The VAQSO VR is also compatible with all VR devices on the market, including industry leaders Oculus Rift, VIVE, and PSVR. With these features, VAQSO's goal is to be the top VR scent device in the world with a market of $36 billion - a significant position when considering that the VR/AR market is projected to reach $80 billion in 2025.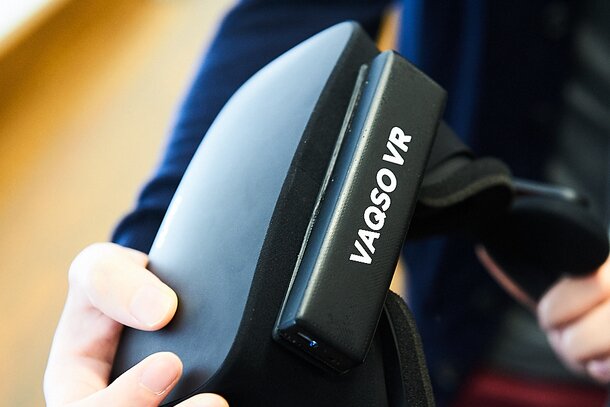 Future development plans include improving the sophistication of how users experience smells. At the moment, it's quite straightforward - three interior fans blow the scents out as a breeze to match actions in a game. However, VAQSO hopes to achieve an even deeper reality through adjusting the strength and "location" of a smell. For instance, the far-off scent of a zombie in Resident Evil might grow stronger as it gets closer and closer (but hopefully not too close!).
As for the number of scents, there's infinite potential! ZaaZ, the company from which VAQSO spun out, has already developed more than 300 for over 20 products. In the future, who knows what you'll be smelling as you play your favorite game or scroll through videos online?
VAQSO VR is scheduled for a winter 2017 release. For more information, visit their official site.
This is a Tokyo Otaku Mode original article with photos by Hara T.