The SUGOI JAPAN Award 2017 is a national voting project to award nominated works created in Japan in the four categories of manga, anime, ranobe (light novels), and novels through fans voting on which works they most want introduced to the world. This year marks its third holding, and things are heating up more than ever. In this featured series, world-famous creators nominated for a SUGOI JAPAN Award 2017 sit down for exclusive interviews.
Animation director Tetsuro Araki is well known for his work on such anime as Attack on Titan and Kabaneri of the Iron Fortress. In this interview, Araki delves into the production of Kabaneri of the Iron Fortress, and he had the following special message to share with TOM fans worldwide.
Message to fans of Tokyo Otaku Mode:
Out of all the themes I've included in Kabaneri of the Iron Fortress, the most important one is my wish for Ikoma, Mumei, and also the other characters in the series to be loved by the audience. As a creator, there's nothing that would make me happier.
Anime is something that crosses international borders with ease. Regardless of the country in which you reside and the culture you were raised in, I believe it's possible for a series to stir the same kind of emotions in all of its viewers. Therefore, I'm sure that fans overseas will love the protagonists as well. Please be sure to check out the series and show your love to Ikoma, Mumei, and all the other characters around them!
— Below is a reprint of the first part of the interview. To read the full interview, please see here. —
With their involvement in titles such as Attack on Titan, Director Tetsuro Araki and WIT STUDIO have been under the spotlight, winning several Grand Prix awards in anime competitions. The two sides joined forces once again for Kabaneri of the Iron Fortress, an original anime featuring a truly impressive team that has drawn plenty of attention. The composition and script for the series were completed by Ichiro Okouchi from "Code Geass: Lelouch of the Rebellion. Continuing from Attack on Titan, Hiroyuki Sawano - who is also known for his work in Aldnoah.Zero" and "The Seven Deadly Sins" - handled the music this time as well. Original character designs were taken care of by Haruhiko Mikimoto, who was also involved in the Gundam series and "The Super Dimension Fortress Macross". Kabaneri of the Iron Fortress describes the battle of a terrified human population against the threat of monstrous humanoids referred to as "Kabane". With a compilation film set to open in theatres on December 31, 2016, we spoke with Director Tetsuro Araki to learn about how he created the deep and profound perspectives of the series.
The moment we become willing to sacrifice our lives without hesitation, we become "something significant" - I wanted to capture that moment
What's important is to make Ikoma and Mumei lovable
For that purpose, I realized that charm is required for each character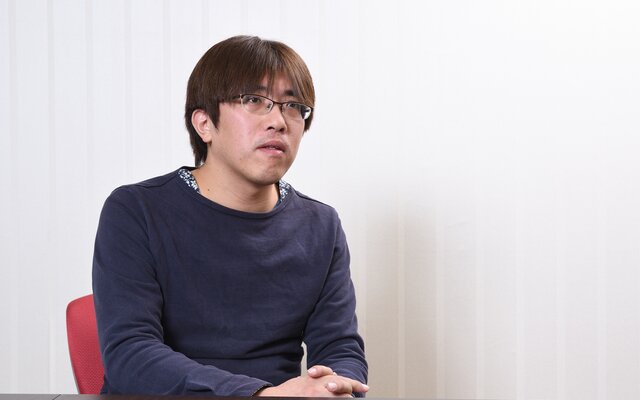 -- "Kabane" are monstrous humanoids that cannot be destroyed unless their steel-coated hearts are penetrated. After being bitten, their victims become resurrected as Kabane themselves. In this series, the stage is set in Hinomoto, an island country in the far east, where Ikoma and other characters take their stand against the Kabane threat. The series is rich in elements such as steampunk, sword fighting, trains, zombies, and traveling.
Araki - The series was loaded with themes that I enjoy, and everything just happened to turn out that way. There were only two main themes I had in mind when I was coming up with the basic settings. One was to make the series historical, and the other was to ensure that transportation took place in Hayajiro, a type of armored steam train. The vehicle allows for travel between stations that serve as fortresses in which people would take refuge. All the other elements are based on those two themes and came naturally as I continued to think. I thought about how the characters would live, and how they would fight. I also considered what kind of position samurai should assume if they were to exist in the story. It wasn't like I was trying to pack in as many elements and themes as possible. On the contrary, the importance of preventing the story from becoming one where "anything goes" was always in the back of my mind.
 For example, I knew it would be important for me to create a clear rule about defeating the Kabane. After deciding that the only way to destroy one was to penetrate the coating of their heart, I was able to move onto the designing the characters who would invent weapons to counter the Kabane. If the rule wasn't in place, there would be far too many possibilities, and anything would go. The protagonist swore to defeat the Kabane, but what would he do to reach his goal? What could he achieve? The rule served as a key leading to the dramatization of the story.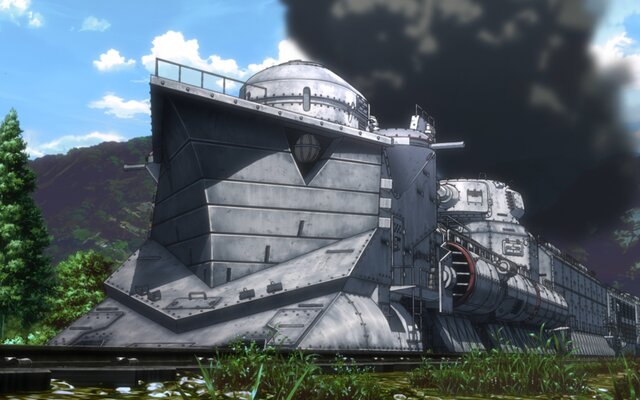 -- In the very first episode, Ikoma - the boy who confronts the Kabane with his own weapons - is bitten by a Kabane. With his research and knowledge, he is able to save himself from being resurrected as one. However, his efforts convert him into a Kabaneri, something that is neither Kabane nor human. In this sense, Ikoma is comparable to Devilman, who is neither demon nor human.
Araki - Basically, I'm a person who enjoys stories about the audible crumbling of ordinary life under the effects of a calamity. Similarly, I also like people who are driven into corners by the adversity they face. What makes Devilman and other related series so attractive is the change caused by inhuman forces that protagonists experience. The protagonists attain great power that compensates for the negative effects they suffered at the hands of the inhuman characters. There's something romantic about stories like that. Times of worry and grievance are what makes the protagonist a hero. I'm particularly interested in the moment when a young boy - who's full of anger towards the world - becomes a hero himself, and I always think about how much I want to work on such characters. In this series, the most important part was to portray the attitude of a boy who would give up his life to save a girl after he became a Kabaneri. I don't think anyone can shine brighter than a person who is ready to give up their own life. The emotion in making the decision was all I wanted to portray. Before I knew it, the setting had already expanded so much that I sometimes wonder how it all became so complicated [laughs].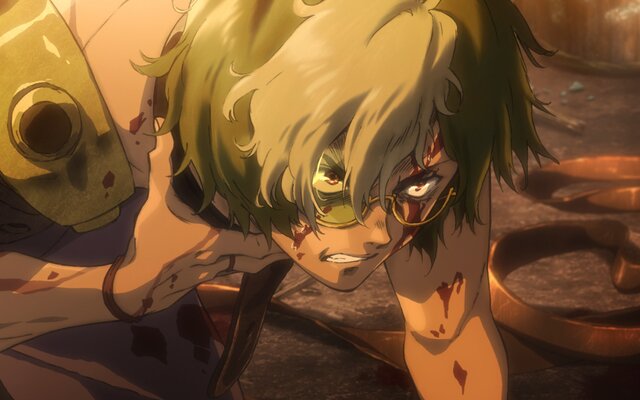 -- Mumei, the other protagonist of the series, is a twelve-year-old girl who really made an impression. She became a Kabaneri even before meeting Ikoma and decided on her own that she would stand up against the Kabane. She also possesses the strength to carry Ikoma forward.
Araki - I thought endlessly about how to bring out her charm, and also about what would make her look as cute as she could possibly be. While working on the series, presenting the protagonist pair - Ikoma and Mumei - in an attractive fashion was one of the most important challenges that I wanted to take on. When you look at them separately, they might not give off the greatest impression in the beginning. However, by showing the conflict and encouragement they share, the two characters become increasingly lovable. I wanted to portray the charm that is complete when they work together as a pair. Up until now, I've created imaginary worlds, worked on zombie pieces, and generated mecha through CG. For this series and for the first time, I thought deeply about how I could create characters that the audience would love. In the end, nothing is possible when you can't get the audience to fall in love with your characters. Whether or not a viewer will watch a series until the very end depends on the whether or not the protagonists have the right amount of charm in them.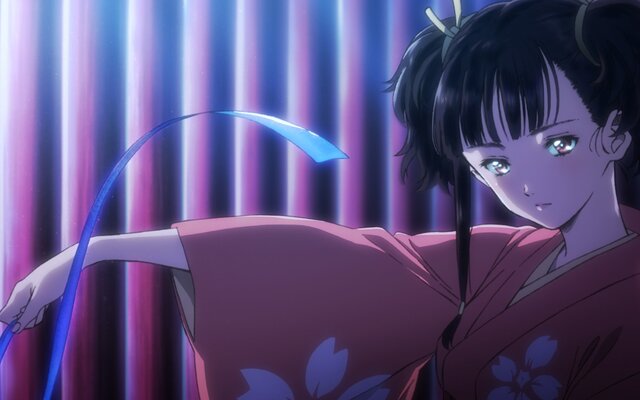 For that purpose, I depicted Mumei as a beautiful girl and made sure that Ikoma would also have his share of charisma, too. Ikoma lacks the cool and refreshing personality that people tend to favor. He shuns the world and becomes biased after having his efforts looked down upon by those around him. Instead of simply presenting good characters to the audience, I thought it would be much more appealing to show negative characters in a positive way. Ikoma has a straightforward sense of justice that encroaches on the border of insanity, and Mumei is a troublemaker who can be a bit dry and unresponsive to subtle emotional changes. I thought that if I could bring them together, prevent them from becoming even more negative, and show a relationship that reveals their true and likeable nature instead, they could both become even more lovable. Their visual appearances were something that I paid close attention to. Due to the story's nature, the on-site animators would tend to make expressions a little grimmer and make characters a little more muscular. I asked them to increase eye sizes, slim down the body proportions, and do whatever they could to make Ikoma and Mumei more attractive. It was all done because I believe charm is more important than anything else.
Read the full interview here
© Kabaneri Production Committee