eBook Initiative Japan Co., Ltd.'s ebook publishing site eBookJapan boasts the largest collection of complete sets of manga in the world, and it has now released its list of best-selling manga and short novels in each genre, as well as by year. (Data from Jan. 1 to Nov. 20, 2016.)
eBookJapan is a site offering ebooks that is used by extreme manga lovers, with each user spending more than 5,000 yen on average a month on manga. Now it's time to see which of those manga come out on top as the most popular!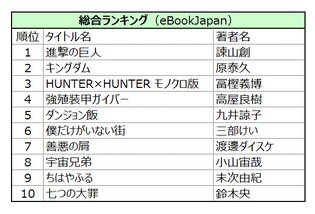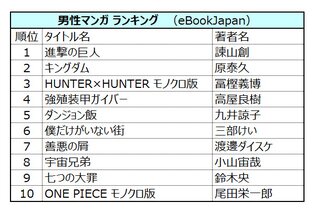 Taking first place this year with the most sales is Attack on Titan/Shingeki no Kyojin. This hit manga has taken first place every year since 2013, making this its fourth win. This series has been busy with a live-action movie, anime adaptation, and video games. Same as last year, Kingdom took second place. Since it was introduced on variety show Ame Talk last year, this history manga has gotten more and more popular.
For the first time in three years, Hunter x Hunter took third place with its newly released series Hunter x Hunter Monochrome-han. It's gotten a lot of buzz since the serialization resumed, with a lot of talk about its non-appearance in print. Also worthy of mention is Guyver: The Bioboosted Armor which continues to maintain its popularity after more than 30 years of serialization, taking fourth place. These are results that are unique to this ebook publisher used specifically by manga lovers.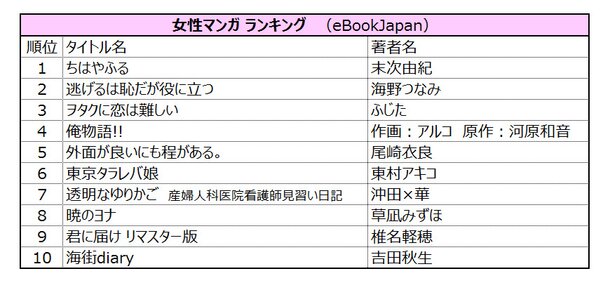 As for women's manga, first place goes to a series that has steadily grown in popularity, taking third place in 2014, second in 2015, and finally first this year: Chihayafuru. This series has changed the idea of shoujo manga, attracting a lot of male readers as well as women. In second place its Nigeru wa Haji da ga Yaku ni Tatsu which has been a hit, even earning itself a live-action drama in the fall and winter season. It's been a frequent topic of conversation online along with the ending theme Koi Dance. Taking third place was the most frequently bookmarked Pixiv original comic, Otaku ni Koi wa Muzukashii, whose otaku characters resonated with many manga readers.

Rankings specific to five age groups were also released, from teens to 50s. Distinct patterns and differences shined through in each group, such as the TL (teens love) manga Mangaka to Yakuza in fifth place for people in their 20s, and the overwhelming support for Guyver: The Bioboosted Armor from people in their 40s.
You can see a number of other rankings on the specially set up page, as well, including rankings for specific genre like BL, Tl, light novels, literature, and novels, as well as the complete rankings by age groups from teens to readers in their 50s. Others will be released later including rankings for manga completed in 2016, manga that have been especially popular after the release of drama, film, or anime adaptations, and manga that quickly rose in popularity after releasing first volumes this year.