Pokémon character and Team Rocket member Meowth is appearing on Bandai's official shopping site, Premium Bandai, as a PC cushion (5,616 yen; tax included, shipping and handling separate) pre-orders for which are open now.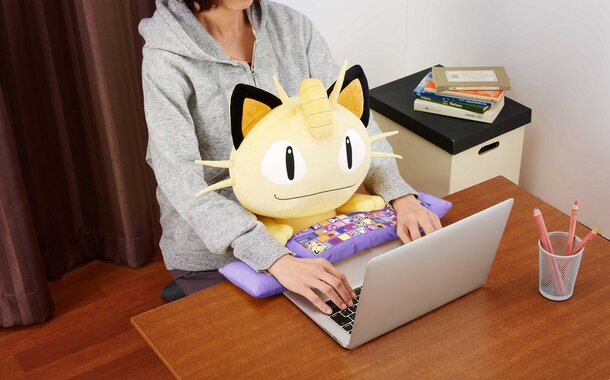 Pokémon has been a popular topic recently with the release of a new anime season, games, and a smartphone app. The familiar character and Pokémon Meowth is now appearing as a PC cushion. This design is wonderful for using at the computer both at home and at work and comes as a set with an armrest.
Meowth's cutest points (those whiskers and paws) have been carefully recreated. The cushion was made using polyester, giving it a firm and smooth feel. It'll allow you to enjoy Meowth's company while easily maintaining a comfortable posture, and you'll feel like you're doing work on your computer for Team Rocket.
The armrest is designed to look like a keyboard and features not only Meowth, but Jessie (Musashi), James (Kojiro), and the Pokémon caught by Team Rocket including Arbok and Koffing. The armrest is demountable, so depending on your mood you can use it in three cute ways (as a cushion with an armrest, just an armrest, or just a cushion). Pikachu and Eevee versions from the same PC cushion series are also available too!
■ Product Details
Name: Pokémon PC Cushion Meowth
Price: 5,616 yen (tax included, shipping and handling separate)
Set Contents: plush cushion, armrest
Dimensions (approx.): 50 x 52 x 34 cm
Materials:
- Cushion/Armrest: polyester
- Button: UP
Available Through: Premium Bandai, others TBD
Pre-order Period: Nov. 24, 2016 at 1:00 p.m. while supplies last
Estimated Release: March 2017
©Nintendo, Creatures Inc., GAME FREAK Inc., TV Tokyo Corp., ShoPro, JR Kikaku
©Pokémon
For the latest news and details, please see the product page.
*Products only available while supplies last.*
*Sales may end without notice.*
*Product details may change without notice.*
*Images show products in development, and final products may differ.*