Eighteen different IC card cases based on the Touken Danshi of the PC browser and smartphone game Touken Ranbu -Online- including Mikazuki Munechika and Kashu Kiyomitsu are available for pre-order now only on Premium Bandai's Sun-Star Stationery shop (2,592 yen each; tax included, shipping and handling separate).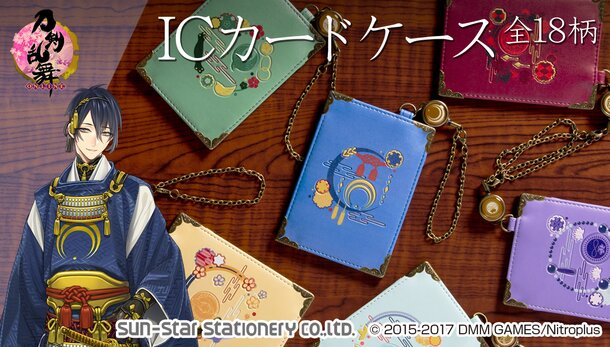 ■ About the IC Card Cases
These Touken Ranbu -Online- IC card cases are based on the Touken Danshi of the massively popular PC browser and smartphone game. The lineup includes 18 versions based on Mikazuki Munechika, Kogitsunemaru, Juzumaru Tsunetsugu, Nikkari Aoe, Ichigo Hitofuri, Uguisumaru, Hotarumaru, Shokudaikiri Mitsutada, Kashu Kiyomitsu, Yamatonokami Yasusada, Kasen Kanesada, Yamanbagiri Kunihiro, Higekiri, Hizamaru, Ookurikara, Heshikiri Hasebe, Tsurumaru Kuninaga, and Taroutachi.
Each card case is colored based on its respective Touken Danshi with motifs decorating it, including the original logo of Sun-Star Stationery on top of the high-quality textured surface of the synthetic material. Part of the surface has been embossed parallel to the design, adding to the pleasant feel. Every version has metal parts on each of the four corners as a part of the design which also serve the practical feature of reinforcing them.
The family crest of each Touken Danshi has also been applied to the chains and cord reels, and they also come with metal chain straps that can be used to attach them to bags. Cards (up to approx. 2.1" x 3.4") can be stored, allowing this to be used for a variety of things including IC cards for commuting to work or school, or for storing business and ID cards while at the office.
■ Product Details
・Name: Touken Ranbu -Online- IC Card Cases (18 versions) (Premium Bandai Exclusive)
・Price: 2,592 yen each (tax included, shipping and handling separate)
・Specifications: Card case with cord reel and chain strap
・Dimensions (approx.): 87 x 121 x 5 mm
・Materials: PU, PVC, zinc alloy
・Made in China
・Available Exclusively Through: Premium Bandai
・Pre-order Period: from Nov. 30, 2016 at 1:00 p.m. while supplies last
・Estimated Release: April 2017
・Selling Agency: Sun-Star Stationery Co., Ltd.
©2015-2017 DMM GAMES / Nitroplus Co. Ltd.