If only she would stay still and listen to what they have to say!
Baby animals are the cutest things ever. And what is better than one baby animal? A whole bunch of them! Japanese Twitter user @kikiwanya recently posted a video of a brood of chicks gathered together, which is pretty adorable on its own, and then put the cuteness into overdrive by dangling a popular anime character in front of them.
Saber from Fate/Stay Night might have met her match as these baby chicks are giving it their all, pecking away at the little keychain. You can't help but let out an "aww" and a laugh as all the little birds scramble around to get at the swinging target.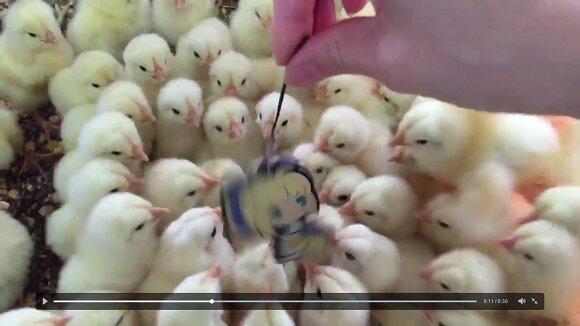 Who knows why the yellow guys were so mad/excited at the bobbing swordsman. Perhaps they were trying to convince Saber to do her knightly duty instead of hanging around guarding some guy's apartment keys.