Shigeru Mizuki, a mangaka mostly known for GeGeGe no Kitaro, has passed away at the age of 93. According to reports, he departed this world at 7 a.m. Nov. 30 at a Tokyo hospital due to heart failure.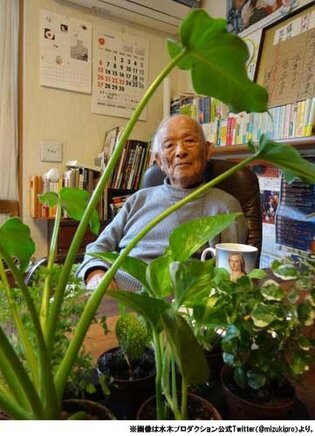 Mizuki was born in Tottori Prefecture. He fought at Rabaul, Papua New Guinea during the Pacific War, where he lost his left arm. After the war, he worked as a kamishibai painter (a storytelling method that uses picture scrolls), then made his mangaka debut through kashi-hon (books for rent). Thereafter, he continued his activities on the frontline of monthly and weekly manga media.
In August 2013, he published a specially drawn manga Kappa no Sanpei (Shogakukan, Yawaraka Spirits) on the only manga media he hadn't published before, the Internet. He managed to accomplish the great achievement of publishing in every post-war manga media.
Moreover, he started a new series titled Watashi no Hibi (Shogakukan, Big Comic) in December 2013 at the age of 91. Continuing work until he published all 34 chapters in May 2015, he was a mangaka active until the end.
ホームセンターで買ってきた寄せ植え用ミニ観葉植物を「美しいね・・・」と愛でる水木しげる。森の精のような1枚になりました! http://t.co/sOeuVzIJ6f">pic.twitter.com/sOeuVzIJ6f

— 水木プロダクション (@mizukipro) https://twitter.com/mizukipro/status/649106449990201344">2015, 9月 30
*Translation: Shigeru Mizuki was the kind of person who would admire the beauty of a mini foliage plant for group planting he bought at a home center. Alas, it has grown into a wood nymph!‒– Mizuki Production (@mizukipro)*