I'm actually quite the scaredy cat! Even when going to watch something enjoyable like fireworks I sit looking upon them thinking they are beautiful… while also cowering away from the large noises.
Anyway, today I'll be taking a look at the first Orange Rouge product!
Nendoroid Tsurumaru Kuninaga!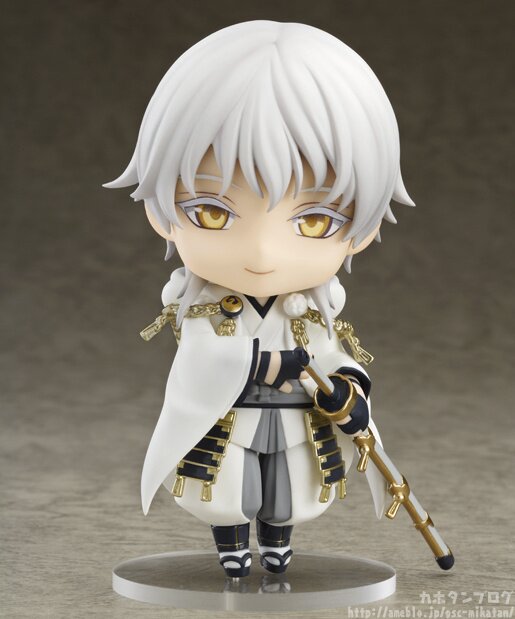 From the popular browser game 'Touken Ranbu -ONLINE-' comes a Nendoroid of the sword warrior who loves surprising people, Tsurumaru Kuninaga! He comes with three different expression parts including his standard expression, a combat expression as well as a playful laugh for whenever he successfully surprises someone!Like the previous Nendoroids in the series, his sword can be displayed both sheathed and drawn. He also comes with other optional parts including folded arms, and… ?
His lovely white hair and gentle golden eyes look so lovely!! Not to mention the white outfit with lovely golden accents all along it! As I mentioned, this is the first product to be released under the name 'Orange Rouge', the new brand that was established last week! ♪
The intricate details on all the accessories and parts of his outfit really make the simple design look so elegant, suiting Tsurumaru perfectly! (・∀・)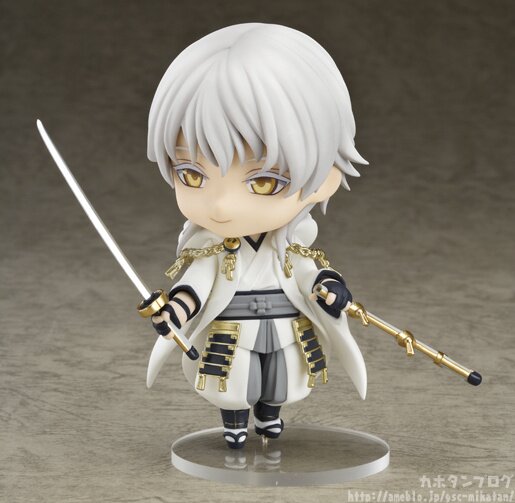 As with the previous Touken Ranbu Nendoroids, Tsurumaru comes with his sword in both sheathed and drawn forms, allowing you to create a number of different poses! He really has such an elegant look to his movements!
The way his sleeves are blowing in the wind together with the clear expression make him look so calm and confident! The chains around his shoulders also have a slightly dynamic feeling to them! ☆
Anyway, for those who haven't been around recently, let's have a quick recap regarding…
Orange Rouge!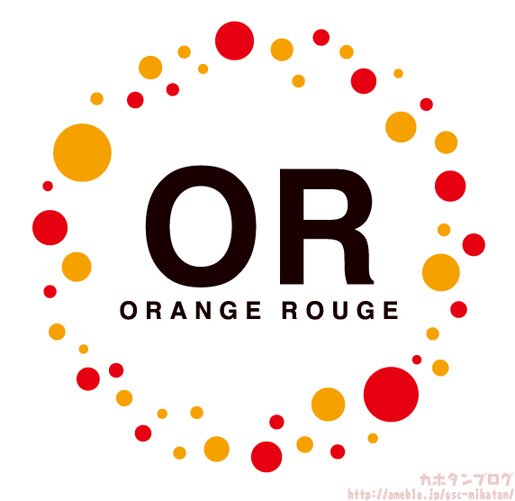 Good Smile Company and Max Factory have been taking close notice of the demand and constant rise in popularity for male character products. In order to match the demand for these products, an all new brand dedicated to these male character figures and goods has been established – ORANGE ROUGE.
The brand will include products from the popular Nendoroid action figure series, the highly posable yet beautiful figma series as well as highly detailed and intricate scale figures. Various goods are also planned to be sold under the Orange Rouge name. The strengths of both companies will come together to provide all sorts of products and services for fans to enjoy.
In other words! ORANGE ROUGE is the combined effort of GSC and Max Factory to bring you more male character products!
The current line-up includes a number of different upcoming products from Touken Ranbu -ONLINE- including Nendoroid Shokudaikiri Mitsutada, 1/8th Scale Kashu Kiyomitsu, 1/8th Scale Yamatonokami Yasusada and the 1/8th Scale Mikazuki Munechika!
There are also products from other series, be sure to check the official site below to see the full line-up with images! ♪
⇒ http://orangerouge.com/en/
But anyway, let's get back to Tsurumaru! (`・ω・´)ゞ
His second expression allows you to recreate his combat mode!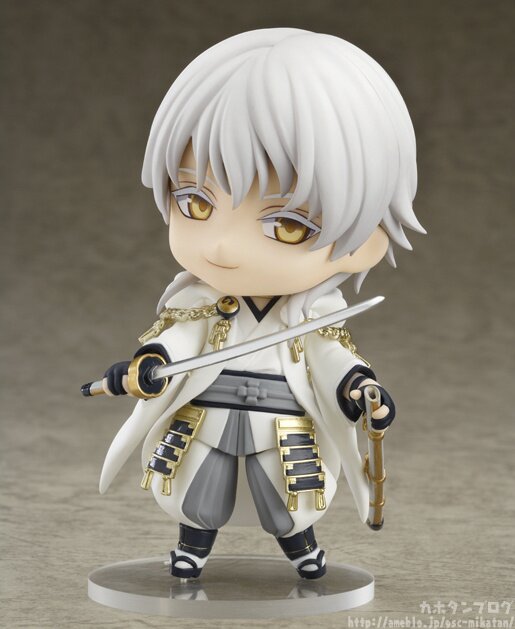 **"Right, let the main act begin!"**
I can just hear his voice playing though my head now! Compared to his normal gentle expression, this one certainly has a more belligerent feel to it! His left and right legs can be moved around independently allowing his legs to be posed quite far apart like the last photo, or close together like in the first photo!
However… he also comes with some other optional parts that I have been waiting so long to show off!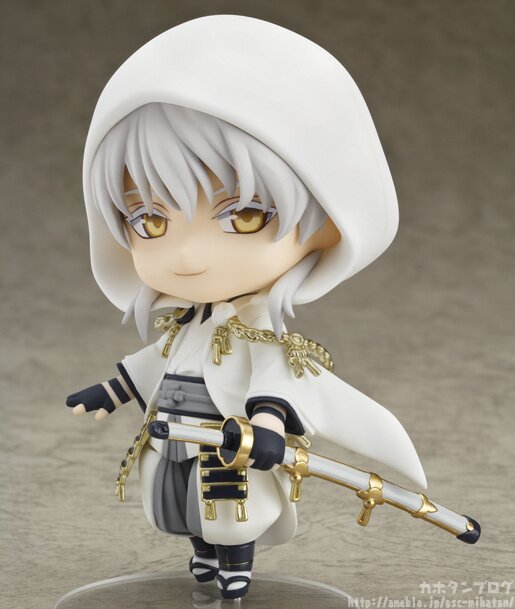 **He comes with hood parts that allow you to display him with his hood up!!!**
The round appearance of the hood fits the Nendoroid appearance so very well! It's so cute!!! Completely separate front hair parts and back head parts are included to recreate this look!! I'm not sure how I would want to display mine!!
Plus, just like the other previous Nendoroids, he also comes with a stand featuring his sword crest! (σ・∀・)σ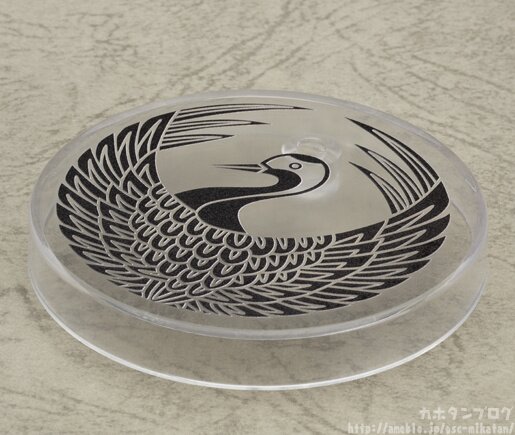 Although the brand has been changed to Orange Rouge, we still want fans to be able to display all the characters together, so these details have all been kept from the previous Nendoroids! ♪
Onto his third expression…!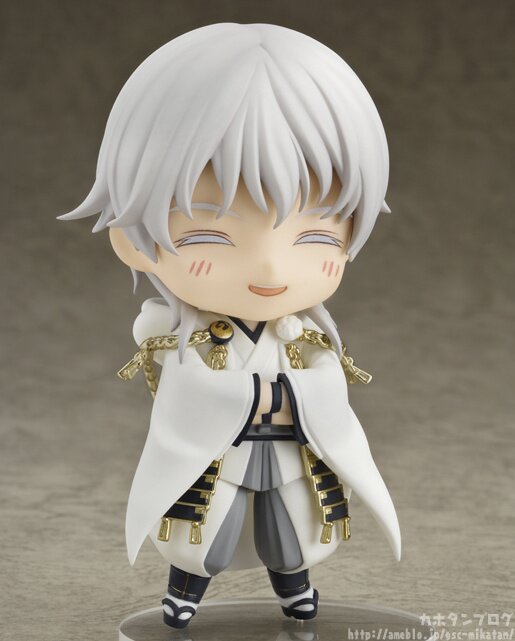 **A playful smile! ☆**
**"…Ahahahaha! Did I surprise you?"**
Another expression that instantly makes me think of one his his famous lines! Depending on how you look at it, the smile can have a rather mischievous look! He also looks rather happy with the result of his surprise with those crossed arms!
Nendoroid Tsurumaru Kuninaga himself is amazing, but I definitely think the most fun will be had displaying all the Touken Ranbu Nendoroids together! Just think of all the original situations you could recreate in Nendoroid size!!
Become the final owner of the sword passed on for generations!
Nendoroid Tsurumaru Kuninaga!