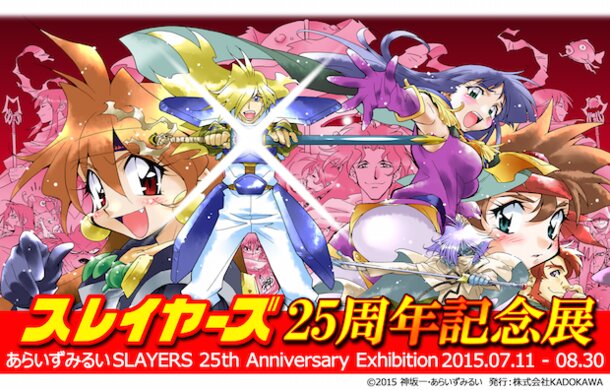 In commemoration of the 25th anniversary of the monumental light novel Slayers, Rui Araizumi, who was in charge of illustrations, has opened the "Rui Araizumi Slayers 25th Anniversary Exhibition" starting on July 11 at Gofa, a gallery specializing in manga, anime, and video games located in Aoyama.
Focusing on everything from early keyframes to modern digital works, this exhibition is divided into three parts, and displays will change for each.
Also, while tickets are already sold out for the autograph signings on Aug. 2 (Mon.) and the 23 (Mon.), the author, Hajime Kanzaka, and Rui Araizumi will be having a talk show on July 19 (Mon.).
I'll flip out if ya don't come see it!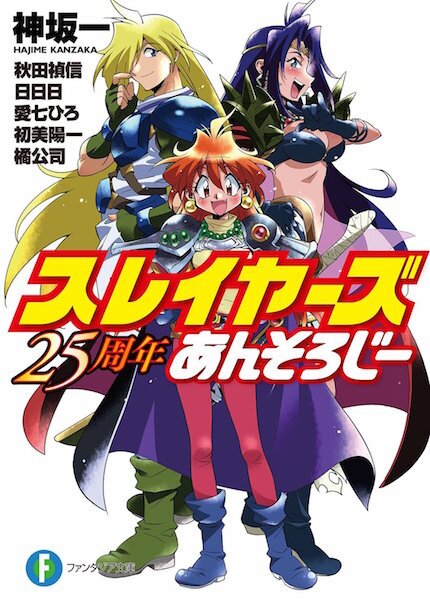 Starting in 1989, Slayers has been a historical work, penetrating through the ordinary layers of the light novel genre. In addition to the original work which was completed in 2000 with 15 volumes, more than 30 volumes of spin-offs had been published by 2011.
Not just limited to the original light novel, Slayers was a pioneer which caused a social phenomenon. The series became a huge hit through the light novel's media mix model, developing a wide variety of works including manga, anime, and video games.
Aside from being in charge of the light novel's illustrations, Rui Araizumi worked on other things as well, including the anime's character designs and drafts.
This exhibition will be packed with his works showing the characters' charm and world which he has continued drawing for the past 25 years.
Furthermore, exhibition commemorative goods including autographs and artcards will be sold, and a collaboration cafe will also be open, so you can look back on Slayers from its menu.
Event Information
Rui Araizumi Slayers 25th Anniversary Exhibition
■ Exhibition Outline
Exhibit Period: 7/11/2015 (Sat.) – 8/30 (Mon.)
1st Stage: 7/11–7/26
2nd Stage: 7/28–8/9
3rd Stage: 8/11–8/30
Open weekends and Mondays (except holidays)
Business Hours: 12:00 p.m. – 6:00 p.m.
Location: Aoyama Gofa / Tokyo-to, Shibuya, Jungumae 5-52-2 Aoyama Oval Building 2F
Admission Fee:
- Advance Tickets: 25th Anniversary Exhibition Ticket with Special Coaster - 1,000 yen (tax included)
- Same-day Tickets (weekday tickets only): 25th Anniversary Exhibition Ticket with Special Coaster - 1,000 yen (tax included)
- Regular Admission: 800 yen (tax included)
*All plans include a drink ticket.
*8/13-14 (Sat. & Sun.) will include a national holiday fee
*On 8/9 (Mon.), the building will be closed for a museum closure day.
*On 8/17 (Mon.) operations will be different
*Weekday tickets do not secure entry priority.
*On the 8/13-14 national holiday, there is a 45 minute rotation
Source: KAI-YOU
Source article written by Ryosuke Fujiki