A Guide to the Adorable Stuffed Animals of Japan
Stuffed animals are known for being cute, cuddly, and comforting, but Japan takes the adorableness of plush toys to a whole new level. The Japanese style of "kawaii" (or "cute") somehow just grips our hearts a little tighter and makes us squeal a bit louder. And if you are among the many who consider stuffed animals mere ornaments with no practical purpose, this guide may just change your mind!
Yes, they are useful!
There's a reason stuffed animals are the go-to gift for children. Their adorable appearance and soft touch is just so comforting. But who's to say the soothing comfort that stuffed animals offer is only for kids? The Nemuriale Sleep Aid, developed by a Japanese doctor, is a smooth, egg-shaped device placed inside the tummy of a small stuffed animal, which emits gentle pulses that imitate a heartbeat, and is designed to calm you into a serene, peaceful state and help you fall asleep. The small zippered stuffed animal pouches come in all types, from puppies and kitties to bears and bunnies. The Nemuriale is for young and old, and has helped many with anxiety and insomnia, too!
There are simpler uses for stuffed animals as well. Depending on their size and shape, they can also be used as cushions or bed rest pillows. Amuse is one of the leading Japanese manufacturers of "kawaii" stuffed animals, with numerous adorable character series featuring different animals, from hamsters to foxes to sloths! Their character series Kotori Tai features various species of birds, and even has a line of doughnut cushions for supporting your tush when you sit down! Amongst the many sizes of Amuse plushies, the largest is the Super Jumbo size, which is perfect for resting on. The Namakemono no Mikke sloth especially makes a wonderful bed rest pillow. Lean against Mikke's cozy belly and wrap his furry arms around you as you read! When need a break or a hug, he doubles as the comfiest cuddle buddy, too.
Stuffed animals from Japan make great collectors' items too. That's because a there tends to be a delightful variety of adorable versions released for each character series. Perhaps the most famous and loved Amuse character series worldwide is the Alpacasso, a series of plush alpacas that come in many colors and versions. The most popular (to our knowledge) is the Rainbow Alpacasso, whose fur is different shades of pretty pastel colors. Alpacassos come in many other soft pastel hues as well, from white, pink, lavender and mint to luscious chocolatey brown. They also like to dress for various occasions and have versions with velvet ribbons, bells, stars, strawberries… They even have adorable hand puppets and plush backpacks so that you can practically carry them with you wherever you go! With a full collection of kawaii stuffed animals, you will have not just an enormous sense of accomplishment, but a room of overwhelming, overflowing cuteness as well!
Of course, you can also use your stuffed animals for the obvious and easiest purpose of display and decoration! One of the best plush toys for this purpose are the bunch from San-X's Sumikko Gurashi, a series of cute little characters who like to hang out in corners. Fittingly, place these absolute cuties in the corners of your rooms, bookshelves, tables, and window sills, and it will instantly give your home a tastefully kawaii makeover. You'll smile every time you pass by one of these plump little stuffed toys. The small and palm-sized plush collections from Sumikko Gurashi are especially great for this purpose!
Now let's introduce you to some cute stuffed animals!
There are too many adorable plush toy manufacturers in Japan to count, but some of the most popular stuffed animals come from the company Amuse. With a mission to inspire happiness and connect people through the soothing power of "kawaii," Amuse designs numerous series of characters that anyone in the world would call cute! Normally their stuffed animals can only be won from crane games (also known as UFO catchers) in arcades throughout Japan. Luckily, Tokyo Otaku Mode is an official partner of Amuse, so that people around the world can purchase Japan's most adorable stuffed animals conveniently online from the TOM Premium Shop!
With almost too many characters to count, Amuse has stuffed toys of animals both common and less common, from dogs and cats to sloths and alpacas. Their most popular series, Alpacasso, features furry and plush pastel-colored alpacas. The Pote Usa Loppy series features long-eared bunny rabbits. Kyun to Naki no Usagi features the pika, cute rabbits with small round ears. Coroham Coron features chubby and round hamsters. Mameshiba San Kyodai features a family of Shiba dogs. Higa Manjya is a series of chubby cats. Kotori Tai features various species of birds shaped like gumdrops. Namakemono no Mikke features the cutest, softest sloths you've ever seen. And the list just goes on and on!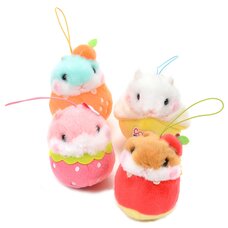 ---