Osewaya Slender Heart Clip-On Earrings
Product Name: Osewaya Slender Heart Clip-On Earrings

Brand: Osewaya
Collection: 2015 Autumn/Winter
Lineup:

Material: Piping
Size: approx. 57 mm | 2.2"
Made in Japan
These stylish earrings from Japanese designers Osewaya come in the form of a dangling heart! Available in silver, red, pink or white, each of these cute earrings is made from classic piping and is a great way to show a little love every day!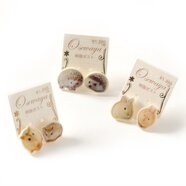 ---
Your Recommended Products
---
---
Product Review
they're actually really comfortable, which i didn't expect, and they have a really cute design, especially for the price!
I can't get over how cute these are. They're small heart hoops so they aren't huge or anything which is perfect. They are clip ons but they're really comfortable and not super tight.
I thought they were going to be bigger hoops when I got them in the mail but they're pretty small which I actually love! I used to have stretched ears so I didn't think I could wear earrings anymore but these look lovely on!
---