Yuu Illustrated Curtains - Planet
Details

Available Sizes & Versions: Width 100 cm x Height 135 cm / 39.4 x 53.1 in (Adjustable Height: 132-136 cm / 52.0-53.5 in) x 2 Width 100 cm x Height 135 cm / 39.4 x 53.1 in (Adjustable Height: 132-136 cm / 52.0-53.5 in) with Blackout Lining x 2 Width 100 cm x Height 178 cm / 39.4 x 70.1 in (Adjustable Height: 175-196 cm / 68.9-77.1 in) x 2 Width 100 cm x Height 178 cm / 39.4 x 70.1 in (Adjustable Height: 175-196 cm / 68.9-77.1 in) with Blackout Lining x 2 Width 100 cm x Height 185 cm / 39.4 x 72.8 in (Adjustable Height: 182-186 cm / 71.7-73.2 in) x 2 Width 100 cm x Height 185 cm / 39.4 x 72.8 in (Adjustable Height: 182-186 cm / 71.7-73.2 in) with Blackout Lining x 2 Width 100 cm x Height 200 cm / 39.4 x 78.7 in (Adjustable Height: 197-201 cm / 77.6-79.1 in) x 2 Width 100 cm x Height 200 cm / 39.4 x 78.7 in (Adjustable Height: 197-201 cm / 77.6-79.1 in) with Blackout Lining x 2 Width 100 cm x Height 220 cm / 39.4 x 86.6 in (Adjustable Height: 217-221 cm / 85.4-87.0 in) x 2 Width 100 cm x Height 220 cm / 39.4 x 86.6 in (Adjustable Height: 217-221 cm / 85.4-87.0 in) with Blackout Lining x 2 Illustrated Curtain Tie-Backs
These amazing curtains feature the work of popular artist Yuu. Their wondrous design is from Yuu's musical suite "Planet" and features a beautiful girl under a sea of stars with spirits floating around her. The borders of the art vary according to which size you need (the entire illustration only being visible on the largest curtains), but this intricately detailed design is sure to draw attention wherever it hangs.
The curtains are available in a width of 100 cm and heights of 135, 178, 185, 200, and 220 cm (with some adjustment possible) and are also available with or without a blackout lining to reduce light penetration. In addition, you can also purchase special curtain tie backs illustrated by Yuu with a different design on the front and back that matches the artwork on the curtains. Add these celestial and mysterious curtains to your room for a bit of ethereal allure that you won't be able to help but stare at!
---
Comment here! Discuss your excitement with other TOM users!
---
Your Recommended Products
---
---
---
Celebrating 10,000+ Premium Members!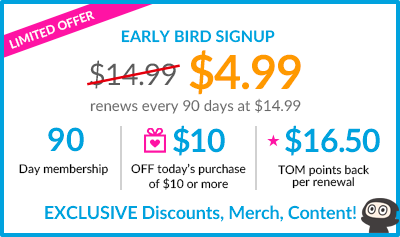 TOM Premium is normally $14.99 for 90 days.
Join now to experience your first 90 days for the promo price of $4.99!
Your 90 day subscription will AUTO-RENEW at $14.99.
In exchange, you will receive $16.50 in TOM Points every time.
Details may be subject to change.