---
URAHARA x Luna Haruna
Collaboration Slip-On Sneaker project has started!

The URAHARA x Luna Haruna Collaboration Slip-On Sneaker project has started! The project is a collaboration between the anime URAHARA, which began airing worldwide in October 2017, and Tokyo Otaku Mode!
Staged in Harajuku, URAHARA is an anime series where the most adorable items show up one after another. Those cute items will be used to produce and sell slip-on sneakers to fans of URAHARA and Harajuku fashion around the world!
But that's not all.
This project is a collaboration with the extremely popular anime artist Luna Haruna! Haruna has challenged herself as a voice actress for her role in the anime and she even sang the ending theme "KIRAMEKI☆LIFELINE!" Haruna has deep ties with Harajuku, as she's a representative of Harajuku fashion and has even modeled for the magazine "KERA!" Along the way, we'll post updates showing Haruna's design process.
---
URAHARA is a kawaii sci-fi girls' drama set in Harajuku. It is currently airing.
URAHARA tells the story of three high school girls, Rito, Mari, and Kotoko, who open a limited-time shop called PARK in Harajuku during their spring break. There, they plan to sell the original fashion goods and sweets that they create, but their goods are stolen by Scoopers. Scoopers are aliens that cannot create original items, so they must steal them. Through their fights with the Scoopers, Rito, Mari, and Kotoko look within themselves to understand their own creativity, why they want to create items, and what they are creating them for.
By thinking about "what creativity is to them," the girls are able to understand that their worries and troubles are what lead to their growth. The story has a general theme that's personally applicable to anyone.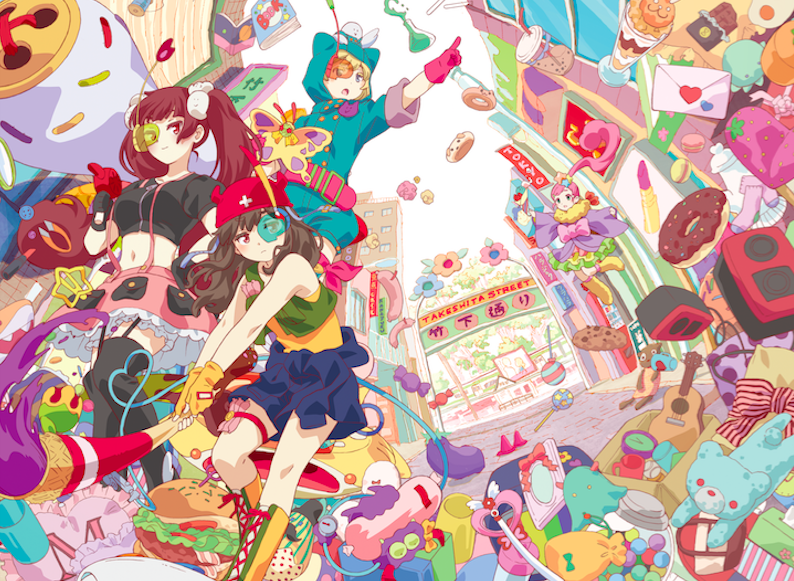 URAHARA Official Site:https://urahara.party/


---
Haruna's birthday is October 11th. She currently works as an anime song artist. In May 2012, she debuted with "Sora wa Takaku Kaze wa Utau" (the Fate/Zero 2nd season ED theme) written by Yuki Kajiura. She has many representative words, such as "Overfly" from Sword Art Online (the Fairy Dance edition).
Her popularity does not end in Japan, as she's been invited to live events in various countries throughout Asia and Europe. Haruna has charmed many people with her cute looks and soulful singing voice.
Her role in URAHARA will be her first challenge as a voice actor.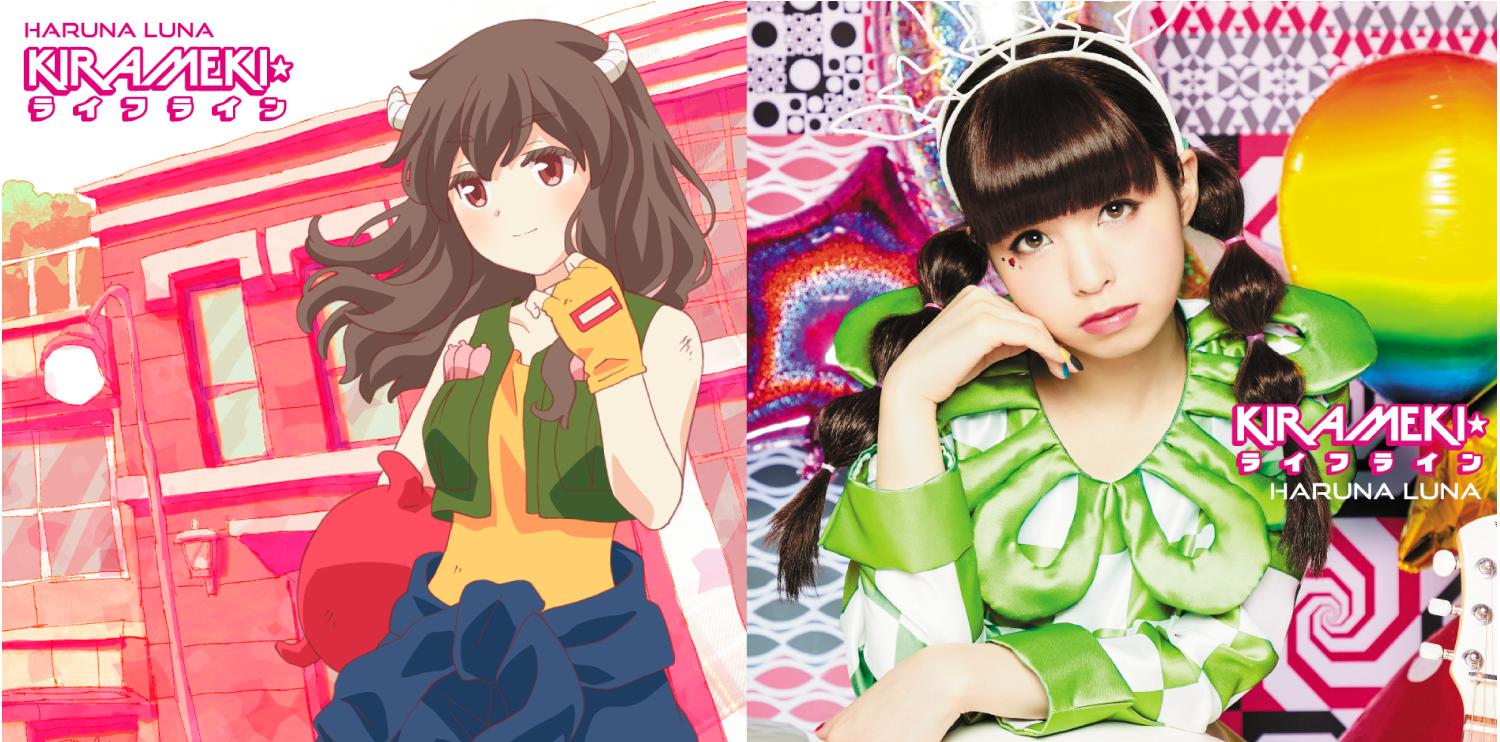 Luna Haruna's Profile:http://www.harunaluna.jp/profile/
Facebook:https://www.facebook.com/harunalunaofficial
VEVO:https://www.youtube.com/user/lunaharunaVEVO
New Single
The new single "KIRAMEKI☆LIFELINE" will be released on Nov. 8th!
M1 "KIRAMEKI☆LIFELINE" TV Anime URAHARA ED Theme
M2 "Baby, maybe" TOKYO MX/MUSIC ON! TV LisAni! NAVI Theme Song
Luna Haruna released her 3rd album LUNARIUM in June, but after challenging herself as a voice actress for the anime URAHARA, her 11th single will be the anime's ending theme. Haruna helped write the ending theme "KIRAMEKI☆LIFELINE" in which a battle between a jazzy horn section and a rock guitar unfolds. This new style is called Dotabata Pop!
Coupled with the song are "Baby, maybe,"(TOKYO MX/MUSIC ON! TV LisAni! NAVI Theme Song) a song with a memorable and refreshing chorus, and "Flutter," which depicts the dilemma between the deviation from real and virtual realities.
Apple Music will be releasing the songs worldwide on November 10th!
Luna Haruna is a popular anime artist who is challenging herself as a voice actress for the first time! She voices Rito Sudou in the anime URAHARA and even sang the anime's ending theme "KIRAMEKI☆LIFELINE!"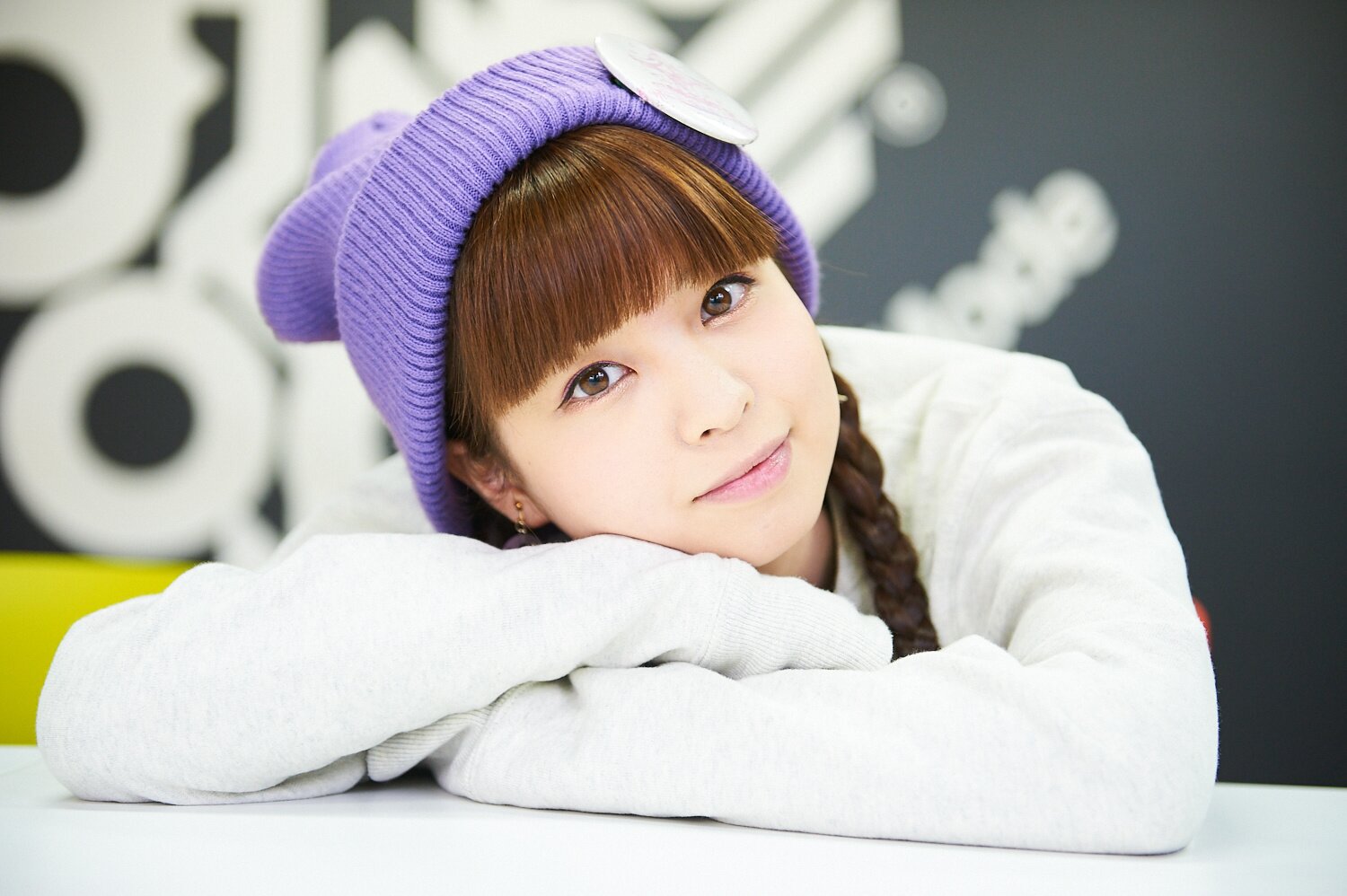 Haruna has modeled for the magazine "KERA," the representative magazine of Harajuku fashion. In order to decide a design for the URAHARA x Luna Haruna Collaboration Slip-On Sneakers, she came to our Tokyo Otaku Mode office!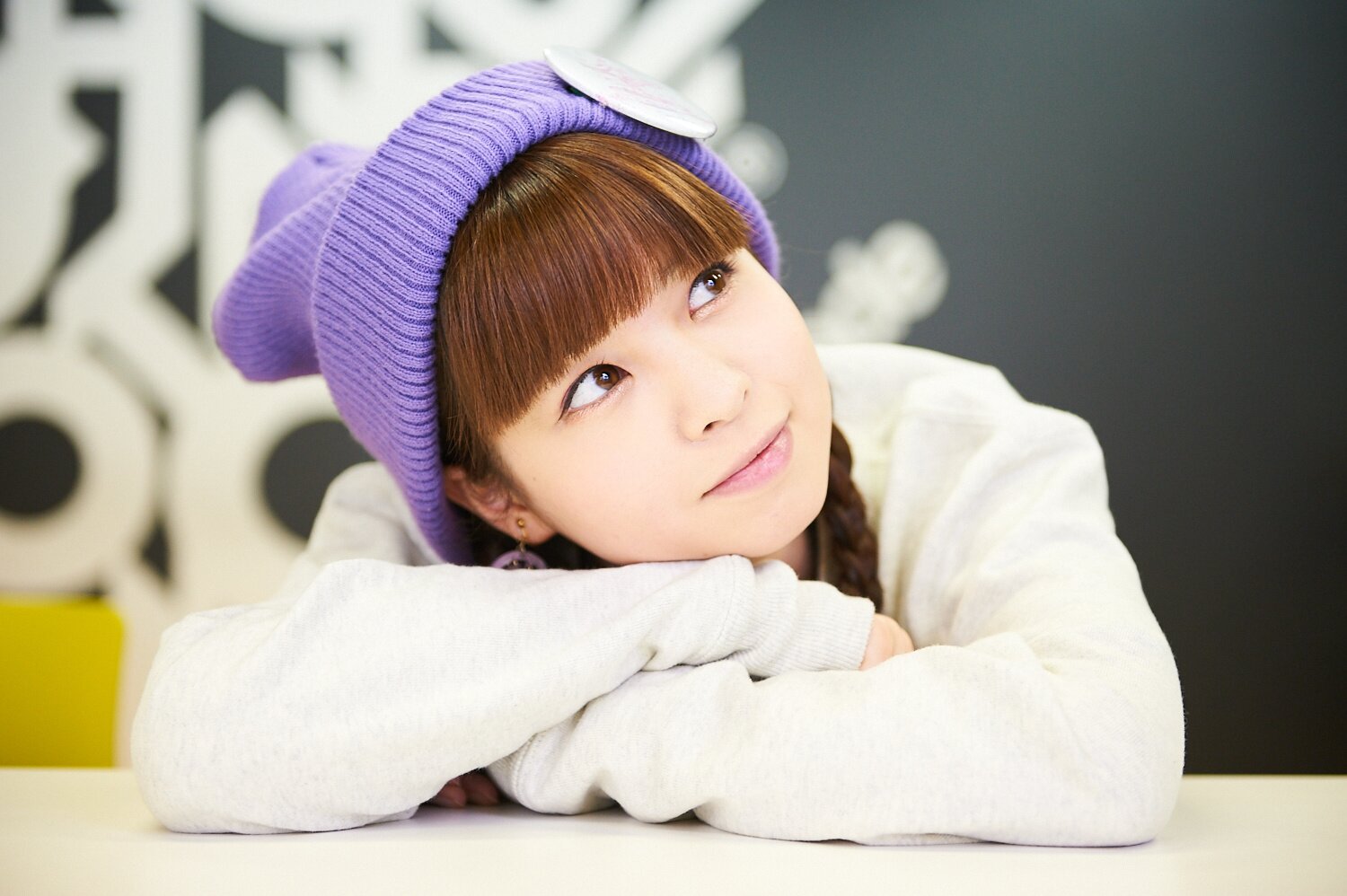 We're looking forward to seeing what kind of sneakers she'll design!
Fast-forward to the start of the design process.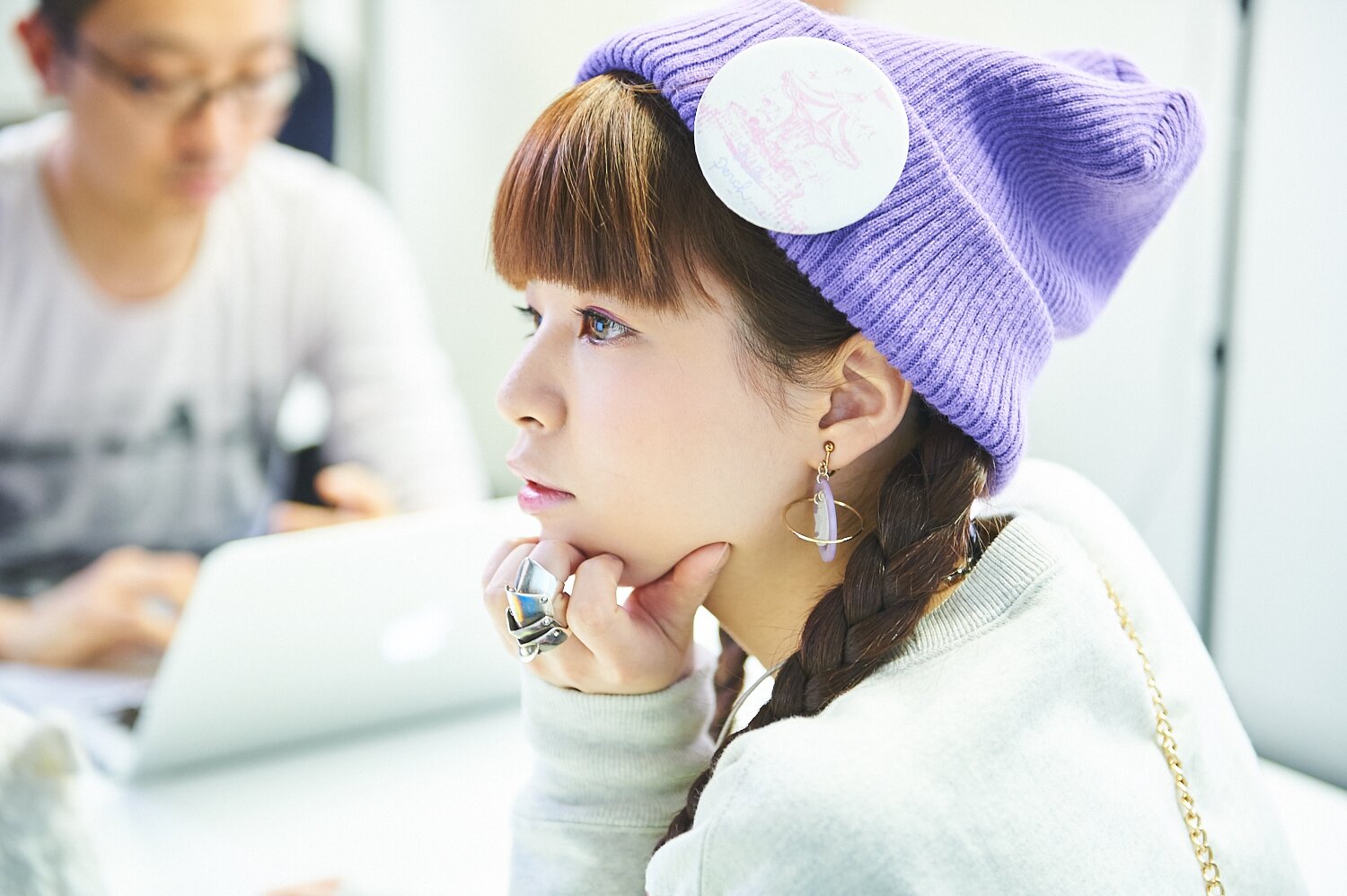 Haruna says that when it comes to fashion items, she loves shoes the most. When we told her about the project, she immediately went into serious mode.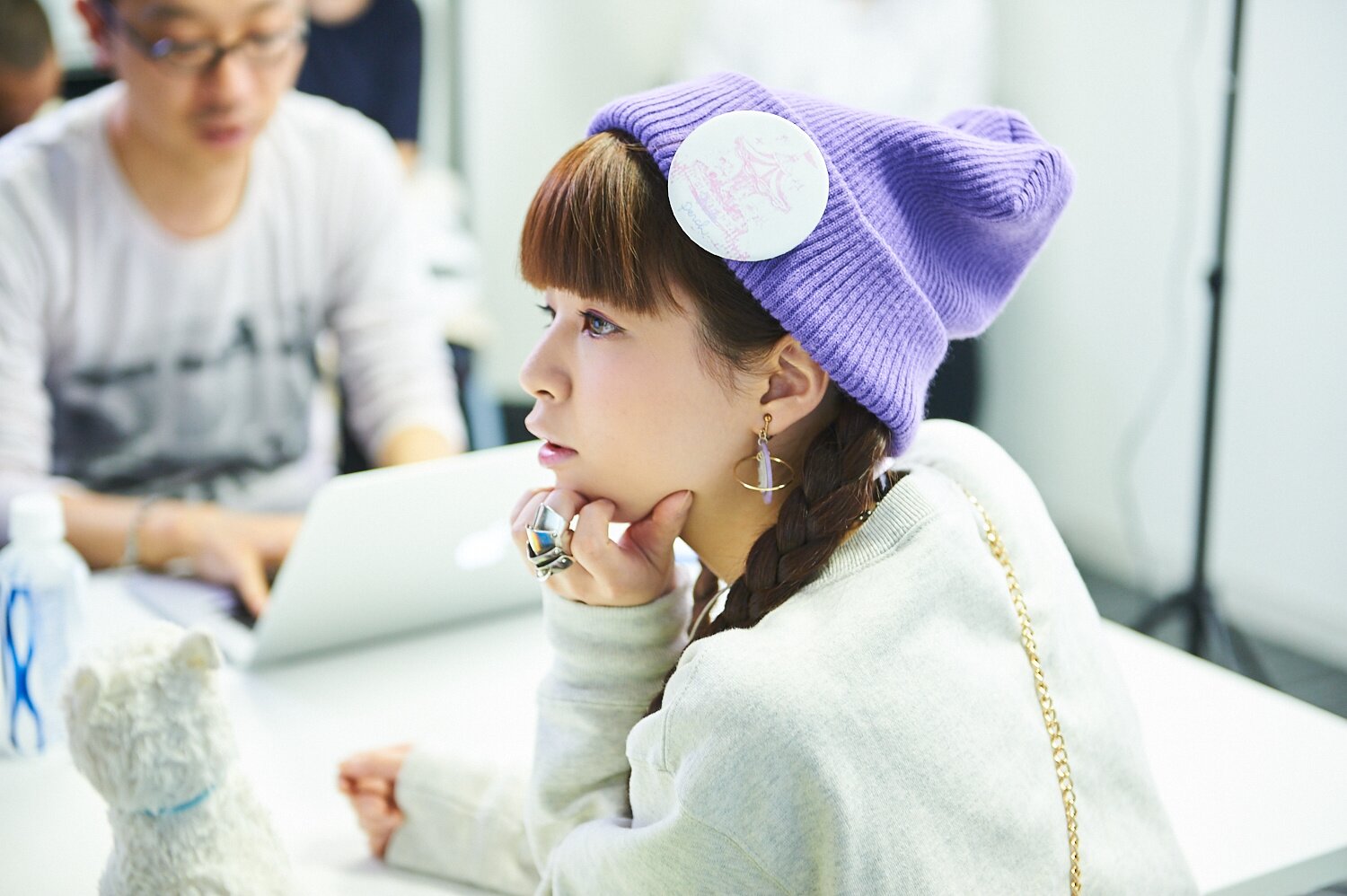 Next to her, Haruna's stuffed alpaca Minami-chan watches over the project's progress.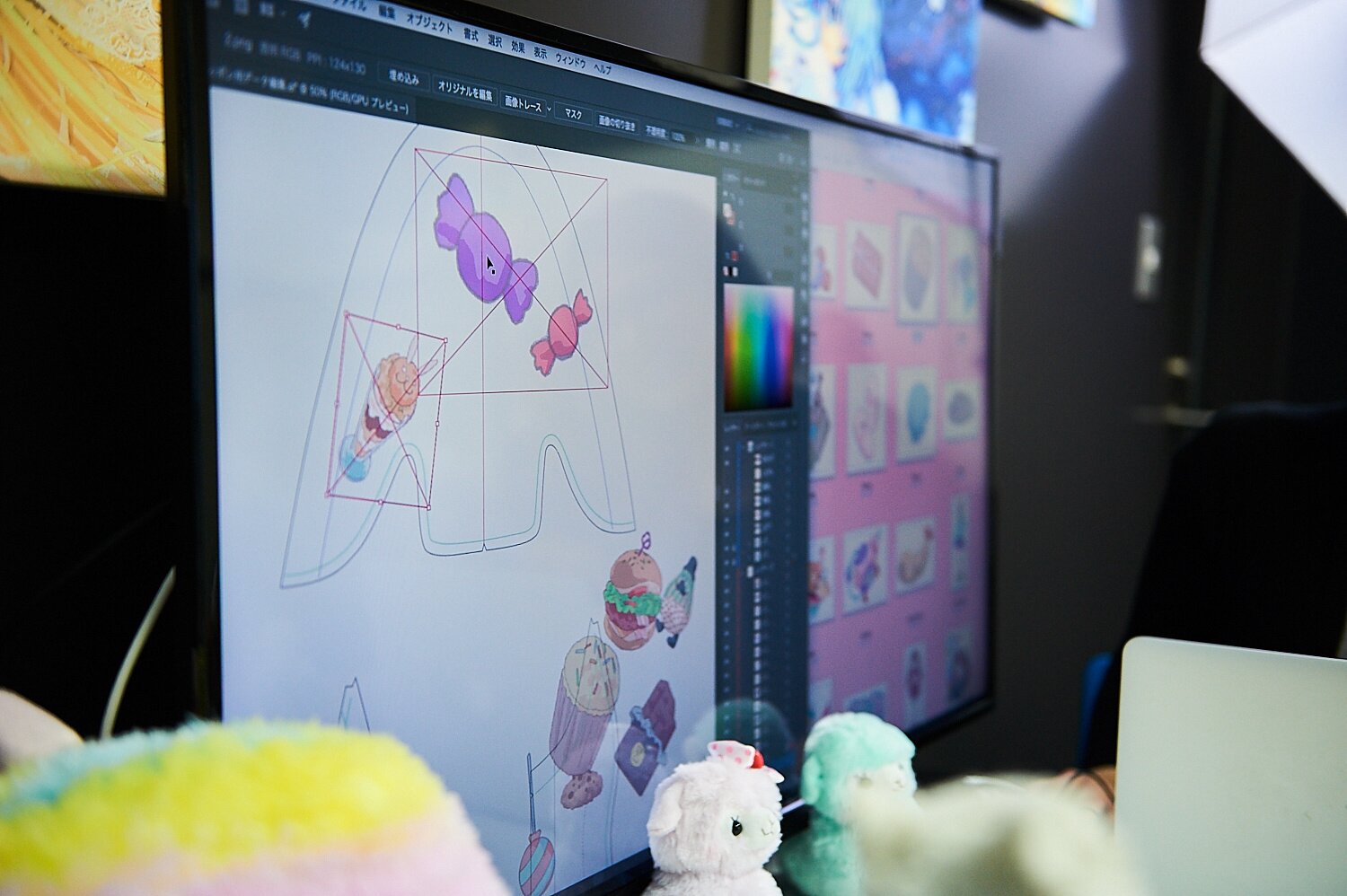 Items are chosen for the instep, above the toes.
Slip-ons have a large instep that decides a viewer's first impression, so it's a very important part!
A lot of food shows up in the URAHARA anime, but "sweets" seem to make up the main part of the slip-on's design!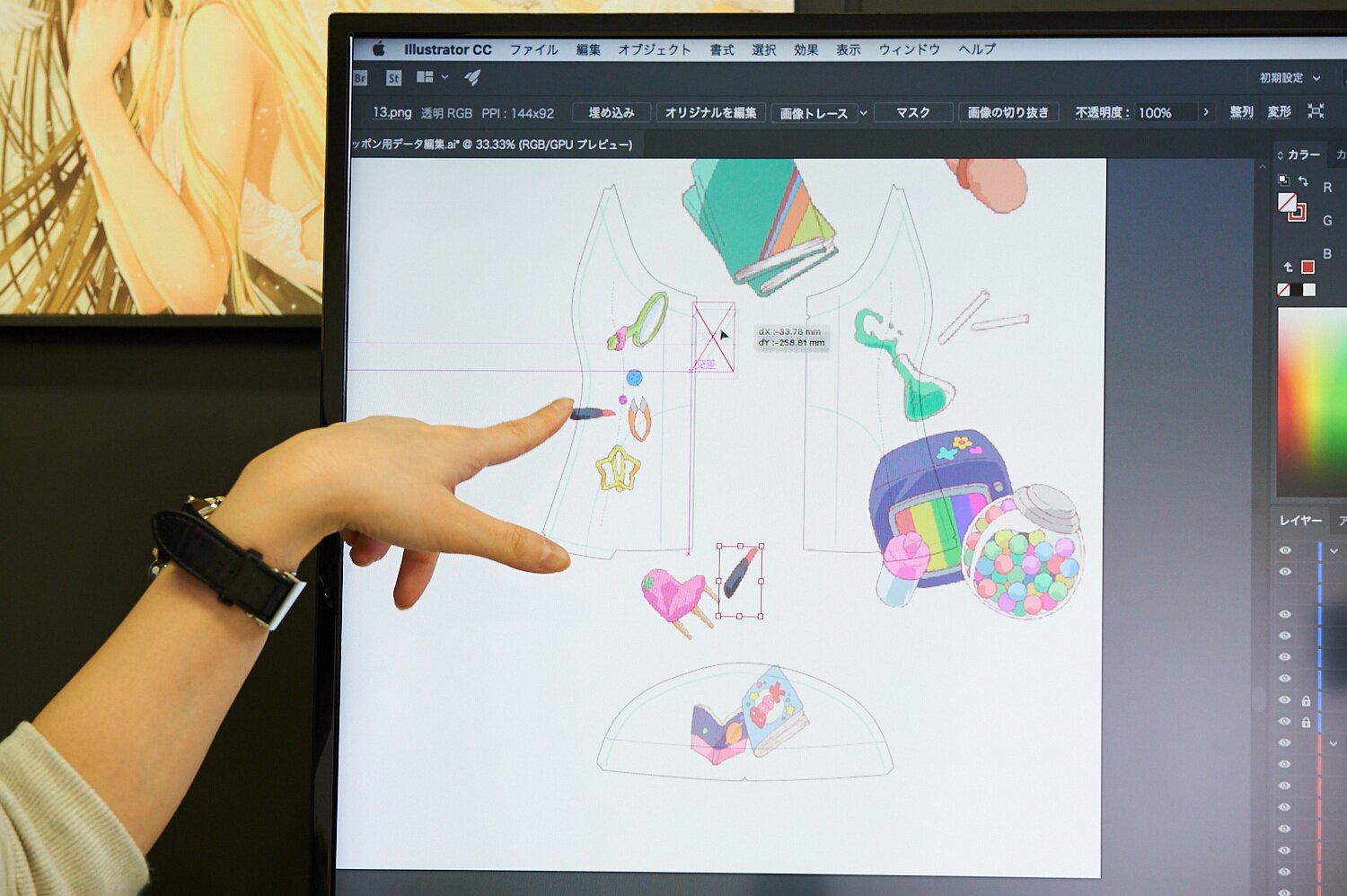 Next, the design for each side is decided.
The sides have very little surface area and many minute adjustments are needed to line up the items, so Haruna is choosing carefully. Other than food, plenty of accessories, cute furniture, and other various items show up in the URAHARA anime, so be sure to check them out!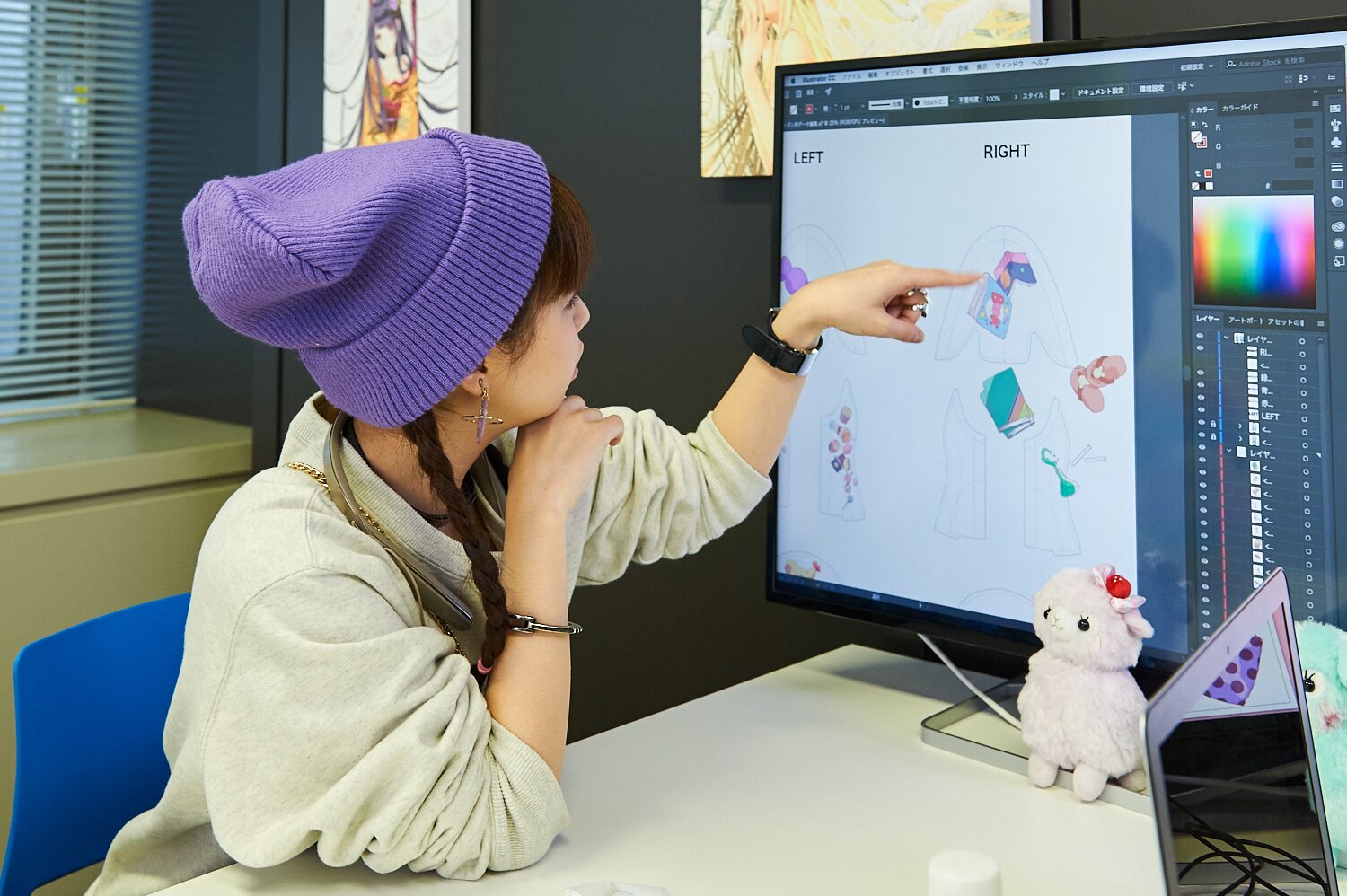 When you look at the screen, you can see the words "LEFT" and "RIGHT." Does this mean that the left and right sides will have different designs!?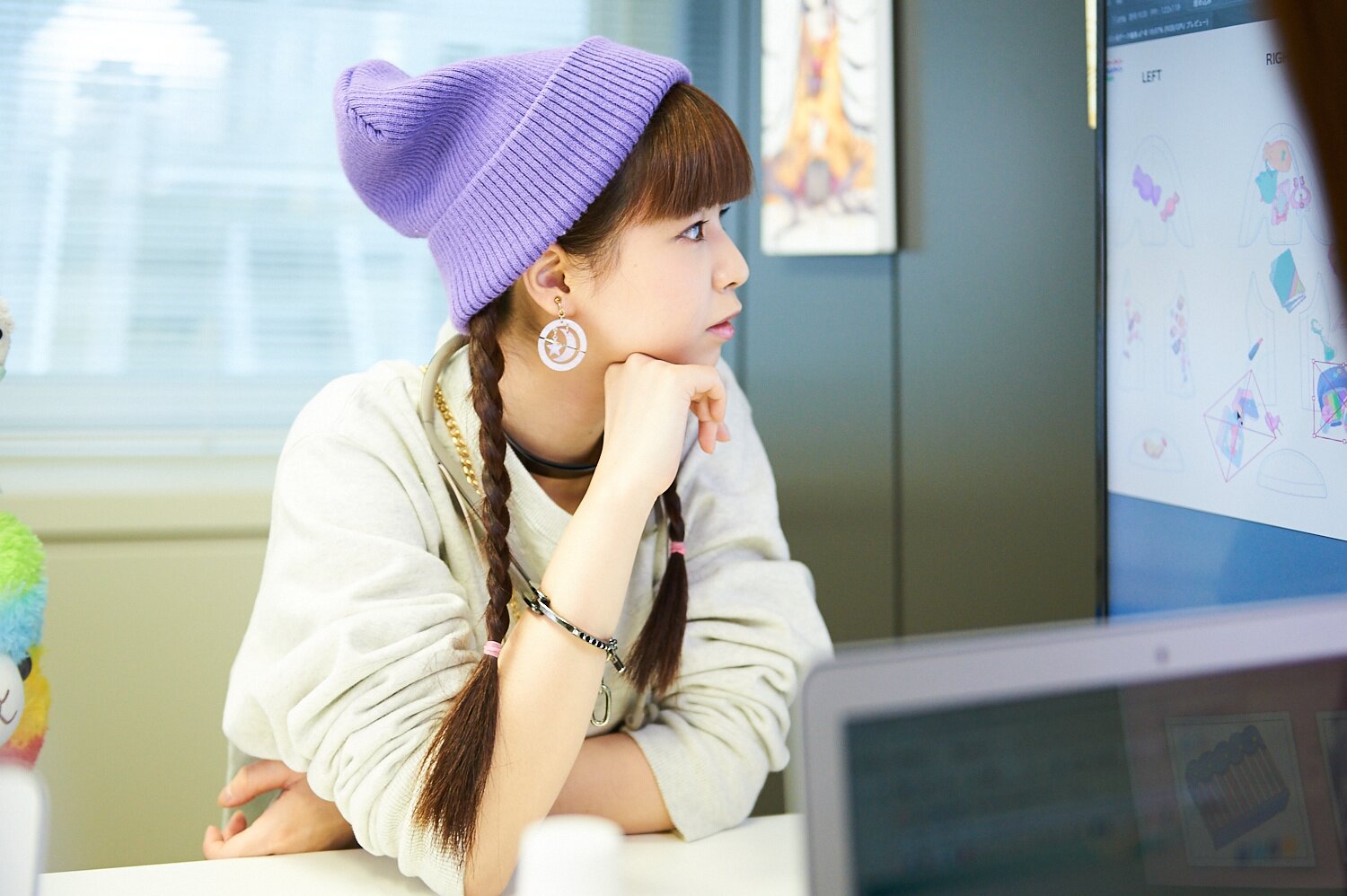 Finally, Haruna decided all of the color schemes.
Here we've shared with you a few photos of the design meeting with Luna Haruna, where she thought up ideas with all her might in a short amount of time.
We have a hunch that the completed, creative slip-ons will perfectly match URAHARA's theme!
---
Using the items that Luna Haruna chose, we'll create a final version of the design and manufacture a sample.
Until these one-of-a-kind URAHARA slip-ons are completed we'll continue to update this page with more information, so check again soon!
---
Project Owner: Tokyo Otaku Mode Inc.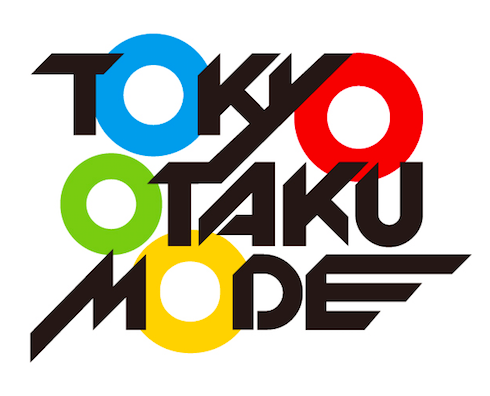 Tokyo Otaku Mode (TOM) shares with the world the latest Japanese pop culture news through its Facebook page, which has over 20 million likes, and sells products related to Japanese anime, manga, games, music, and fashion through its website, the Tokyo Otaku Mode Shop.
---
Q: When will I be charged?A
: You will be charged immediately upon backing the project.
Q: When will rewards be shipped out?
A: Rewards are scheduled to be shipped out in MAY 2018.
Q: Where will rewards be shipped from?
A: Rewards will be shipped directly from Tokyo Otaku Mode in Japan.
Q: How will you ship the rewards?
A: Rewards will be shipped by SAL Small Packet Registered.
Q: I noticed that all prices are displayed in Japanese Yen. If I am paying with foreign currency, how will exchange rates affect my payment?
A: Rates may differ between credit card companies. Please contact your credit card company for further information.
Q: Will I need to pay any additional import duties, VAT, customs taxes, or local handling fees when receiving my reward?
A: Depending on your country's customs laws, you may be required to pay a tax before obtaining your package. In some areas, such as the United Kingdom and France, the local postal service may charge an extra handling fee for processing packages affected by customs taxes. Payment of customs taxes and any possible handling fees is the responsibility of the purchaser.
Q: Why can't I click the "Reserve" button?
A: Please ensure that you have filled out your payment method and shipping information and try again.
Q: Are the rewards that ship to Japan and ship internationally different?
A: No. The rewards are the same. The only difference is the shipping cost.




© URAHARA Film Partners