**Photo Gallery**
![file](https://d3ieicw58ybon5.cloudfront.net/ex/2320.2941/project_description/e142293e7c824f8b829f41b5edd7d549.jpg) ![file](https://d3ieicw58ybon5.cloudfront.net/ex/1996.1500/project_description/6cebe57f6a7841f7b5b783b57a59650c.png) ![file](https://d3ieicw58ybon5.cloudfront.net/ex/998.1500/project_description/2cbeedcb6a2a4d5eaa60865083ced620.jpg) ![file](https://d3ieicw58ybon5.cloudfront.net/ex/1996.1500/project_description/392f1a54549a4ef19d52fb9548d2858b.png) ![file](https://d3ieicw58ybon5.cloudfront.net/ex/1500.998/project_description/e14e8929fd574d6a9908fe9c6acb151c.jpg)
Evangelion x Full Graphic Kimono Project: Ready for Launch!                    
Tokyo Otaku Mode presents a brand new Evangelion project!
The Evangelion x Full Graphic Kimono Project was born from our desire to combine Evangelion characters with the beauty of traditional Japanese culture. After countless hours of discussion and planning, we are now ready to take our next step forward!
Through this project, we aim to create a Full Graphic Kimono featuring a pattern design based on the film "Evangelion: 3.0 You Can (Not) Redo".
Currently, a total of six different designs have been carefully created by renowned kimono artists. The colors and graphics of each design are sure to bring back all of your memories and emotions from the Evangelion series.
Based on your opinions and feedback, we will select one of the six designs and produce 100 Evangelion Full Graphic Kimonos exclusive to Tokyo Otaku Mode! Your input is essential to the success of this project, so please share your thoughts with us!
Please note that the designs are subject to change, and that there is a possibility that we may not reach the production phase of the project.
We look forward to hearing your thoughts, and we expect to have the results ready by mid-November! Please also note that your opinions and feedback may be featured in our updates on this page. We greatly appreciate your cooperation and understanding!


Materializing the Greatness of Evangelion Through Traditional Apparel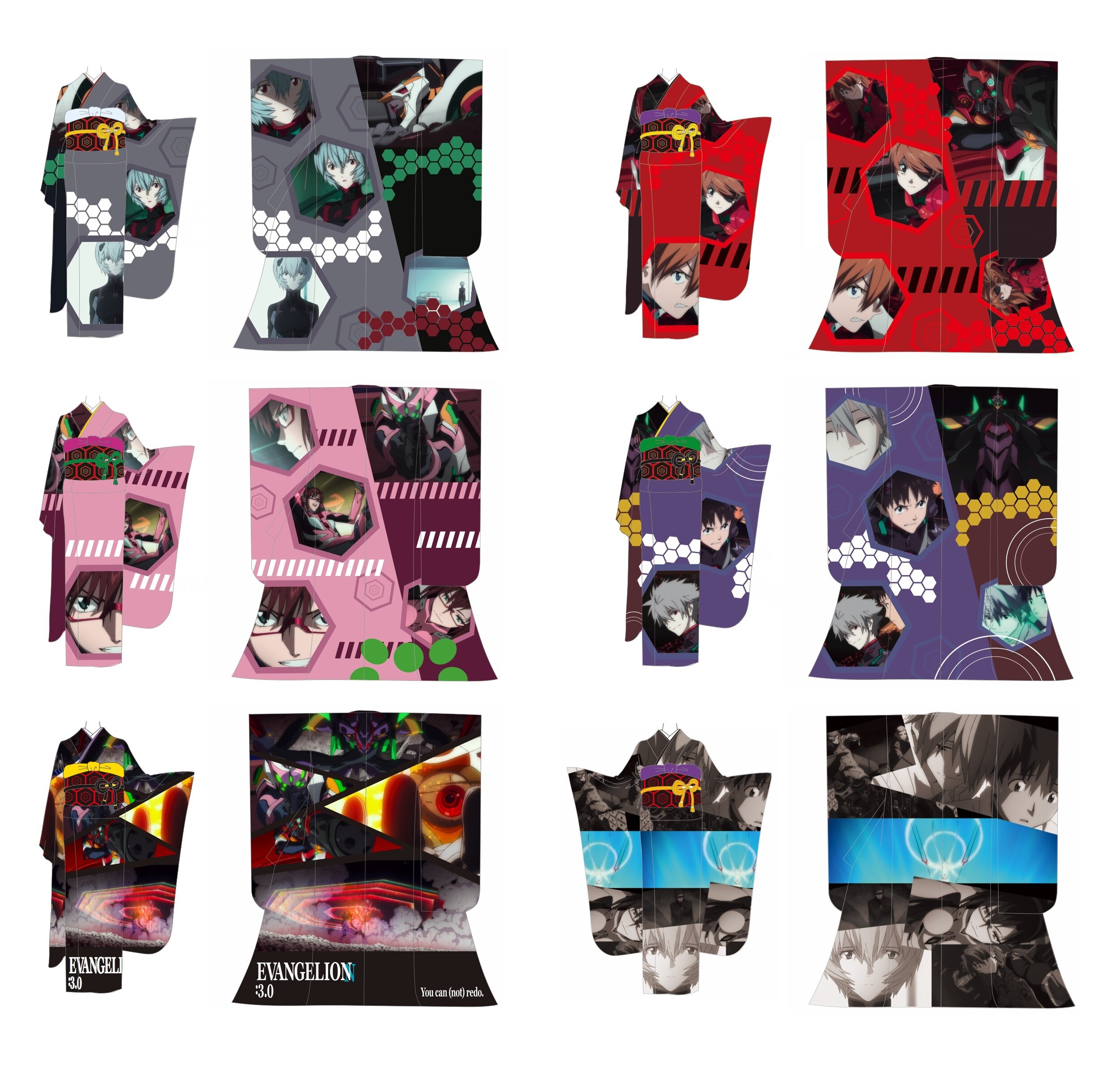 Tokyo Otaku Mode aims to reach new grounds in merchandise production by materializing the greatness of Evangelion through the furisode kimono. Scenes and designs from the film "Evangelion: 3.0 You Can (Not) Redo" will be used to breathe new life into the furisode and create a truly unique work of art.
Through the Evangelion x Full Graphic Kimono Project, Tokyo Otaku Mode aims to create an incredible new item for Evangelion fans around the world to enjoy.


Rewards                                            
・The Full Graphic Kimono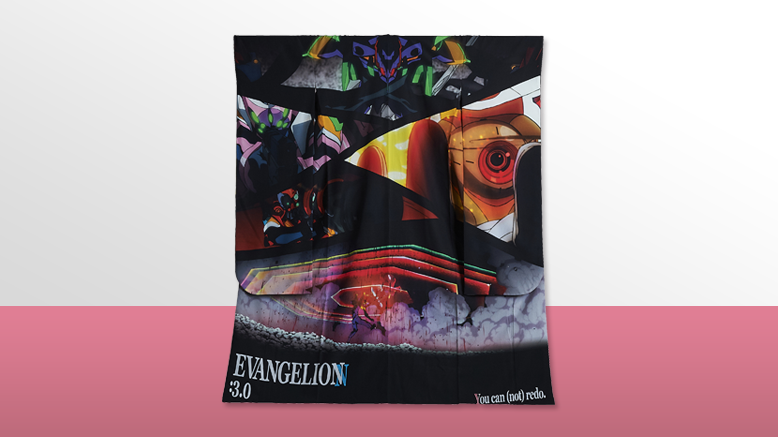 The Full Graphic Kimono is a truly unique item that will be based on your opinions and feedback. Each kimono will be created with precise digital dyeing techniques, as well as careful and thorough stitchwork. All kimonos will be made in Japan from start to finish by skilled designers and artisans.
Regardless of whether you choose to wear your Full Graphic Kimono or place it on display, there is no doubt that its presence and impact will be felt by all those around you! Enjoy this fusion of traditional Japanese aesthetics and modern popular culture, and experience beauty from a whole new perspective!
・Full Graphic Kimono & Kimono Hanger Set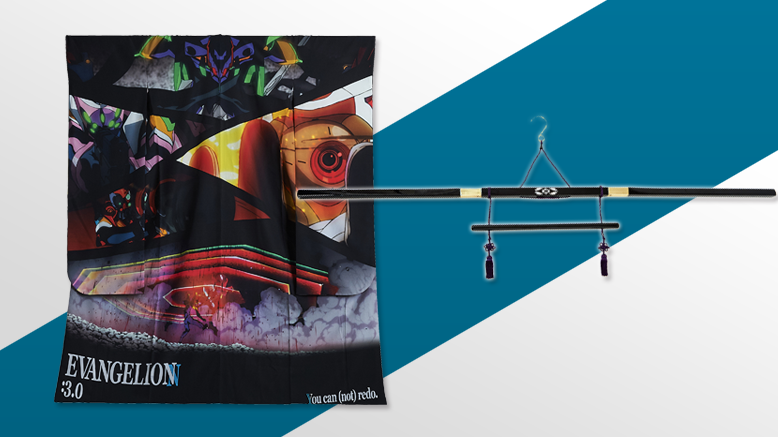 Regular hangers cannot bring out the true beauty of the Full Graphic Kimono. With this reward, a special kimono hanger will be included for those who wish to put their reward on display!
Not only does the lacquer-coated hanger perfectly support the shape of the kimono, it also comes with an ornament that conveniently holds the obi (sash). The center of the hanger houses an elegant mother of pearl inlay piece, featuring the traditional Japanese koaoi pattern that has been used by royalty since the Heian period. The hanger can also be disassembled for easy storage.
・Full Graphic Kimono: Hanger & Double-Woven Obi Set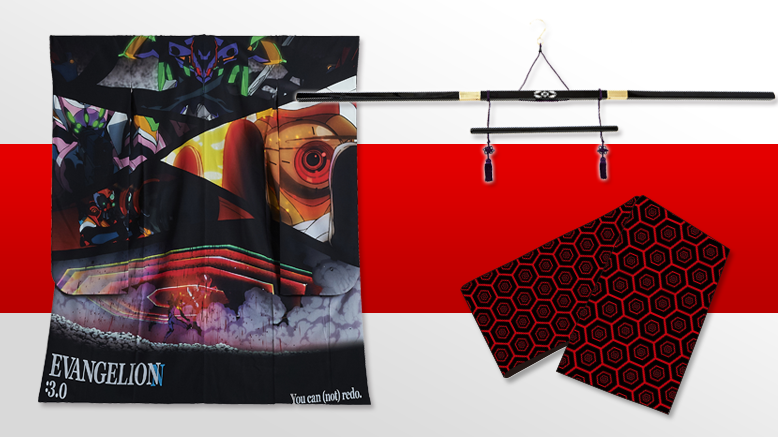 Obi Design (Front)



Obi Design (Reverse)
・This is a sample product. Actual product may vary.
Maximize the beauty of the Full Graphic Kimono with this reward!
The reversible double-woven obi included is inspired by the A.T. Fields of Evangelion, as well as the traditional Japanese Kikko pattern. Switch to the other side to uncover a special design with scenes from the Evangelion series! The double-woven obi will be created specifically for this reward, and will give you the power to choose exactly how you want to accentuate the appearance of your Full Graphic Kimono.
・Hanger Set and Hanger Set & Obi reward sales may end earlier at project team's discretion.
===
Additional Details
・The Full Graphic Kimono will be made in Japan from start to finish. Each piece will be carefully dyed and crafted in Japanese workshops.
・Digital dyeing techniques will be applied to the Full Graphic Kimono. This will ensure that the colors and designs turn out as brilliant and precise as they were originally designed.
・The Full Graphic Kimono will be made from polyester, and will be machine washable. We recommend carefully folding the Full Graphic Kimono, placing it in a laundry net, and washing it on the gentlest cycle of your washing machine. Fabric softeners can also be used to prevent a buildup of static electricity. After washing, hang the Full Graphic Kimono to dry without exposing it directly to sunlight. Do not tumble dry.
・Each Full Graphic Kimono will be carefully produced under the supervision of skilled kimono artisans. Every design detail has been thoroughly planned out to fully show each design, and to make the Full Graphic Kimono perfect for wear as well as for display.
・Rewards will be shipped from Japan and fulfilled by the Tokyo Otaku Mode Premium Shop, which has provided reliable service on hundreds of thousands of deliveries around the world. Tokyo Otaku Mode has both a Japanese warehouse in Maihama as well as a U.S. warehouse in Oregon. Each reward will be carefully packaged and shipped with great care. Support will also be provided to ensure that your reward reaches you safely.
About the Series and the Production Team                            
・Inspiration: The Evangelion Series



Evangelion, which started with the TV series "Neon Genesis Evangelion" that began broadcasting in 1995, is one of the most popular anime worldwide. Set after the global cataclysm Second Impact, the series depicts the young boys and girls who pilot humanoid battle weapons called Evangelion and their fight against mysterious invaders called Angels. In 2007 a new movie tetralogy titled "Rebuild of Evangelion" began, capturing the hearts of fans of all ages. Three movies in the tetralogy have been released to date.

・Design: Anything is Possible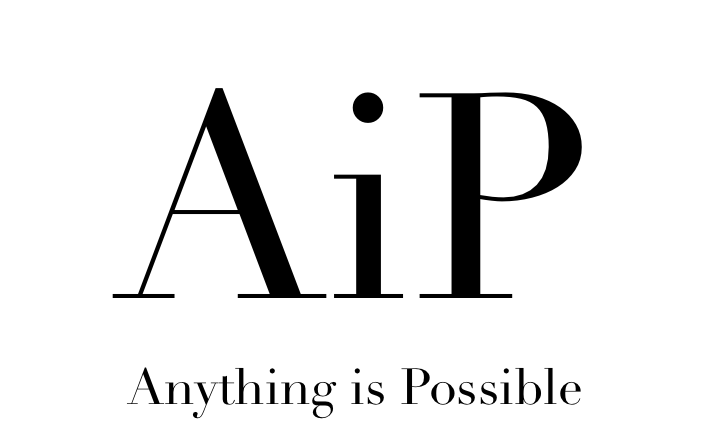 AiP - short for "Anything is Possible" - is a team that aims to add more freedom and fun to the traditional kimono. AiP works closely with their clients to recreate designs exactly as imagined. With extensive experience in traditional Japanese clothing and truly innovative values, the team has been able to continuously turn ideas into reality.
・Dyeing: Digina Company
Digina Company was established in 2012 in Osaka, Japan. The company operates in Niigata through its workshop in Tokamachi, which has been a historically significant location for traditional Japanese kimono production.
Using Tokamachi dyeing techniques and inkjet printing technology, the company provides quality dyeing services to create durable pieces that accurately match the colors of original designs. The workshop can handle a great variety of fabrics, textiles, knits, luxurious apparel, and accessories made from polyester, cotton, linen, as well as silk.
Aside from processes that involve a digital printer, materials are dyed with techniques that are based on traditional kimono dyeing. With superior technologies and techniques, Digina Company continues to operate as one of the leaders of the industry.
・Tailoring: Assistar Company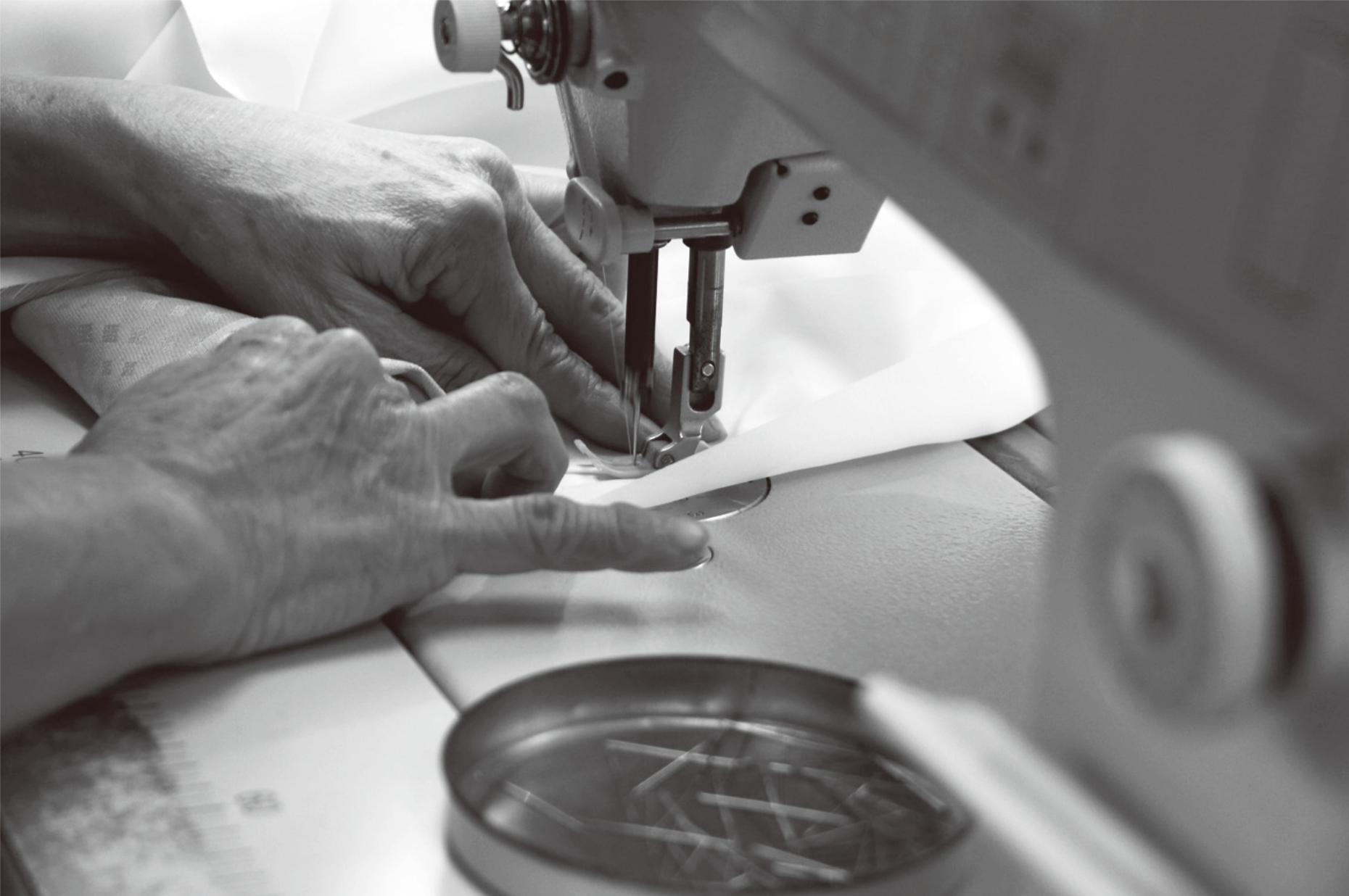 Assistar Company is based in Fukuyama City in Hiroshima Prefecture with over 70 years of history. It takes pride in providing top-notch services for creating and maintaining traditional Japanese clothing, including the tailoring and cleaning of kimonos.
The company uses a unique machine-sew method based on traditional hand stitching techniques. All tailoring services are performed in Japan.


Washing and Drying                                        
Kimono (Furisode)
・The kimono can be washed at home, but please hand-wash gently with a neutral detergent and water.
・Please rinse with water at least 2 times.
・Please do not use hot water or strong alkaline detergent.
・To dry, gently fold the kimono and place it in a commercially available nylon mesh bag, then place in washing machine and spin on the lowest cycle.
・Hang the kimono on a hanger in a shaded and well-ventilated place.
・Please use a suitable temperature when ironing as well as a protective ironing cloth on top and iron gently to avoid stretching the material.
・Excessive friction may result in color loss and wear.
・Please do not wash with other items.
Obi (Double-Woven Obi)
・Washing with water can cause the inner padding of the obi to become twisted. Please spot-clean or dry clean.
・Please use a suitable temperature when ironing as well as a protective ironing cloth on top and iron gently to avoid stretching the material.
・Excessive friction may result in color loss and wear.
Storage
・After wearing, hang on a hanger in a well-ventilated, shaded area to allow moisture to evaporate.
・Do not store under direct sunlight as this can cause color fading.
・Please store in well-ventilated place, avoiding high humidity and high temperatures.
FAQ                                              
Q: Where are the rewards shipping from?
A: Straight from Japan, fulfilled by Tokyo Otaku Mode.


Q: When will my rewards arrive?
A: Rewards are expected to ship in January 2017, and should arrive at your doorstep by mid to late January.


Q: Will the Full Graphic Kimono fit me?
A: The Full Graphic Kimono fits best women between the heights of 155 ~ 168cm. This is roughly equivalent to the range of S ~ XL in Japanese clothing sizes.


©khara