Shojo manga magazine Nakayosi is celebrating its 65th anniversary with an exhibition at Tokyo Yayoi Museum running from Oct. 4 to Dec. 25, 2019. TOM was given the opportunity to visit as part of a special press viewing, and we've put together a brief photo report to show you around the exhibition space.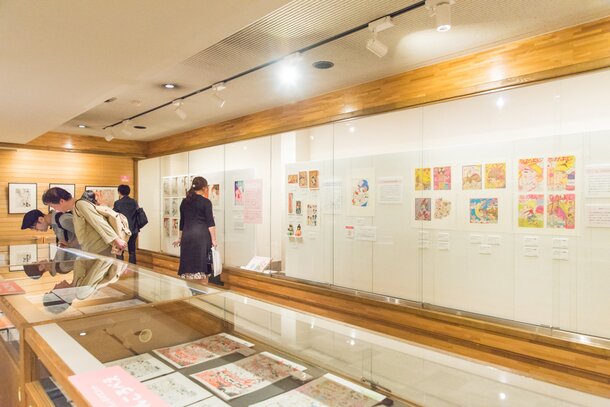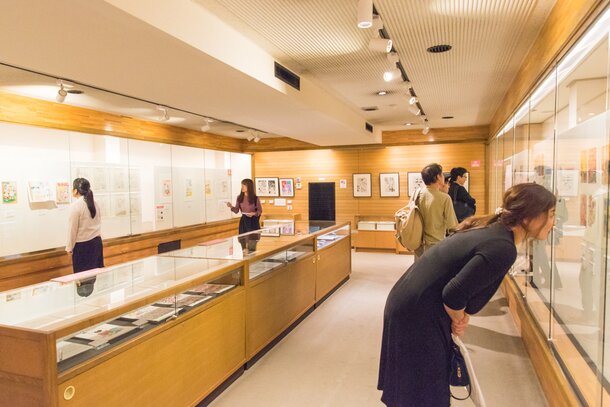 ※Color originals will change throughout the exhibition to preserve the materials, so you may see different pieces from the ones featured in this article depending on when you visit.
*From its Foundation in 1954 to the Early '60s
The first area covers the period from the magazine's foundation in 1954 to the mid-1960s.
Several important pieces are on display from the magazine's early days, including one from manga legend Osamu Tezuka's Princess Knight.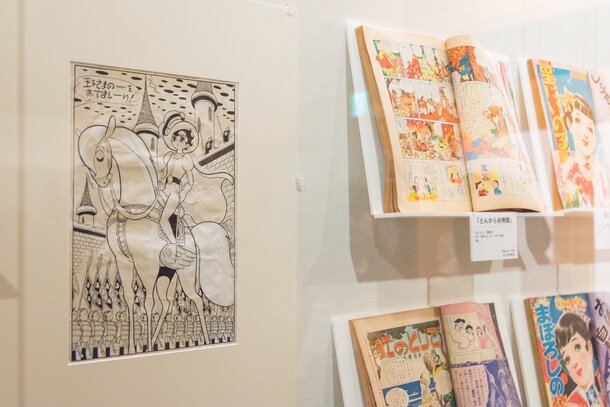 These days, Nakayosi features illustrations on its cover, but originally they used photos of popular idols such as Keiko Kondo and Kurumi Kobato.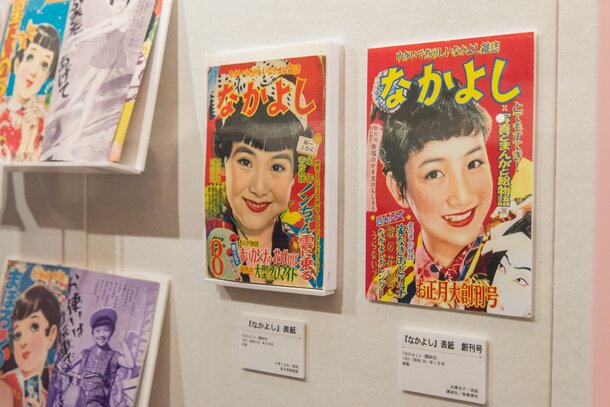 ▲These lively, colourful covers are super stylish even now.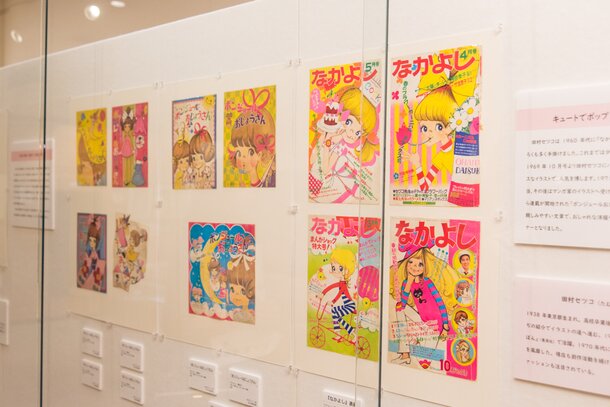 ▲Cover from 1969 featuring an illustration of a cute girl by Tamura Setsuko.
In the second half of the 1960s, the magazine branched out from romantic comedy with occult/suspense series gaining popularity. Ryoko Takashina's Jigoku de Mesu ga Hikaru and Chimamire Kannon (Story by Masashi Yokomizo) gave fans the chills with their delicate touch and elegant artwork. Definitely get in close and have a good look!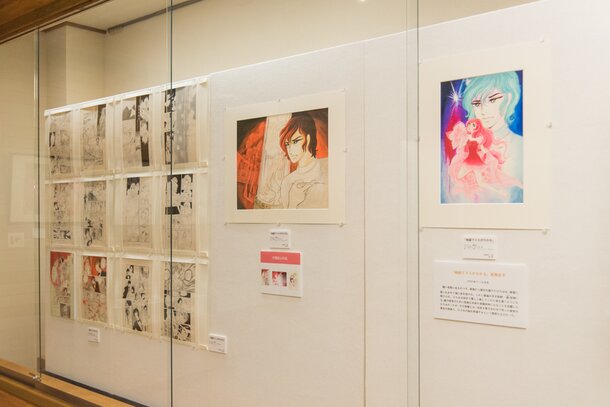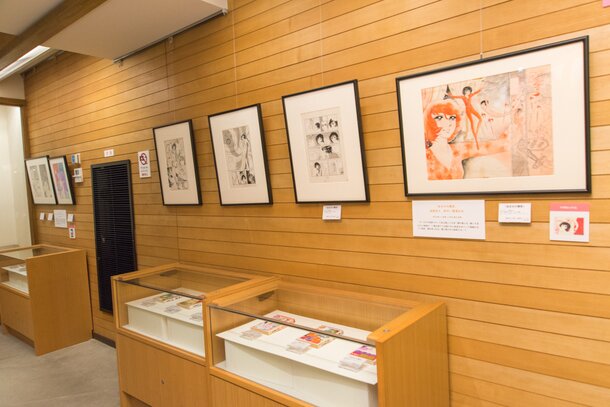 Yuriko Abe's Wankorobe began publication in 1976 and is still going today as the magazine's longest running series. Thanks to the exhibition, you can compare original art from the beginning of the run in 1976 and from 2000 and see how it changed over 24 years, or perhaps in your eyes it hasn't changed at all.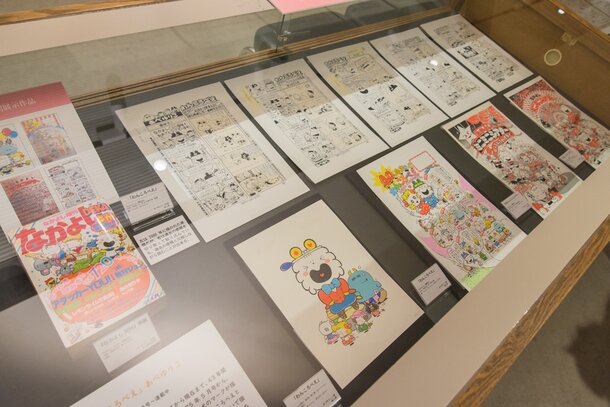 ▲Precious artwork from early in the run of Wankorobe
Shizue Takanashi's Hello! Spank (Story by Shunichi Yukimuro) began in 1978. There are many other pieces in the exhibition featuring beautifully drawn characters, but these really strike you with their casual pop style.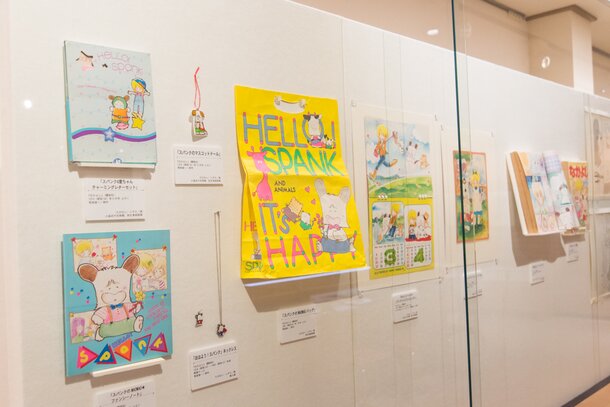 ▲There is also a lot of merchandise on show. The bright and soft colors are just lovely.
There is also an area dedicated to Yu Asagiri who passed away last year featuring several of her most popular series including Kocchi Muite Love! and Aitsu ga Hero.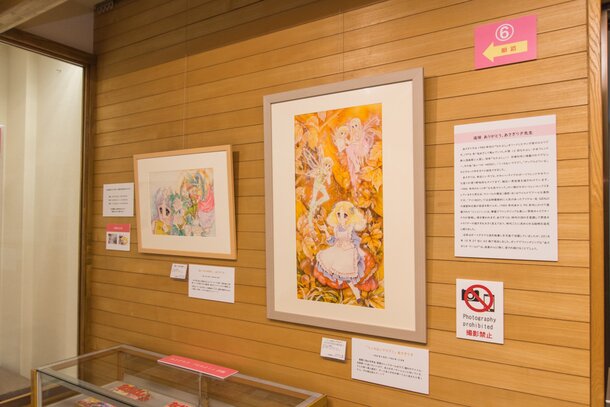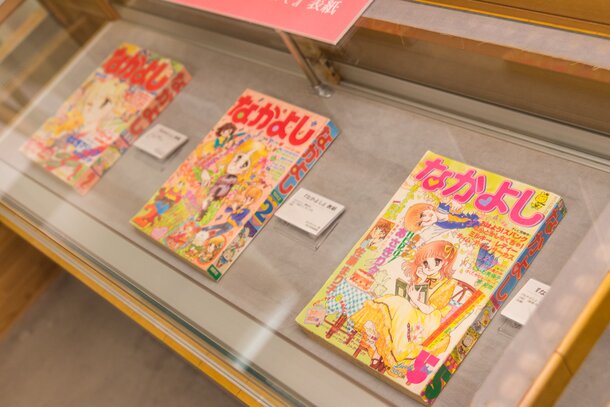 ▲Yu Asagiri series gracing the Nakayosi cover
Nanairo Magic's selling point is its soft, watercolor-like style. The original artwork featuring different materials like ribbons and craft paper was attracting a lot of attention.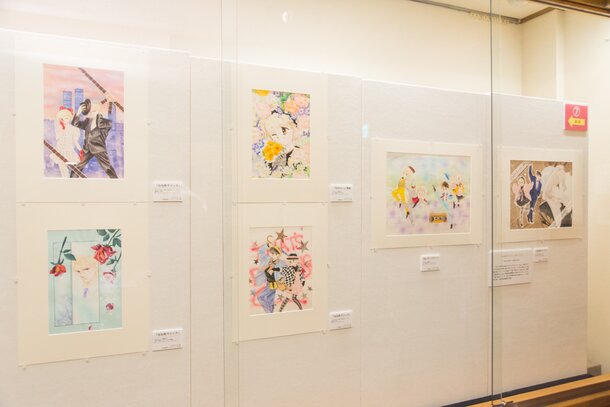 In the 1990s, the number of fantasy themed series increased and fighting girls became popular. Nami Akimoto's Miracle Girls features superpowered twins Tomomi and Mikage elegantly coordinated in different colors.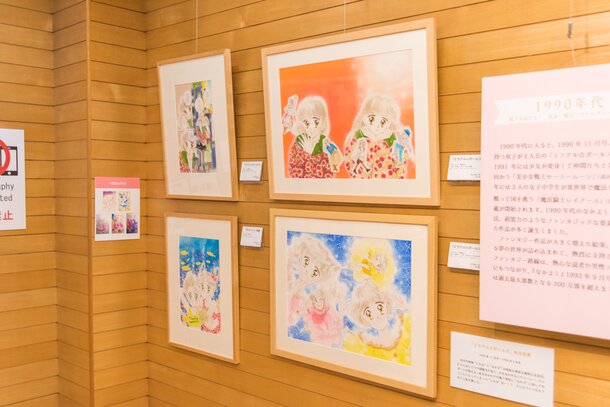 It's Naoko Takeuchi's Sailor Moon, however, which is the genre's definitive work. You really need to get down to the exhibition space to see the beautiful original artwork featuring the five Sailor Soldiers.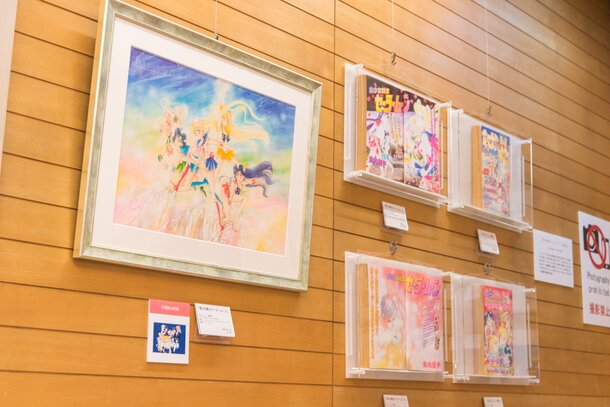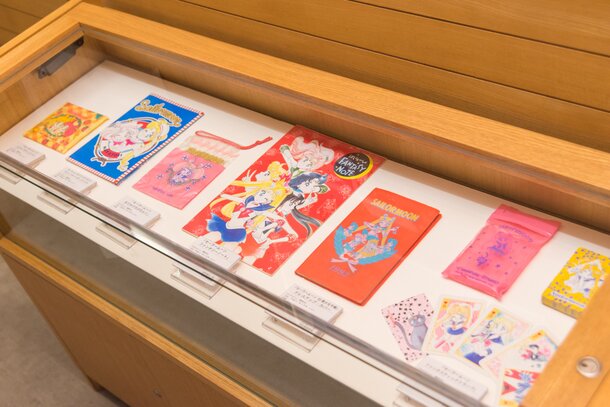 ▲Sailor Moon area
The amount of detail in CLAMP's Magic Knight Rayearth is overwhelming. The tone really comes through too.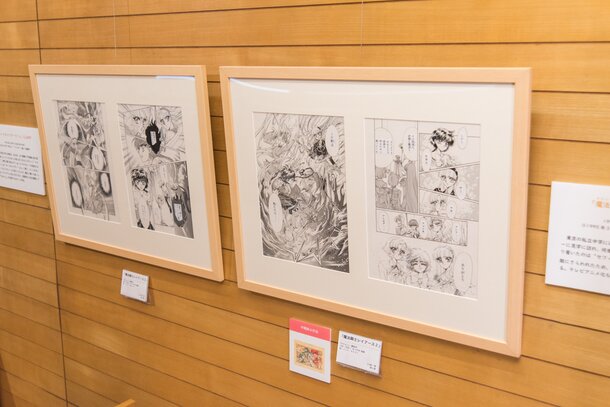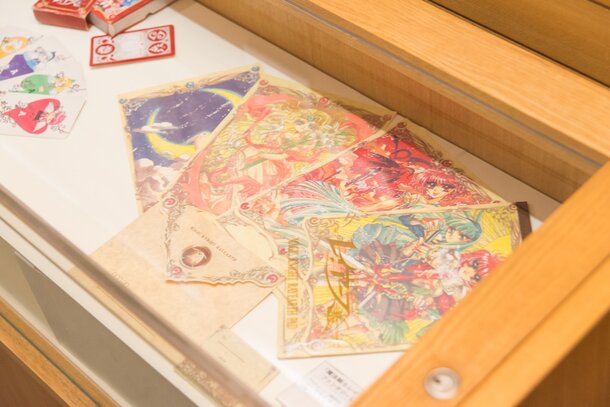 ▲Focus on the colorful, stylish Magic Knight Rayearth
CLAMP's Cardcaptor Sakura upped the stakes with its gentle touch. The plants in the background appeal to young girls' hearts.
(The exhibition also includes artwork from the Clear Card Arc which began in 2016. )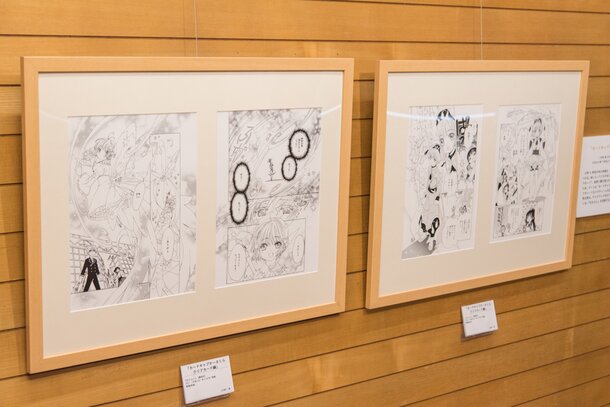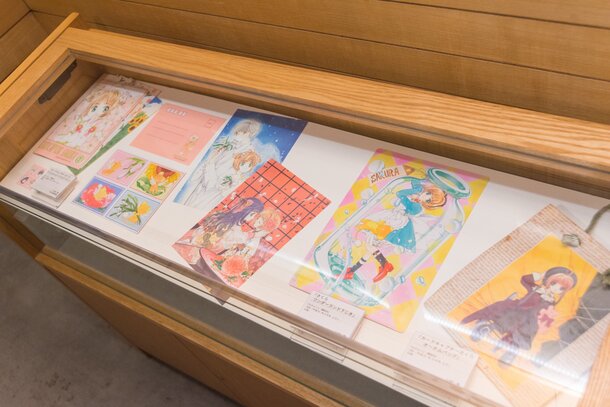 ▲Area for Cardcaptor Sakura (1996–2000)
In the 2000s, fantasy became Nakayosi's primary genre. Mia Ikumi's Tokyo Mew Mew (Scenario by Reiko Yoshida), Pink Hanamori's Mermaid Melody Pichi Pichi Pitch (Scenario by Michiko Yokote), and PEACH−PIT's Shugo Chara! are real must-sees for their colorful fantasy.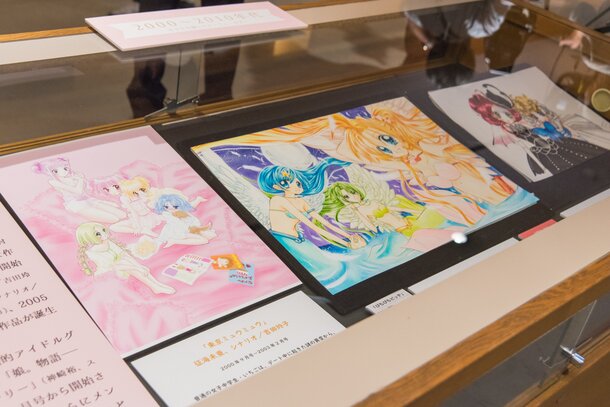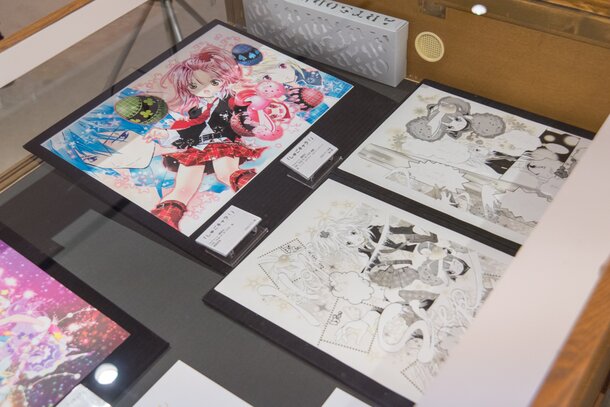 Familiar in Japan as the face of Sunday mornings, reproduction artwork from Futago Kamikita's PreCure precursor Pretty Cure(Story by Izuimi Todo) is also on display. In comparison to the currently running Star Twinkle PreCure, the simple style makes a strong "fighting girl" impression.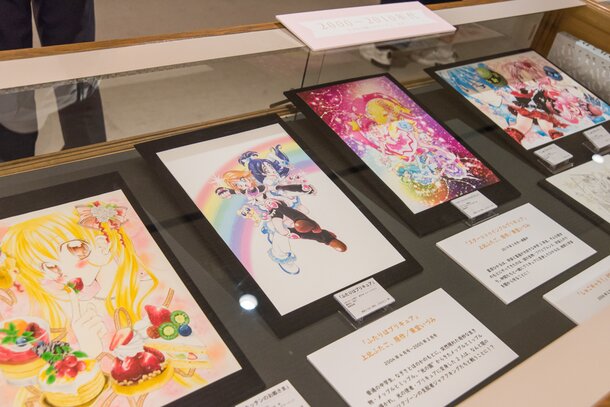 When you've finished looking around the exhibition, you need to head to the merchandising corner where a selection of items featuring the illustrations are available for purchase. There are a lot of easy-to-carry, reasonably priced goods too such as clear files and posters.
Those of you in Tokyo, and those hoping to visit, definitely get down to the Nakayosi exhibition!
*Reproduction Artwork and Art Book Available on the TOM Shop
Right now on the TOM Shop you can treat yourself to an art book featuring some of the artwork on show at the exhibition. Take a peek inside: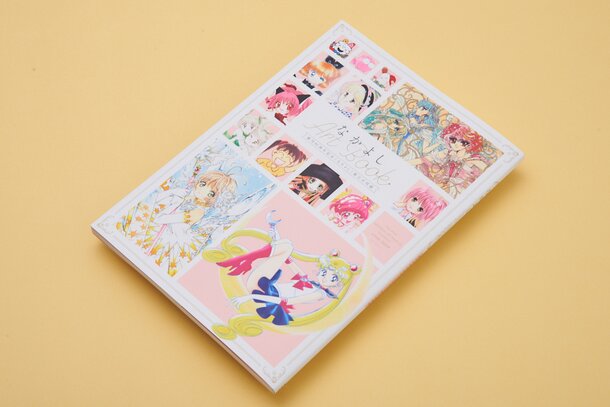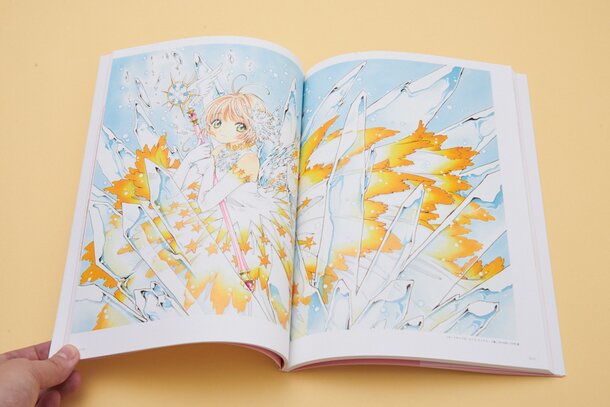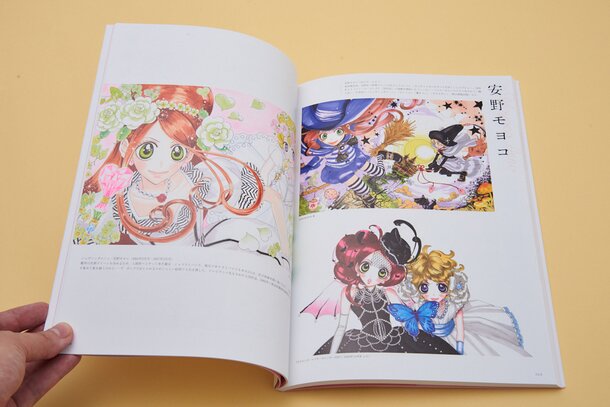 Six pieces of reproduction artwork are also available for purchase:
Yu Asagiri Nanairo Magic
Nami Akimoto Miracle★Girls
Naoko Takeuchi Pretty Guardian Sailor Moon
CLAMP Magic Knight Rayearth 2
CLAMP Cardcaptor Sakura Clear Card Arc
Futago Kamikita Futari wa Pretty Cure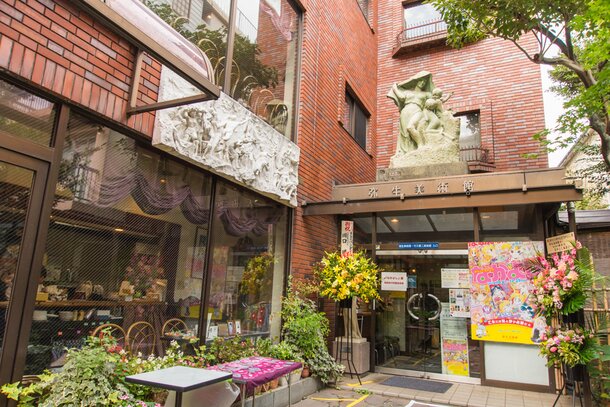 ▲Entrance to Tokyo's Yayoi Museum
Nakayosi 65th Anniversary Original Art Exhibition
Venue
Tokyo Yayoi Museum
2-4-3 Yayoi, Bunkyo-ku, Tokyo, 113-0032
Exhibition Period
October 4th (Fri) ~ December 25th (Wed) JST
*Closed on Mondays
However, open on November 4th (holidays on Mondays),
closed on November 5th (Tue)
*Original color art piece exhibitions will change to preserve the art pieces.
Only the original art pieces will be changed between the early, middle and late phases. The
composition of the venue and the featured artists will remain the same.
Open Hours
10:00 am ~ 5:00 pm (Last entry: 4:30 pm)
Admission Fees
General admission: 900 yen
University/high school students: 800 yen
Middle school/elementary school students: 400 yen
*The Takehisa Yumeji Museum adjacent to the Yayoi Museum can also be accessed.
*Group fees and other discount services are available.
Please check the Yayoi Museum website for more details.