SAO 10th Anniversary
Kyoto x SAO
Kyoyuzen WAHOO! Figure Project
■Outline
Project to create a figure of Asuna Yuki's "Asuna" Avatar wearing "Kyoyuzen" Kyoto printed silk.
Kyoto fabric wholesalers and businesses are coming together to make virtual Asuna put on real "Kyoyuzen."
The figure will be produced by Aniplex+'s original WAHOO! brand.
The announcement will be made and orders commenced at the Kyoto International Manga Anime Fair which takes place in Kyoto in 2019.
Kyoto's 2,000 years of history meet the high-tech world of SAO!
■ What is Aniplex+'s "WAHOO!"?
"WAHOO!" is an Aniplex+ original brand inspired by traditional Japanese culture which aims to bring together animation and tradition in a series of products.
Project Outline Interview: Aniplex's Takao
Project Leader Interview
Aniplex: Mitsuteru Takao
- What are the origins of this project?
Takao: With SAO nearing its 10th anniversary, Aniplex has been thinking about what we could do to celebrate since 2018.
With Asuna's episode in Kyoto and Yuki and the other's travelling there, there were a lot of events taking place in the real world from autumn to winter, so we started thinking about "Kyoto" as a keyword. Our thoughts naturally ended up with the trend of making figures wearing traditional Japanese clothing.
- So how is "Kyoto" involved?
Takao: We asked Knead to create a 3D model and they went to Kyoto to talk to their representative Kimura about making a kimono figure. They were advised they should talk to D4A and get a scan of the real thing to make use of the data.
Based on that advice, Knead and D4A searched Kyoto for a fabric store willing to cooperate with the scan so that it really would be "Made in Kyoto."
Then, explaining the situation to traditional clothing store Kyoka, we were able to make "Kyoto x SAO" a reality.
- What is the project's selling point?
Takao: Ultimately, it's a large-scale project featuring a hand-drawn Kyoyuzen design by a traditional craftsman.
The figure brings together Kyoto's 2,000 years of history and SAO's ultra modern story. It's not just the complete figure that fans will be able to enjoy, but the production process too.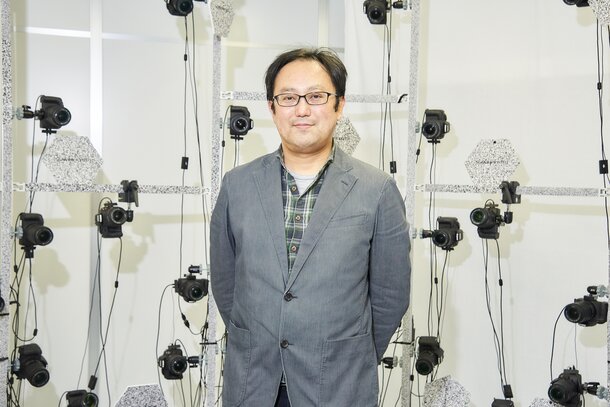 Kimono Selection ⇒ Dressing Interview: Kyoka's Miki Date
■ Kimono Selection
This time, we selected a long-sleeved "sou-shibori" kimono from Kyoka's stock to use for the scan. The Kyokanoko Shibori is of the highest quality and made by a highly skilled craftsman. It features an extremely beautiful pattern of finely dyed dots.
There is a logical reason that we chose this kimono. It wasn't the pattern or the brand, we picked the kimono to use for the scan from four suggested by D4A based on whether or not we could get accurate data.
So, from the list of four below we chose the Soushibori.
Most Appropriate - Soushibori- best surface for scanning
↑ - Kagayuzen - all-over pattern so easy to photograph
↓ - Kyoyuzen (red) - easy to photograph but shine is a worry
Least Appropriate - Kyoyuzen (purple) - not much of a pattern on the upper body, of the four is thought the most difficult. Eliminate if possible.
Also, a matching obi was chosen through the same process.
The kimono has a textured finish thanks to the 200,000 dots applied through the shibori dyeing method. Through using it as a model and turning it into polygon data through the scan, our project of fusing traditional analogue and the latest digital technology had begun.
■ Fabric, Fitting Part Interview
Kyoka: Miki Date
- What is your impression of this project?
Date: I don't know much about figures, but I'm really interested to see how it works out using a real kimono. When they told me about the 3D scan photography I thought it sounded really interesting.
- What are the connections between the clothing industry and animation?
Date: I know that there's been inbound influence in recent years bringing together Japanese motifs, characters, and animation, but it hasn't really touched the traditional kimono industry that I am involved in.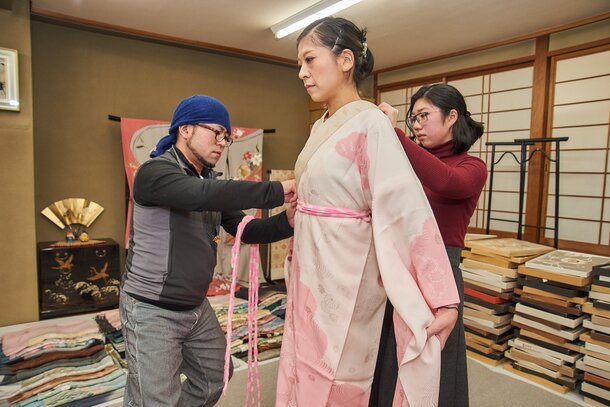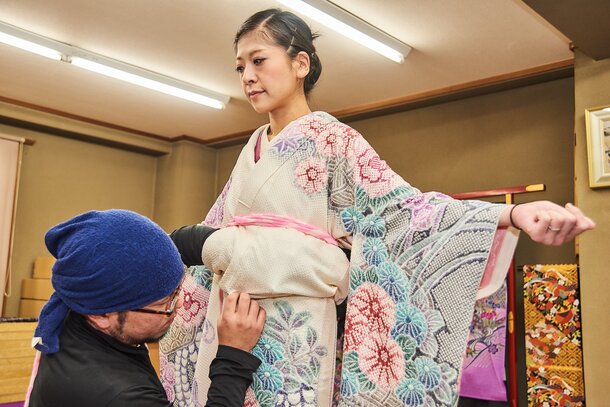 Also, as approaching the market and trading with our regular customers is our main business, it's extremely rare to be talking about characters. This time is kind of a special case. It's not as if this is a difficult industry to approach, but I'm really happy that through this opportunity more people will come to know about Kyoto fabrics and start visiting kimono fabric stores.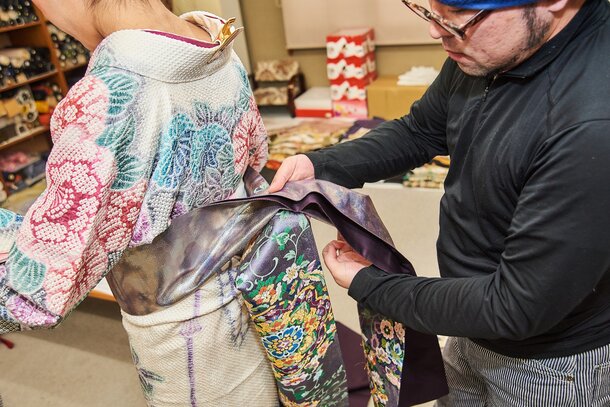 - What are your thoughts on seeing the images from D4A's scans?
Date: I've seen images from movies and games but actually seeing them like this is amazing!
The sensation of seeing the model and the kimono from Kyoka up on the screen was a real shock. It all started to feel real when I saw the pictures.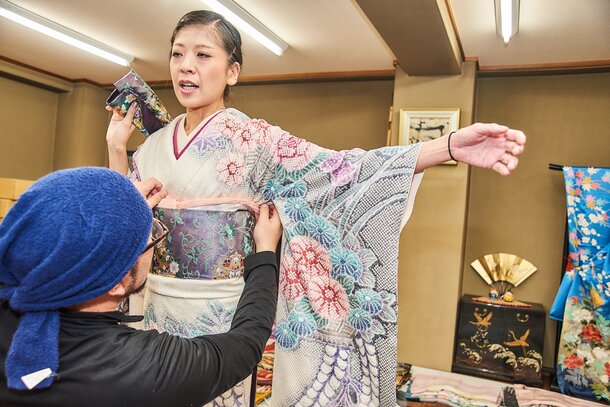 ■ Kimono Dresser, Model, Kyoto Fabrics Advisor Explanation
Along with the kimono itself, the way of wearing it and the model's comportment were also important.
Through Kyoka, we were introduced to Yoshifumi Matsumoto who works on popular Jidaigeki series for Shochiku. Modelled on Asuna, the belt fastening needed to reflect her samurai background while remaining classic. Using a refined "Bunko Musubi" fastening, we were able to bring together a visible sense of character and tradition.
As for the model, we started out with ◯◯ Kimono® Project, and thanks to Ai Hirai who works for AiP which aims to being tradition and creativity together, we cast a specialist model used to wearing kimono and with the proper behavior and comportment.
Also, Hideto Sasaki who is himself a traditional craftsman and the head of the Rindou Nishijin store working as an advisor to Kyoka also participated in the project.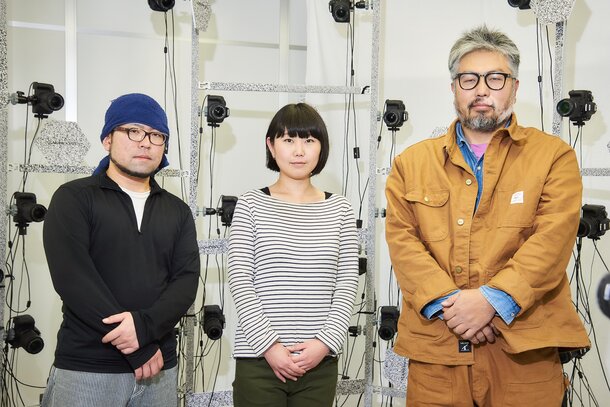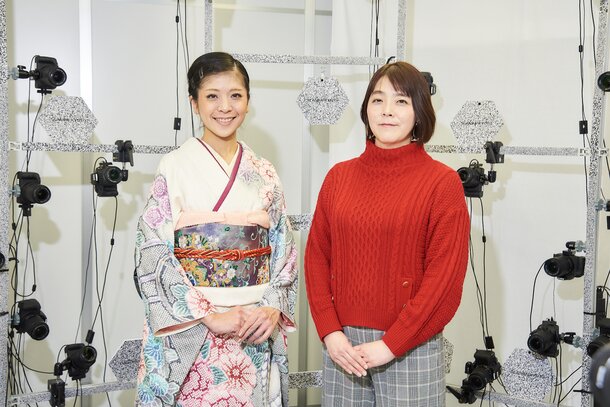 Kimono Scan to Digital Work Interview: D4A Kazuo Tashima & Hisashi Sugimoto
■ 3D Scan Studio SCANBA!KYOTO
SCANBA!KYOTO is a photogrammetry 3D scan studio housed inside D4A with one hundred 18 Megapixel DSLR cameras.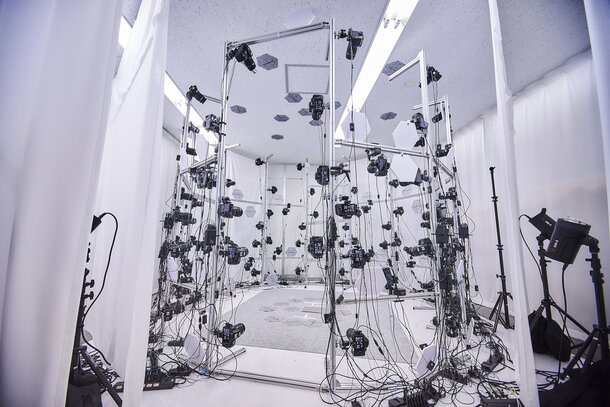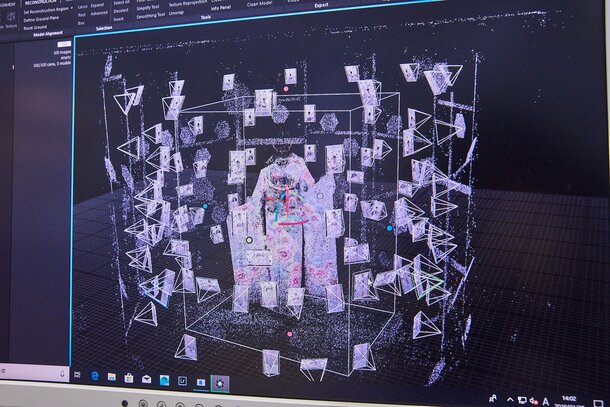 The images taken by the 100 high resolution cameras on synchronized release were turned into a 3D model with specialist software including high resolution texture.
Mainly, they carry out 3D body scans but handle other requests where possible. They also offer advice so the specialist staff can carry out appropriate photography for the 3D scan.
Hisashi Sugimoto carried out the operation of the scanning.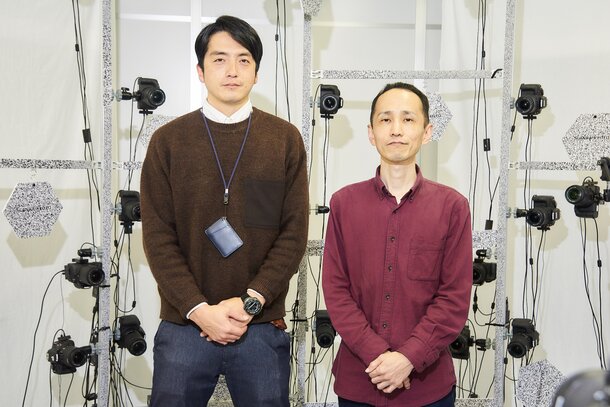 ■ 3D Scan Part Interview
D4A Manager Kazuo Tashima
- What are your thoughts on this project?
Tashima: It's fun to do something to different from my usual work. Usually, we're a game development studio so we mainly scan material for character use.
This is the first time we've produced material to be used for a figure at SCANBA!KYOTO.
Knead are producing the 3D figure and as the usage for the data is a bit different, we hadn't thought about using this system.
I think it's definitely a good idea for people who want to create accurate sculpts of real things like kimono for figures.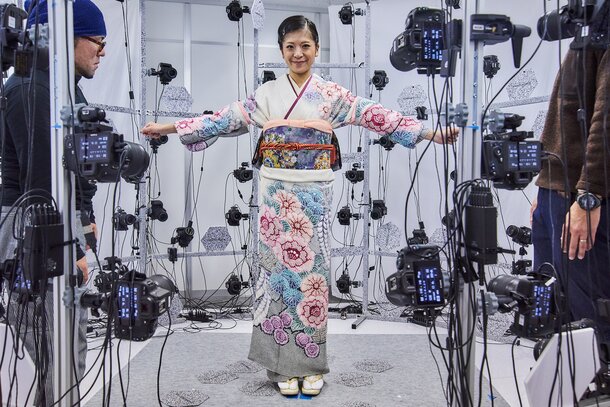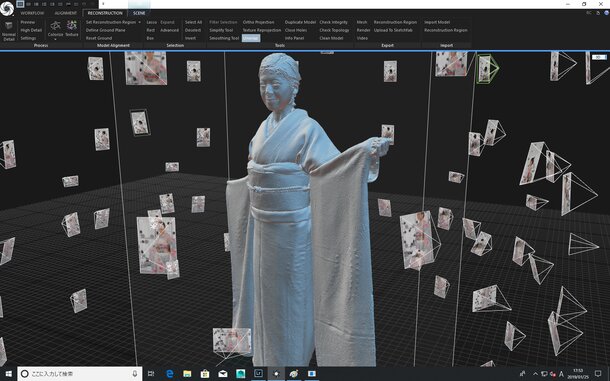 - You were able to get better data than you thought thanks to the fabric being appropriately selected and the actual photography scan.
Tashima: It was the first time scanning a genuine kimono so it was important the right one was chosen beforehand. Having received several suggestions about the kimono and obi, we tried to think about the kinds of things which would be difficult to model like black and white, reflections, and refractions, and narrowed it down from there.
We were nervous because it was make or break once the model put it on, but we were relieved that we were able to scan right down to the fine details. The material was high quality too. I think that the time will come when this data will be used as material for kimono in Kyoto.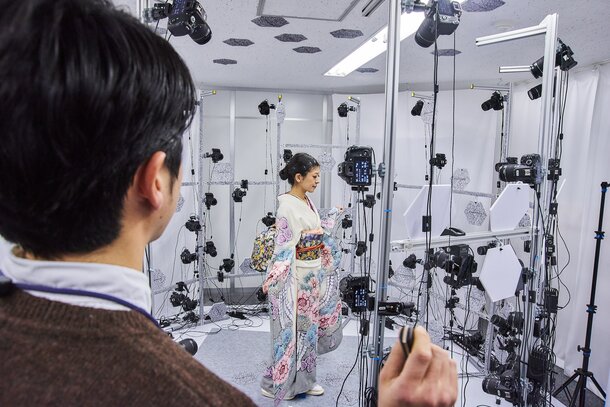 After the fabric from Kyoka was scanned by D4A, the next stage shifted to 3D modelling studio Knead who could then progress with modelling Asuna. In Part 2, we'll take you through the 3D sculpting process to modelling and finishing!
Kyoyuzen advisor, Kyoto fabric coordination
■ Kyoto fabric shop Kyoka
Address: Ebisubabacho 7-5, Shimogyo Ward, Kyoto
Founded in Taisho 10 (1921), Kyoka has been in business for almost a century near Kyoto's Nishi Hongwanji temple. They stock an extraordinary range with over 10,000 items regularly in stock including Kyoyuzen using techniques no longer replicable in the modern era.
3D scanning of the fabric to be used for the 3D sculpt, data transformation
■ D4A
Address: Taiju Life Insurance Building, Nishikujo Zaocho 30-1, Minami Ward, Kyoto
Founded in 1999, D4A is a graphics company specializing in 3DCG. They introduced scanning company SCANBA!. They have one hundred 18 Megapixel DSLR cameras, handle 3D scanning and modelling, and can offer both data production tailored to purpose, and 3D printing.
3D data sculpting, painting, and sample production
■ Knead
Address: Yamadaoyoshimicho 3-2, Nishikyo Ward, Kyoto
Knead is a prototype manufacturing company founded in 2010 which specializes in 3DCG multimedia content including figures, goods, and toys. In 2018 they began expanding as a manufacturer after handling many sculpts and color samples for other companies.