Granblue Fantasy ( GBF ) is a popular role-playing game beloved for its profound story and vast number of characters. The game is currently picking up fans in Japan thanks to its charming setting of islands floating in the sky and has already begun expanding into other media with manga and anime adaptations as well as a fighting game in the works for PS4.
In fact, GBF is also popular internationally and proved a big hit at its booth at Anime Expo in early July.
We sat down with GBF's producer, Yuito Kimura, and director, Tetsuya Fukuhara, to hear their thoughts on the game's production as well as their plans for international development going forward.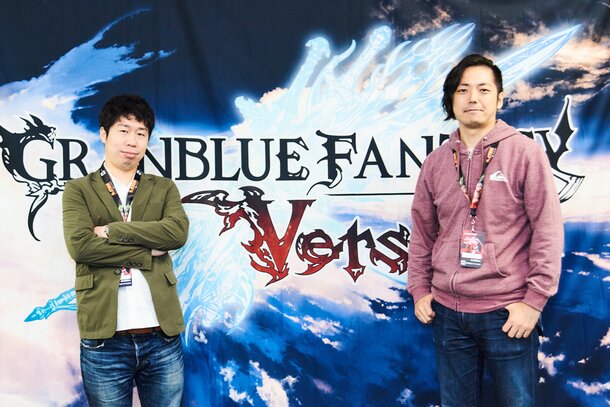 Left: Yuito Kimura (Cygames producer)
Right: Tetsuya Fukuhara ( Granblue Fantasy director)
Keeping players entertained with innovative event approaches
- Nice to meet you. I'd like to start by asking how much you think the development of Granblue Fantasy was influenced by international media? For example, while you were making the game, were you inspired by overseas drama, movies, or games?
Kimura: I play quite a bit of Witcher 3 and the Assassin's Creed series. I really like open world games like Grand Theft Auto, Borderlands, and Fallout, so I play those a lot too.
Fukuhara: I watch a lot of movies so I get a lot of story inspiration from there. As for games, I play a lot of AAA and FPS games. The big titles from overseas often have kinder UI and usability in comparison with Japanese games which is something I'd like to incorporate into the games I make.
- I see. Your most recent event scenario (*1) had a very interesting approach.
Kimura: Yeah I often find myself wondering if he saw that in a movie.
Fukuhara: Eh, maybe one of those crappy shark movies… (*2)
- Crappy shark movies (laughs). I was really surprised when I played it. I had no idea what was going on when the background characters suddenly started speaking English (laughs).
Kimura: We really wanted to push ourselves to do something interesting.
- The July event really got people talking. It seems like you're always trying to do something fun.
Fukuhara: Summer events always end up going in the same direction. There are always characters in swimsuits. They've become a bit samey with everyone trying to get themselves out of trouble. That's not a bad thing in itself, but we decided to try varying the approach for this year.
And so we went with sharks…
Kimura: On my SNS acounts, I don't personally follow the hardcore GBF players, but still, I saw many conversations about the event's story on my timeline.
Talking about my own preference of shark movies, I really love Sharknado 2 (*3).
Fukuhara: It was a total coincidence we had the same actors from the Japanese dub of the movie (*4).
- Wow, I really thought you planned it!
Kimura: We only realized later.
- If you wanted to get them deliberately it might not have been easy, but to get them just by chance is amazing! (laughs)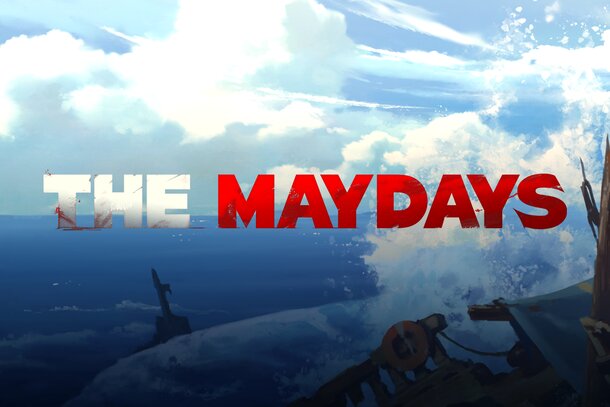 Exhibiting at overseas events
- Have you exhibited at any overseas events as Cygames?
Kimura: We exhibited at EVO (*5), and last year (2018) at Anime Expo. We've been to a few other events too. DreamHack (*6), for example.
- Is there a particular event that made a big impression on you?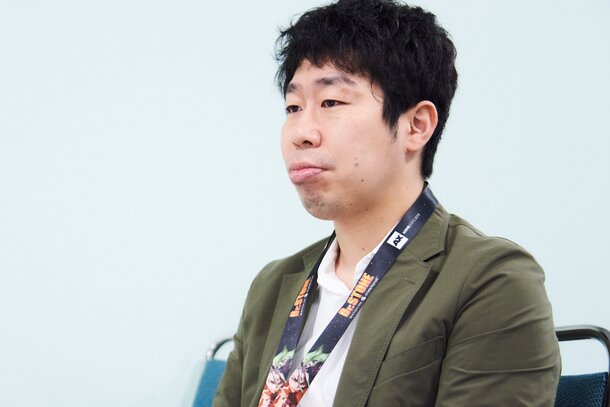 Kimura: EVO made a big impression on me but I didn't go to last year's Anime Expo. I heard from the others who did though that it was really good for showcasing our games. That's why we're going again, with a really big booth. We're setting it up so people can try out the new GBF fighting game.
Fukuhara: As an exhibitor, this Anime Expo is the first oversea event I participated. Last year I supervised at Gamescom (*7) and really wanted to find out how overseas players felt about our games. The fans at Anime Expo are really passionate, it's so stimulating.
Similar characters popular in Japan and abroad
- GBF is becoming a lot more popular among overseas players. Do you think players from Japan and abroad respond to the same kinds of things or are they attracted to different aspects of the game?
Kimura: It's just Granblue that's "the same." In Japan and internationally they've appreciated more or less the same points.
- Do you think they like the same characters?
Kimura: Pretty much the same, yeah.
Fukuhara
The reaction to the characters seems to be about the same as Japan in various territories. In Japan and internationally they all want us to put out the Elmott SRR soon as.
Kimura/Fukuhara: Seems to be.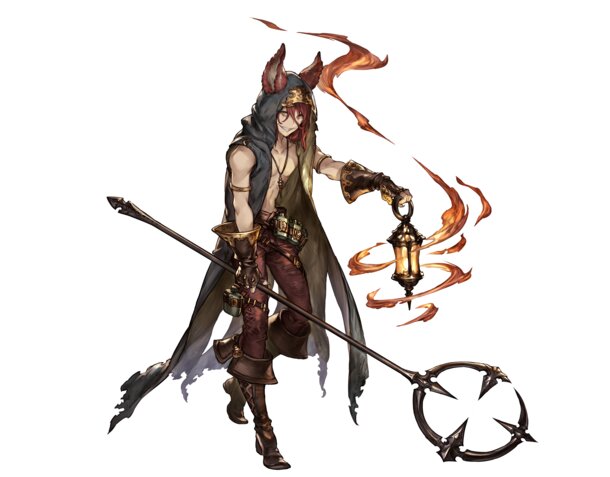 - Are the Primarchs and Four Knights proving popular in the current event?
Kimura: It's really pretty much the same characters that are popular.
Localization down to the finest details
- It's really easy to switch the in-game settings to English. The game comes loaded with a UI system you can change to English with the touch of a button. Do you have any statistics on how many of the players are using the English version of the game?
- Does it seem as if the percentage of players using the English version is increasing?
Kimura: Yes, the numbers are going up.
Fukuhara: But then, there are some Japanese players who like the English version because it's great for studying.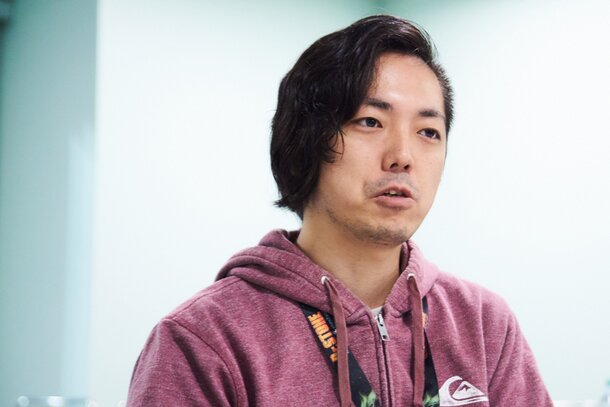 - It's really impressive that the localization isn't just the essentials of the game system. I also realized you localized the Grand Blues! comic (*9) when we were making the flip calendar (*8). Did you translate everything?
Fukuhara: I feel like the four-panel manga is the only thing we were late with.
- Translating the nuance of the Grand Blues! comic must have been a nightmare…
Kimura: Yes, it's really crazy. There's a lot of really surreal stuff. Lots of people don't even get it in Japanese. (laughs).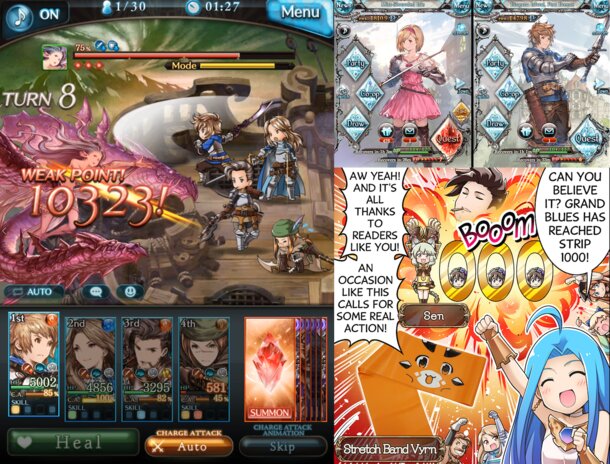 - Have you had any comments from overseas players who've read it?
Kimura: Yeah. There are people on social media and message boards posting images of the English language version.
- Outside of Japan, is it mostly North American players? Or are there a lot from other areas of Asia.
Kimura: There are a lot from North America. I think North America and Asia must be the biggest two. About the same really.
- After that is it Europe?
Kimura: There are people playing all over the world.
Fukuhara: There are people from Latin America too!
- t might be easier seeing as you can play using a browser rather than putting separate apps for each language edition.
- At the moment, there's only an English version available other than the Japanese, but as there are so many users from other parts of Asia, are you planning on creating editions in other languages?
Kimura: Not right now. At this point, we don't have enough resources to create a new language version from scratch.
- It would be a lot to do.
Kimura: You'd have to go right back to the beginning. So it's not really easy, but I do want to think about a way to deliver our contents to the Asian regions too.
- You stream tutorial videos for beginners, but have you thought about adding subtitles like that to the regular games?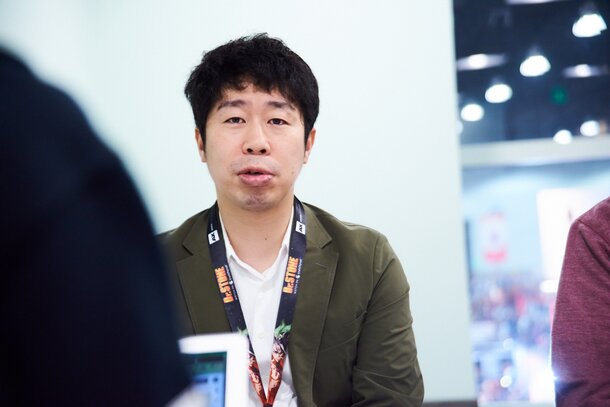 Kimura: There were no plans for that up to this point, but yes, that sounds like a good idea! Let's see what we could do about it.
Granblue Fantasy Versus - A brand new venture starts from here
- t seems like more beginners are getting into GBF. Is Granblue Fantasy: Versus ( GBVS ) (*10) going to be a different route in too?
Kimura: Yes. People who get into GBVS might get into Granblue Fantasy.
- So you're hoping GBVS will bring people to Granblue Fantasy?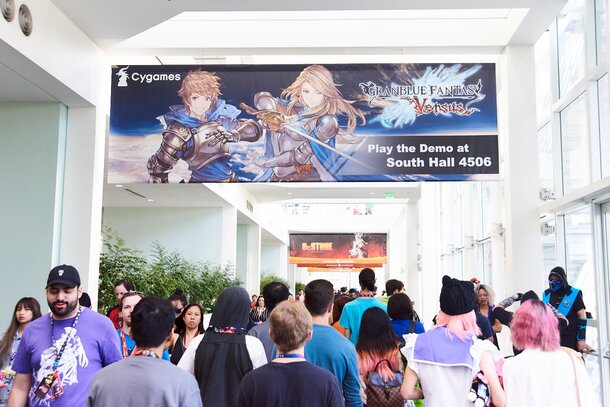 - I can't think of another Japanese example of a "social game" launching a console fighting edition you can play flat out at home. When you were running the closed beta, you were looking for users from North America and Europe. Were you able to get a good balance in the successful candidates?
Kimura: We had a candidate limit from each country so we were able to get a good balance, to an extent. We have players from pretty much everywhere. I feel like maybe people who'd never heard of GBF before tried signing up.
- Cygames is developing an esports team. Do you plan to run independent tournaments when GBVS is released?
Kimura: We're already thinking about esports, I really want to do it properly.
- How about outside of Japan?
Kimura: Yes, we'd definitely want to.
- That would really help motivate overseas players. Will you be adding additional characters?
Kimura: Hmm, yes we're planning to.
Fukuhara: We haven't even revealed all of the characters that would be in the initial roster. They will be announced soon. We also have plans for DLC characters as well.
GBF becoming popular with anime fans
- There's one more category of GBF fans - there must have been a lot of people who came to Anime Expo who'd seen the anime. Season 2 starts this autumn. How is production going?
Kimura: It starts in October so they must be going at it like crazy right now.
Fukuhara: They started recording the voice tracks in mid-July so it feels like it's getting there.
- The story is so huge I'm wondering how much of it you're going to get through in season 2?
- There are so many characters too. In the first series various characters appeared in bonus episodes. Are you doing something similar this time?
Kimura: We wanted to continue with the things people really liked about the first season.
Fukuhara: The appearance of various characters seemed to make people happy so we really want to put that to good use.
Kimura: We want the fans to like it.
- Finally, is there anything you'd like to say to Granblue fans around the world?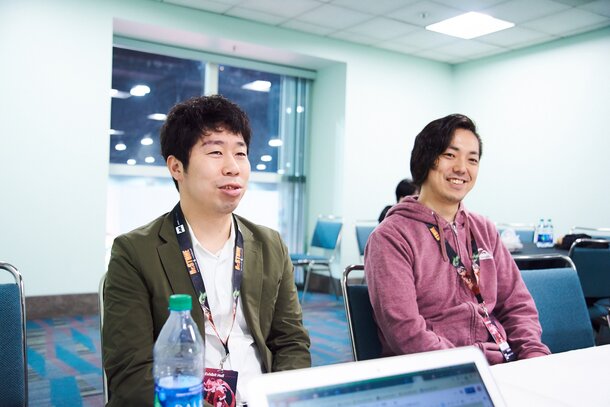 Kimura: GBVS is the first independent GBF game we'll be releasing internationally. We're really happy to be putting the game out and looking forward to seeing how you all respond to it.
With the second season of the anime starting and the global expansion of the game heating up, we're really looking forward to you all enjoying more GBF.
Fukuhara: We haven't set up an official overseas service, but there are people in so many countries enjoying playing GBF. As the people actually making the game, we were really surprised and happy about that. For the global expansion of GBVS, the second season of the anime, and Relink (*11) we're working on the English and other languages versions. We're really looking forward to delivering GBF to overseas players so they can enjoy the full experience, both for people playing for the first time and those who loved it before.
- Thank you for making time for us during your busy AX schedule!
Annotations:
1. The Mayday game event began on June 27, 2019. The event had a shark theme inspired by disaster movies.
2. A kind of disaster picture produced by The Asylum.
3. Sharknado 2: The Second One, a movie produced by The Asylum. It's about people fighting a large number of sharks falling from the sky.
4. The shark hunter and oceanographer characters which appeared in The Mayday event are played by Kenyu Horiuchi and Yuko Kaida who dubbed the shark disaster movies for the Japanese language voice track. Kenyu Horiuchi worked on the Sharknado series, while Yuko Kaida dubbed The Shallows.
5. Fighting game tournament Evolution Championship Series (https://www.evo2k.com/)
6. A large scale video game event held in Sweden (https://dreamhack.com/)
7. A trade fair in Germany (https://www.gamescom.global/)
8. A flip calendar released by Tokyo Otaku Mode
9. A four-panel manga found inside the GBF game in which superdeformed characters become involved in bizarre incidents.
10. A fighting game featuring the GBF characters produced for PlayStation 4 and developed by Arc System Works Co., LTD 2019 (https://versus.granbluefantasy.jp/)
11. Granblue Fantasy: Relink, a 3D action RPG set for release on PlayStation 4 (https://relink.granbluefantasy.jp/)