Sailor Moon is teaming up with character-themed jewellery brand U-Treasure for a third series of accessories featuring rings and a necklace.
The Cosmic Heart Ring is available in K18 yellow gold (50,000 yen), silver with yellow gold coating (18,000 yen), and silver (18,000 yen). Inspired by the popular 2017 edition, the rings come in five different designs themed around the Sailor Senshi featuring a stone in their characteristic colors.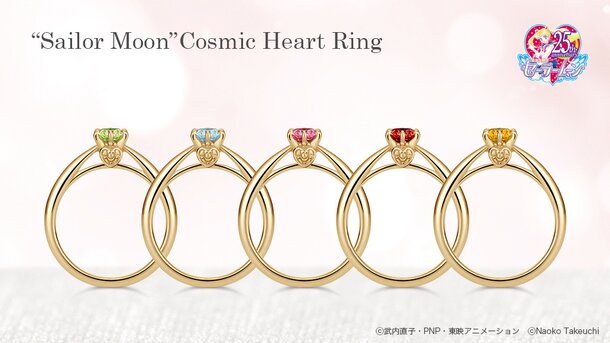 A necklace pairing rose quartz and diamond is also available alongside the rings, with its design to be revealed at a later date. The necklace is available in platinum 950 (120,000 yen), K18 yellow, white or pink gold (95,000 yen), and silver with yellow gold coating (21,600 yen).
The Sailor Moon Cosmic Heart rings are available for preorder to fan club members from Nov. 16 to 26 with regular presales beginning on Nov. 23 ahead of a Jan. 2019 release. The necklaces will be available for fan club presales between Dec. 14 and 26 and for general sales from Dec. 21 with an expected delivery date of Feb. 2019.