Titled "Kaze Shokogun", the new episode was announced at the "Hataraku Saiten" event held on Nov. 18. It will be broadcast on Tokyo MS, Tochigi TV, Gunma TV, and BS11. Fans overseas will also be able to stream it after the domestic TV broadcast.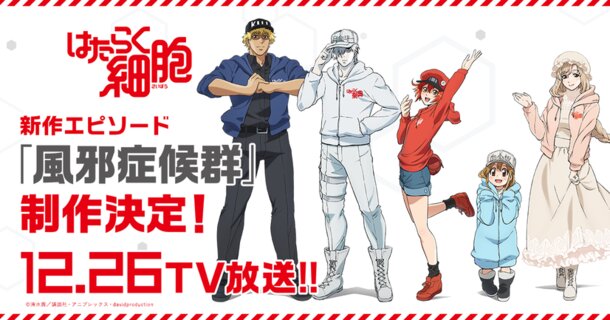 "Kaze Shokogun" revolves around the sudden arrival of a mysterious cell wearing a fancy hat. Naturally, this causes a stir among the regular cells, who are getting bored with the repetitive work of daily cell division. The mysterious hat wearing cell incites the regular cells to play tricks on White Blood Cell and Killer T Cell, but who on earth is he?
"Kaze Shokogun" is slated to air on Dec. 27.
(C) Shimizu Akane / Kodansha, Aniplex, davidproduction
(C) Shimizu Akane / Kodansha, Aniplex