In celebration of its 50th anniversary, Weekly Shonen Jump is set to launch a new smartphone game this spring!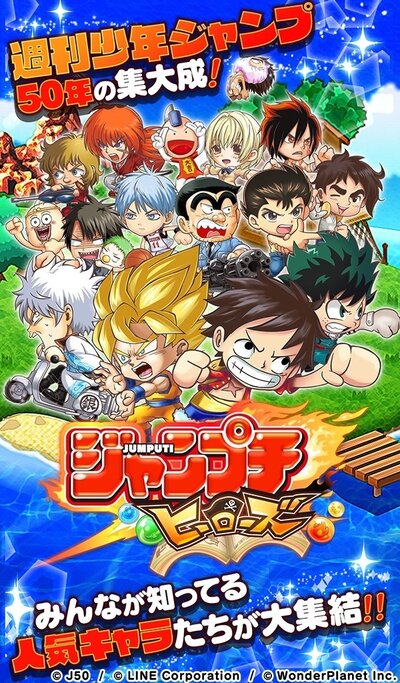 Set in "Jump Puchi Land" where chibi versions of characters from throughout the magazine's long history live together in peace and harmony, Jump Puchi Heroes will take the form of an RPG in which the player must travel through various islands and defeat the evil witch who has cursed the residents of Puchi Land and turned them to the dark side.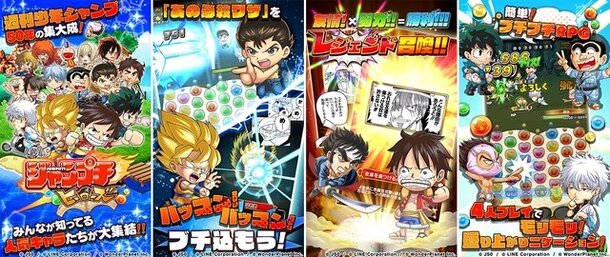 A prelaunch campaign is also underway with various rewards to be granted according to the number of people who preregister. Fans can take part through LINE, Twitter or Facebook.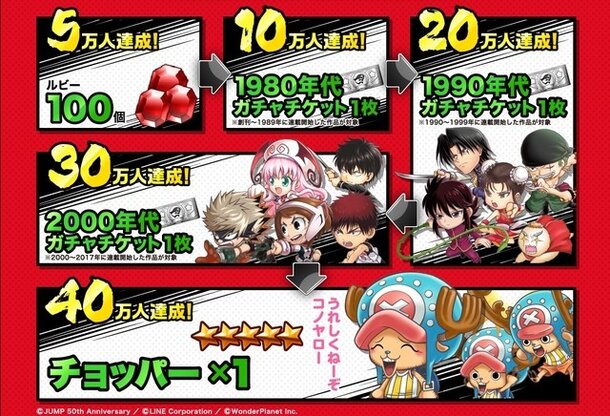 Titles confirmed to feature in the game so far include Kochikame, Cobra, Cat's Eye, Ginga: Nagareboshi Gin, Dragon Ball, Sakigake!! Otokojuku, Saint Seiya, Chinyuki - Taro to Yukaina Nakama tachi, Yu Yu Hakusho, Tottemo Lucky Man, Ninku, Jigoku Sensei Nube, Ultimate! Hentai Kamen, Rurouni Kenshin: Meiji Kenkaku Romantan, Sexy Commando Gaiden: Sugoi yo!! Masaru-san, Houshin Engi, One Piece, Bobobo-bo Bo-bobo, Ichigo 100%, Gintama, D. Gray-man, Majin Tantei Nougami Neuro, To Love-Ru, Kuroko's Basketball, Beelzebub, Medaka Box, World Trigger, Hinomaru Zumou, and My Hero Academia.
(c)JUMP 50th Anniversary (c)LINE Corporation (c)WonderPlanet Inc.