Good Smile Company is releasing a Hatsune Miku 10th Anniversary Ver. Memorial Box figure to celebrate the iconic Vocaloid's huge anniversary! The design was sculpted by Kawahara Takayuki based on the Hatsune Miku 10th anniversary commemorative main visual, and preorders are now open.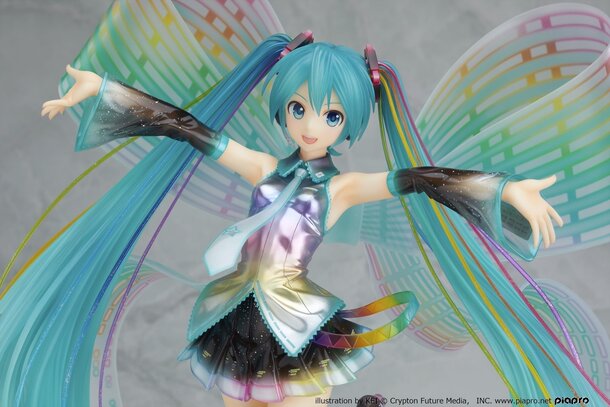 Aug. 31, 2017 marked Miku's 10th anniversary, and to celebrate that, Hatsune Miku character designer KEI worked with clothing designer and manga artist Shimazaki Mari for the commemorative main visual referenced for this figure. It's supremely high quality, from the beautiful rainbow coloring and semi-transparent details to the beautifully molded pigtails.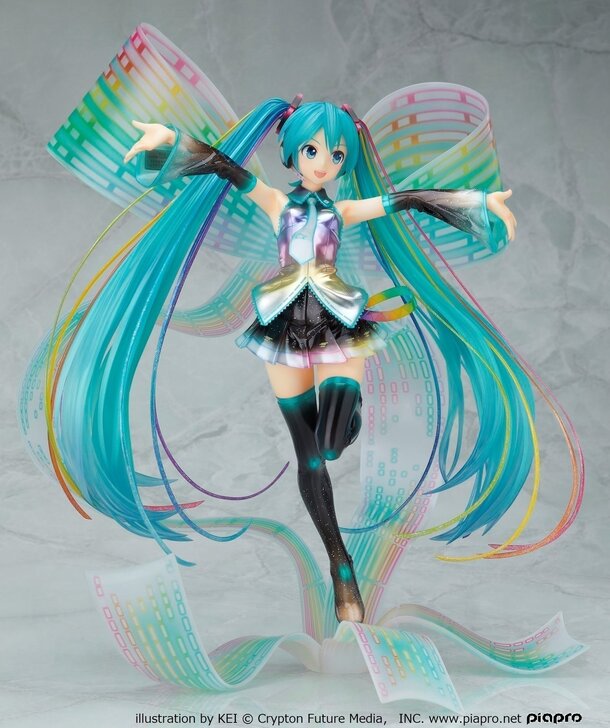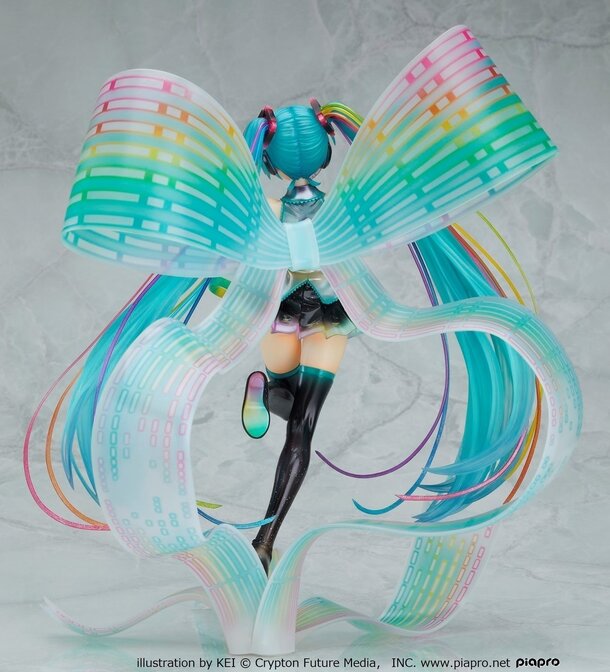 While the figure can be purchased separately, fans won't want to miss out on the Memorial Box version, which also comes with the "Hatsune Miku Archive". This 390-page art book is packed with loads of beautiful Hatsune Miku illustrations from over the past 10 years including works from the Hatsune Miku 10th Anniversary Commemorative Illustration Contest from pixiv.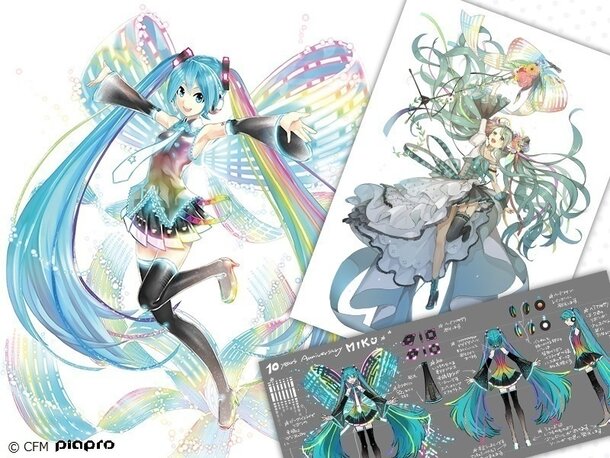 If you're keen to celebrate this amazing milestone, lock in a Hatsune Miku 10th Anniversary Ver. Memorial Box for yourself at Good Smile Company's online shop or Tokyo Otaku Mode!
Hatsune Miku 10th Anniversary Ver. Memorial Box
Series: Character Vocal Series 01 Hatsune Miku
Release Date: Dec. 2018
Price: 23,148 yen (before tax) / 25,000 yen (after tax)
Specifications:
Figure: 1/7 scale pre-painted ABS & PVC figure with display stand, includes commemorative A4-sized "Hatsune Miku Archive" book with 390 pages
Height (approx.): 270mm
Modelling・Coloring: Kawahara Takayuki
Design Cooperation: Shimazaki Mari
Release・Sales: Good Smile Company
Details Page: http://www.goodsmile.info/ja/product/6846
Purchase Page: http://goodsmileshop.com/ja/p/GSC_SCA_JP_00127
Goodsmile Online Shop Pre-order Period: Nov. 10, 2017 12:00 pm ~ Jan. 10, 2018 9:00 pm
Hatsune Miku 10th Anniversary Ver. (figure only)
Series: Character Vocal Series 01 Hatsune Miku
Release Date: Dec. 2018
Price: 18,519 yen (before tax) / 20,000 yen (after tax)
Specifications: 1/7 scale pre-painted ABS & PVC figure with display stand
Height (approx.): 270mm
Modelling・Coloring: Kawahara Takayuki
Design Cooperation: Shimazaki Mari
Release・Sales: Good Smile Company
Details Page: http://www.goodsmile.info/ja/product/6852
Purchase Page: http://goodsmileshop.com/ja/p/GSC_SCA_JP_00129
Goodsmile Online Shop Pre-order Period: Nov. 10, 2017 12:00 pm ~ Jan. 10, 2018 9:00 pm
【Character Vocal Series 01 Hatsune Miku】
illustration by KEI (C) Crypton Future Media, INC. www.piapro.net