Did any of you visit the booth set up by NTT SOLMARE at Anime Expo 2017?
Held at the Los Angeles Convention Center from July 1 to July 4, this year marked the fourth year that the gaming company was in attendance. NTT SOLMARE is best known for games of the dating sim variety, with Shall we date? as their most popular title. Their other game, Moe! Ninja Girls, is also gaining steady traction.
For 2017, NTT SOLMARE reports that they had over 10,000 people stop by their booth to take pictures with their favorite characters and experience the world inside the game using AR (augmented reality)! As you can imagine, the attractions caused quite a stir, to the point where there was always a long line of people queued up.
Unique experiences weren't the only thing being doled out; every person who visited the booth got a mask, tin badge, and even an original paper bag as a small token of appreciation. Those who put in the admirable effort to cosplay as the games' characters received other special gifts!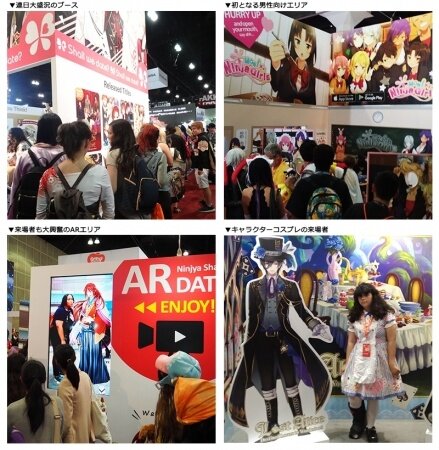 Shall we date? is an otome dating game, with a female protagonist and handsome male love interests. Since releasing, it's been distributed in 16 countries with the total number of downloads surpassing 26 million. For those curious, it's available on Apple's App Store and the Google Play Store, and has received a rating of 4.4 on the US App Store as of Jul. 2017!
Moe! Ninja Girls is a bishoujo dating game, with a male protagonist and lovely female love interests. With the story taking place on a university campus, the game has received over 600,000 downloads since being released worldwide in Dec. 2016.
If you're looking for fun and gorgeous games, we'd definitely recommend checking those two out! For those who have played them, or got a chance to stop by the Anime Expo 2017 booth, let us know your thoughts!