Welcome back to the second part of our interview with Hiroki Kaneko, the founder, and creator of MegaHouse's figure division and the amazing "ONE PIECE"' figure brand, "Portrait.Of.Pirates" (P.O.P). In case you missed part one, check it out here!
―Do you ever try to make figures that appeal to fans overseas?
Hiroki: No, and I try not to on purpose. I've loved American comics from early on, and my favorite era was a little before "Spawn" became really popular. I also loved "X-MEN"...
―You mean Jim Lee's run on "X-MEN"?
Hiroki: Yes, I really loved Jim Lee. I thought it was cool that American comics were completely different from Japanese manga. For that same reason, I think fans overseas would find it strange if we tried to appeal to them on purpose, right? Even if it sold, I believe it's for the best that we're not trying to make our figures with the intention of flattering fans overseas.
―What's your favorite series of all time?
Hiroki: It's a hard to say, but purely based on what series I enjoy, the work I do, and what series has had great sales for our company, all of that essentially equates to "ONE PIECE". While I'd actually like to separate my work and private life, there are just too many overlaps.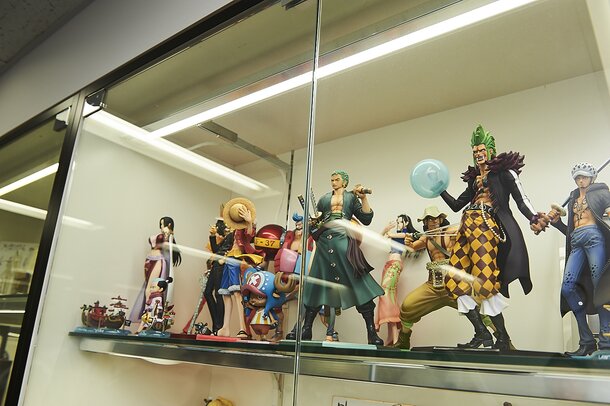 ―This may also be difficult to decide, but do you have a favorite figure within P.O.P?
Hiroki: If I have to decide today, then it would be Bounce Man because it's the best work I've done. However, I'll try my best to create even better figures. So don't think Bounce Man will always be my number one. "ONE PIECE" will become even more interesting from now on, and the figures and products will also need to aim to reflect it. For today, right now, it's "Bounce Man," but look out for my next figure.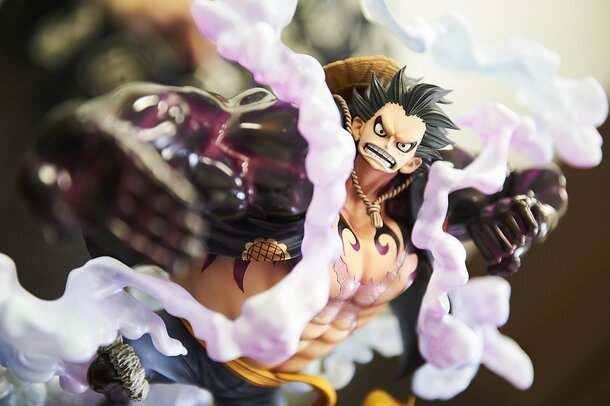 Actually, I've always wanted to make Broggy, Dory and others like Hajrudin from "ONE PIECE". They are all gigantic. I think they haven't been made yet because maybe fans don't want them. (laugh) Though it would be a dream come true if I could make them.
―Why do you want to make giants?
Hiroki: They have so many moving scenes. I like that Broggy and Dory have so much pride for their homeland of Elbaf, and I can understand why Usopp admires them. Hajrudin was used to showcase the strength of other characters. However, I immediately became a fan when he used Gungnir. It reminded me how cool giants were. There are plenty of chances to make women characters, but there are a lot of male characters that are not even ready for the concept phase. I often think about how to bring them to the market. However, it goes without saying, I'd like to make a figure of everyone in "ONE PIECE".
―I heard you find it hard to pull yourself away from working on site with sculptors, etc.
Hiroki: That's true. I'm the general manager, so it's not good for me to be out of the office. However, if I tell the planners to make the figure a certain way, then they'll make it exactly as I said. Sometimes there are aspects that I can't convey at the start, and I'm hoping that I might receive some inspiration for new ideas after seeing the actual figure. That's how I still approach my job.
―You're essentially in charge of the entire figure making process. Does that include marketing, sales, and other aspects after it's been made?
Hiroki: You could say that, but as general manager, I'm always looking at promotions, marketing, and quantity vs. price balance to make sure there are no mistakes. But in terms of making figures, I allow myself to do as much as I like. I think everyone in my department has something they would like to do, but results must be proven in numbers. So I listen to them when they ask for a consultation.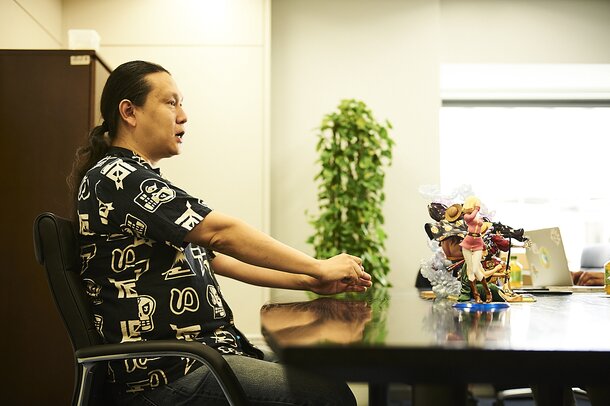 Whether it's the figure's structure, its center of gravity, how it's shown under lighting, or the highlight placements in the eyes, I like to know about everything so I can answer any questions. If someone were to say, "That part looks off," it's hard to give an answer without knowing the details. It could have been made that way on purpose and fixing it could lead to a mess.
I'm also the main person handling P.O.P projects. This may sound strange, but I'll try to describe the recent state of P.O.P using a baseball analogy. P.O.P has become a series that at the very least, guarantees a base hit, but every time we're hoping for a home run. Maybe some of the people working under me don't want to become my successor due to the pressure. This is the first time I let someone other than myself work on the prototype for a P.O.P figure, and if it goes well, I'm thinking maybe it'll be good if they become my successor. (not referring to Bounce Man)
―I see. Could you also tell me about some of the people you respect within the industry?
Hiroki: I'll use nicknames to avoid any problems. In terms of people leading projects, I respect Hobby Japan's Miyagemonoya Hans. They are the author of "Queen's Blade" and I think they are amazing. For figure projects, I have tremendous respect for one of the managers at ALTER, F-san. We're around the same age. I respect them for teaching me so much and for also being one of the creators of the current figure market. I also have to mention K-san from Kotobukiya. K-san has always worked on Kotobukiya's men's figures. Our G.E.M. series, ALTER's "ALTAiR" series, and other men's figure series exists thanks to the huge impact they had on the market.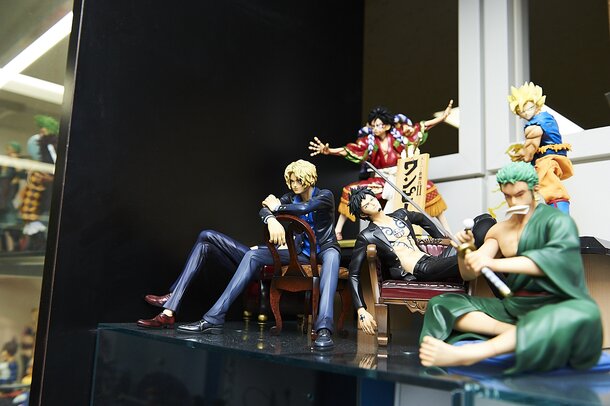 Within the Bandai Group, I would have to say M-san. He's in charge of a product series called "Sozo Galleria" which sells Studio Ghibli characters online. It must be very difficult for someone within the Bandai Group to take on Studio Ghibli characters. I really respect M-san for creating those products with such enthusiasm, even under the immense pressure.
For sculptors, I say Masaki Asai's work on the figma series is amazing. We both worked together a long time ago when Kadokawa decided to bundle an action figure within the limited-edition volumes of "Neon Genesis Evangelion". Oh, and personally, I really love Hiroshi Inagaki. I think he's the best figure sculptor in the world. However, I was surprised to see him working as general event staff when I went to Wonder Festival. (laugh)
―What technologies do you think have improved the most for figure making?
Hiroki: The number one improvement has to be the way eyes are colored. Back when I began, we colored the eyes using an iron plate as a facial mask. We'd cut out the areas like the eyelashes which needed to be colored, lay it over the face, and then spray paint it. We could only add to that area. Now, we use a method called "pad printing". When we first began making figures, pad printing gave the impression that the eyes were carelessly drawn on.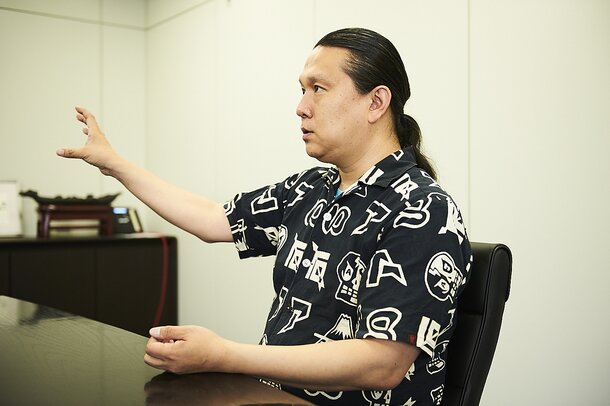 However, the depth seen in eye color today is all created using pad printing. The whites, the blues, the highlights, and everything concerning the face can be done as a set and pressed in order. The advancements in pad printing have improved how far we can replicate the eyes. Also, there are sculptors who've now entered the industry using digital techniques.
―Crowdfunding has been on the rise, have you ever thought about it?
Hiroki: Whether to use it or not? It's actually come up in conversations, and I think if we were to use it properly then maybe we could turn the prototype we made for Lao G into an actual product. (laugh) I would like to make a Lao G figure that actually makes the G with his neck or something like that, but I'm not too sure what everyone would think of it…
Hiroki: I really love Lao G and that pushed to have the prototype made. The prototype we made appears like a normal old man but he can suddenly make his G pose. However, when I announced on a talk show that I'll be making Lao G for ONE PIECE's 10th anniversary, everyone turned silent. (laugh) I was hoping they would laugh, but the joke fell flat. From then on, we just laid him aside (laugh) Hopefully, one day I can bring him back.
―We also have a few questions from our fans at Tokyo Otaku Mode to ask. First, "How do you determine a figure's pose or the props?
Hiroki: There's not much thought needed if we're using a specific scene. It's only a matter of how we choose to show it in 3D. But, look at Hancock here. I decided the theme would be that she's sexy but not embarrassed about it, and I used the theme to determine the pose. Also, Zoro is featured in a lot of action scenes, but there are not many quiet scenes featuring him holding his swords. So, I wanted to try that. I can set the pose once I determine the theme.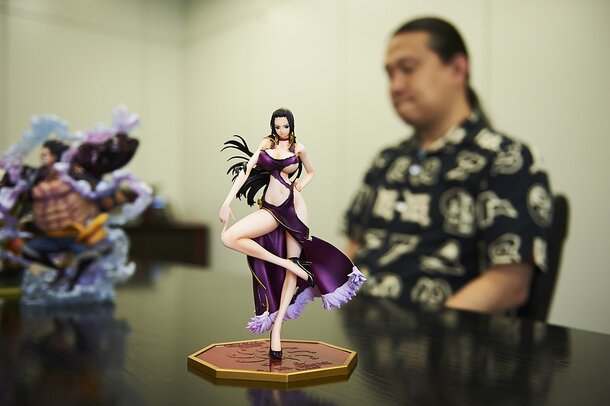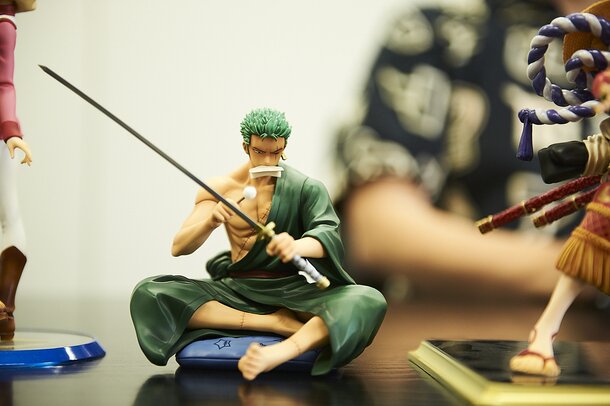 ―Our next TOM fan asks, "Do you have a favorite character that you look forward to making?"
Hiroki: Luffy has to be the most fun to make. Actually, I've always thought that Luffy is such a simple character without many specific things to make him recognizable. It's interesting to try new things and see what he becomes, and that's why I enjoy making Luffy.
―Our last fan asks, "Can you tell which sculptor has made a certain figure by their personal sculpting characteristics?"
Hiroki: I can't tell when it's another company's figure, and there's also been an increase in digital sculptors. However, I have a pretty good idea who made the figure, even without understanding the circumstances, if it's a sculptor within MegaHouse.
I try to match sculptors with figures that tailor to their particular genre and skill set, but I'll also give the opportunity to someone who's not particularly adept to a certain genre because maybe their skillset can make the figure more interesting.
I can't say this 100%, but when I look at a figure I can tell which area the sculptor wanted to really make. For example, maybe you can tell by looking at this Sayla figure the overall image and area that the sculptor focused on. Actually, they are a younger person and not from the original Gundam generation. They didn't even know the character, but I thought to myself that I should let them try and it turned out to be interesting.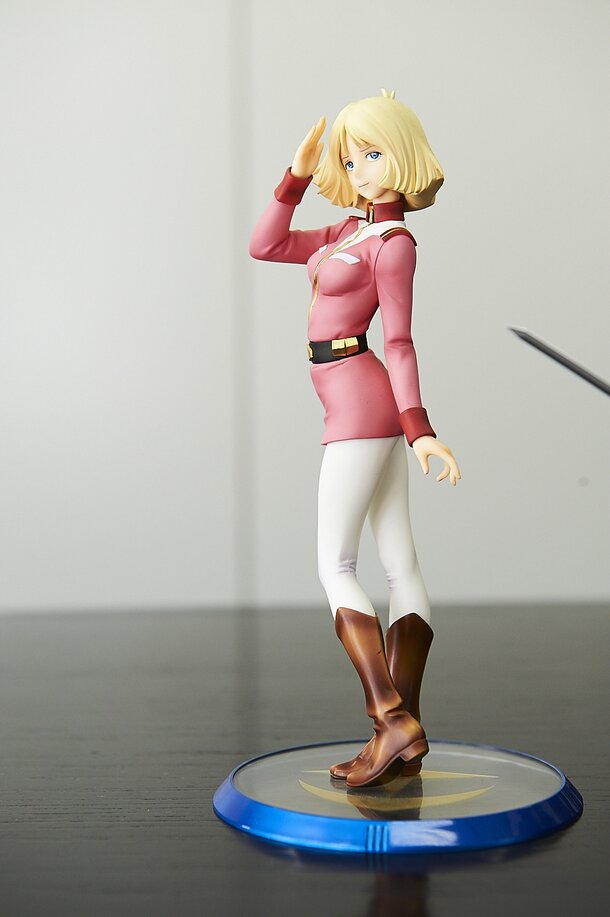 ―Going forward, you said you'd like to put more effort into stimulating the market. Could you explain?
Hiroki: Figures are becoming larger in size as well as more expensive, and because of that, there's limited shelf space in retail stores. Even so, you can still purchase the figure online, but the problem is that there's no common retail space to sell figures anymore.
So in the case of "ONE PIECE", which has many fans, I think it's my duty to try different methods so new fans will want to buy our figures.
Once before, there was a period when there were too many "ONE PIECE" figures and it was seen as slightly negative. During that time, I think other companies were not focusing on expanding the market. Instead, I tried to bring new "ONE PIECE" figure collectors into the market using characters like you had never seen them before. For example, Nami wearing an over sexy bathing suit and male characters with their chest all exposed, and it worked. Now that we have more fans, Bounce Man is like this big surprise I've been waiting to show them!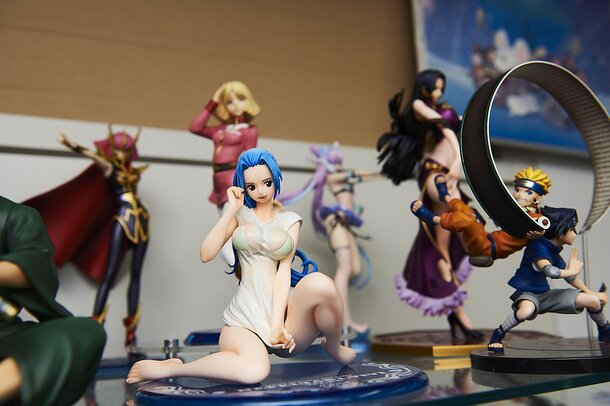 ―What kind of figure would you make if it didn't have to be related to "ONE PIECE" or P.O.P?
Hiroki: Personally, I'd like work on "Hinomaru Zumo". I super love that series.
Hiroki: There truly aren't many out there, and I wonder if people want them. (laugh) I haven't heard of many goods being sold for "Hinomaru Zumo" either. Recently, it's been hard for series to get merchandise made without an anime. However, it's really popular and I hope for the chance to make figures for it some day.
―Looking back on your past experiences, do you have an opinion on what kind of person is suited to becoming a figure planner?
Hiroki: I would say someone who's interested in many areas. While it's important to have your own little world, if you only focus on what's inside of it then your views will never expand. There are some "artists" who are ok as long as their world is validated by others. That's not the case for project planners, especially when it comes to selling characters. For instance, say the first series you're given to work on is "Gundam". First, you need to understand the essence of "Gundam" before you can make a product. That's what it means to sell a character. I think those who can take advice and opinions from others are suited to becoming a figure planner.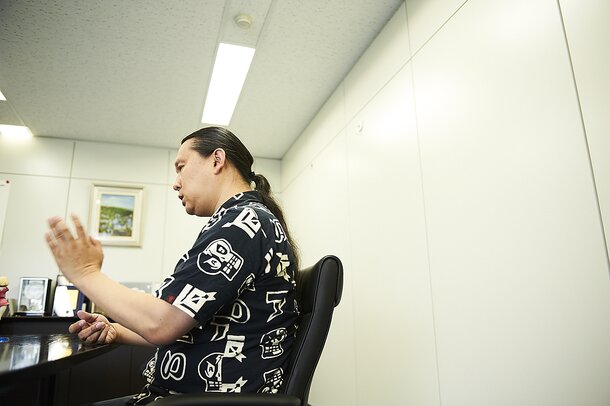 ―Finally, do you have any advice or message to fans overseas who would like to create figures?
Hiroki: If you're trying to be a sculptor, I think it's good to upload what you've made onto figure SNS sites. It's a great way to show off your work, and there are more people paying attention than you think. For those looking to enter the industry, I think there are job openings for simple positions if you look around. I think it's easy to enter the industry now, but it's become even harder to remain working in it. There's also a lot of talks these days about advancing more overseas, specifically in Asia. However, we're also aiming to expand outside of Asia, and I think chances are opening up for people who love foreign characters. Even if you're just trying to find a job through normal means, I encourage you to try.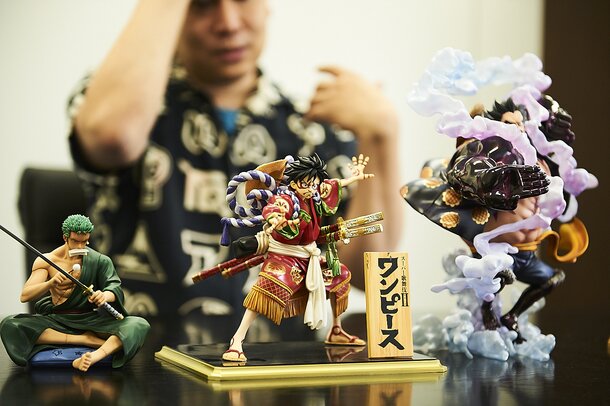 Thank you very much to Hiroki and MegaHouse! Interesting figures make us smile, and Hiroki is definitely making some of the most interesting figures on the market. I hope many of you reading will remember that making others smile is an important part of art and the figures we love to collect!
The Portrait.of.Pirates One Piece Luffy Gear Fourth is a masterpiece and unlike any "ONE PIECE" figure you've seen before. It's also available for pre-order now on the Tokyo Otaku Mode Shop!
This is a Tokyo Otaku Mode original article.
Interview by Adrian Morris, Yabusaki
Photography by Hara
©尾田栄一郎/集英社・フジテレビ・東映アニメーション
©尾田栄一郎/集英社 ©尾田栄一郎/集英社・スーパー歌舞伎II『ワンピース』パートナーズ
©創通・サンライズ
©創通・フィールズ・フライング