It's been a tough time for fans of The Disastrous Life of Saiki K., but that's about to come to an end! The hilarious supernatural gag series by Asou Shuuichi will be airing its second season sometime in 2018.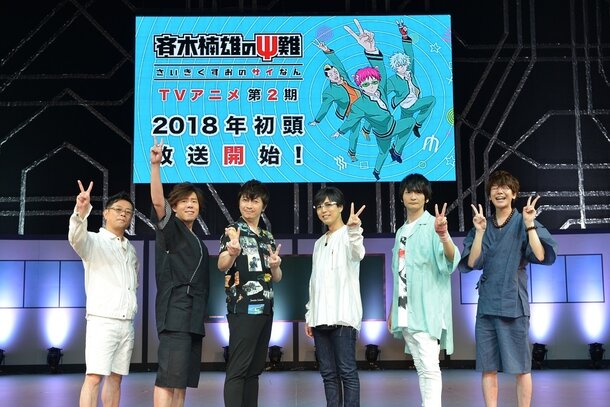 The surprise announcement was made on July 23 at a The Disastrous Life of Saiki K. event at the Maihama Aphitheater. Six of the main cast members, including Kamiya Hiroshi (Saiki Kusuo) and Ono Daisuke (Nendou Riki), appeared on stage to deliver the message personally.
The Disastrous Life of Saiki K. revolves around, obviously, the disastrous life of Saiki Kusuo! A high school student, Saiki actually possesses a wide range of unusual powers that are so dreadful they could destroy the world... but luckily for regular humans, he just wants to live as normally as he can! Wacky classmates and strange situations make that wish just a bit hard to grant, though.
The series is serialized in Weekly Shonen Jump and the first season aired from July to Dec. 2016. The second second will be a direct continuation, with plenty more shenanigans for all fans to enjoy, with interesting new characters to boot~
© Asou Shuuichi / Shueisha / PK Gakuen
Adapted with permission from SPICE