The Yuuei Culture Festival, a special My Hero Academia event, is being held at the Yachiyo City Civic Hall in Japan's Chiba prefecture, and a key visual has been released!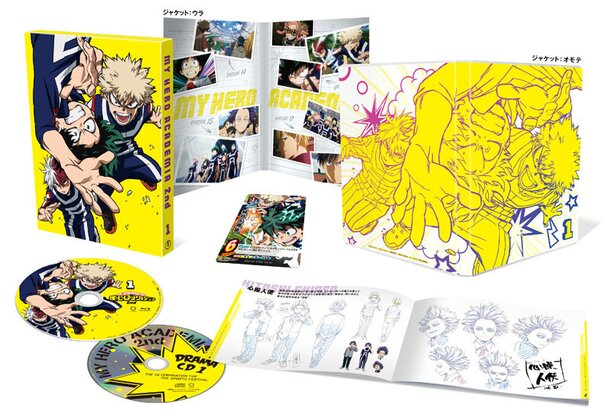 10 of the main characters appear in the key visual in RPG-inspired clothes and poses. The event itself will be packed with the starring voice actors including Yamashita Daiki, Miyake Kenta, Okamoto Nobuhiko, Sakura Ayane, Ishikawa Kaito, Kaji Yuki, Yuuki Aoi, Masuda Toshiki, Hatanaka Tasuku, and Suwabe Junichi. The original story featured the Yuuei Athletic Festival, but now we'll get to enjoy the school's culture festival!
The Yuuei Culture Festival is divided into day and night portions, and priority sale tickets were bundled as a bonus with the 1st (July 19) and 2nd (Aug. 9) Blu-ray and DVD volumes with July 19 and Aug. 9 release dates respectively. Each is 5,300 yen (tax included) before the handling fees.
Volume 1 includes a ton of bonuses including a special drama CD called "Taiikusai e no Kakugo" ( "Preparation for the Sports Festival" ) written by the series composer and scriptwriter Kuroda Yosuke, as well as a 16-page booklet, special cover by the character designer Umakoshi Yoshihiko, and a limited edition My Hero Academia Tag Card Game promo card.
Special Event "Yuuei Culture Festival"
Date and Times: Nov. 26, 2017 (Sun.)
Daytime: Doors Open: 1:30 pm, Curtains Rise: 2:00 pm
Nighttime: Doors Open: 5:00 pm, Curtains Rise: 5:30 pm
Location: Yachiyo City Civic Hall
Appearing: Yamashita Daiki, Miyake Kenta, Okamoto Nobuhiko, Sakura Ayane, Ishikawa Kaito, Kaji Yuki, Yuuki Aoi, Suwabe Junichi, Masuda Toshiki, Hatanaka Tasuku
Price: 5,300 yen (tax included)
(c) Horikoshi Kohei / Shueisha・My Hero Academia Production Committee