Attack on Titan has come together with some of Japan's best craftsmen for a series of elegant merchandise items inspired by traditional crafts. From Edo Kiriko cut glass to Koshu Inden lacquered deerskin pass cases and Kyo Kumihimo bracelets, the handmade items perfectly blend the European-style of Attack on Titan with ancient Japanese design.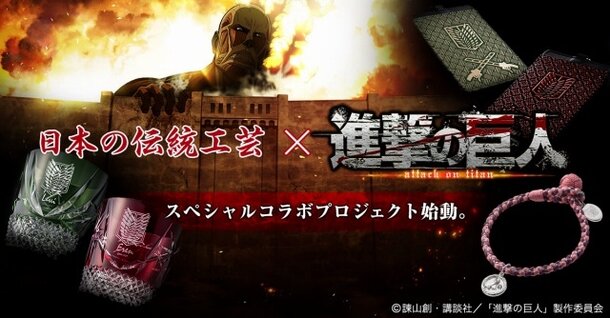 Attack on Titan × Edo Kiriko cut glass
Edo Kiriko is a traditional craft in which clear colors and patterns are cut into glass. The Eren inspired design comes in a striking red with chrysanthemum flowers round the sides and the Survey Corps Wings of Freedom on the front with Eren's name underneath.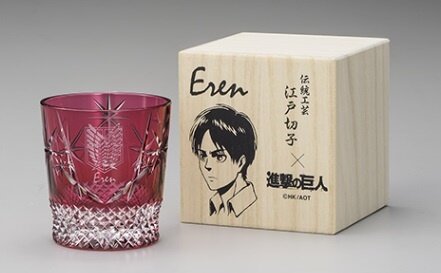 The Levi design also features the Wings of Freedom on the front with Levi's name underneath but comes in a military green.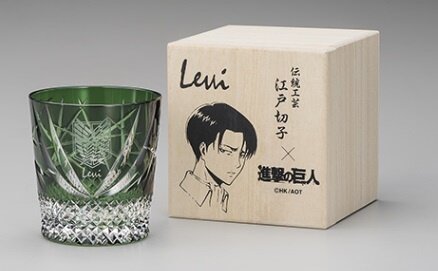 Limited to 100 pieces only, the glasses retail for 39,800 yen and each come in an elegant wooden box featuring a traditional-style illustration.
Attack on Titan × Koshu Inden pass cases
A traditional craft of Yamanashi prefecture, Koshu Inden uses high quality deerskin to create beautifully patterned accessories.
The Eren pass case comes in bright red with Eren's key on the bottom while the Levi design comes in green with a pair of crossed swords and each have the Wings of Freedom in the middle.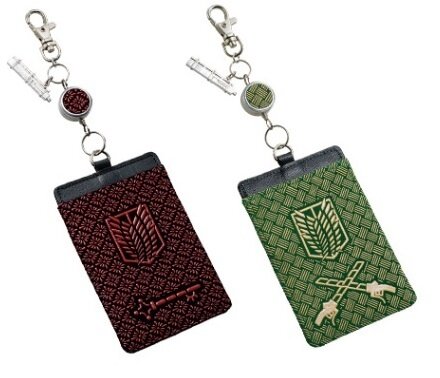 Limited to 200 pieces only, the pass cases come with a convenient reel attachment and clip so you can attach them to your bag or keys.
Attack on Titan × Kyo Kumihimo bracelets
Kyo Kumihimo braided cord is one of Japan's oldest traditional crafts and was often used for samurai swords and armor. This series of bracelets features six designs inspired by the Attack on Titan characters including Eren, Mikasa, Armin, Levi, Erwin, and Hanji each in their characteristic colors and with two .925 silver charms, one featuring the Wings of Freedom and the other the character's representative item.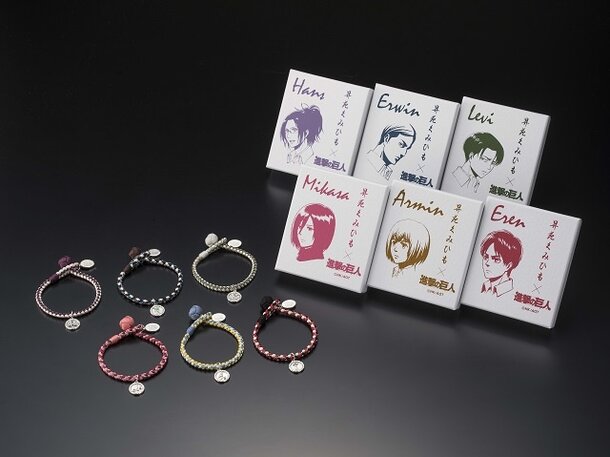 Each of the bracelets retails for 9,800 yen, comes in both male and female sizes and is limited to 300 pieces only.
The Attack on Titan × traditional crafts collaboration items are released on March 25, 2017.