Take a trip around Japan with Hatsune Miku as she introduces Japanese cuisine from all over the country in a new promotional video! This video is part of a project by Japan's Ministry of Agriculture, Forestry and Fisheries, and it will be shown around the world through NHK World TV. But you can watch it right now on the official YouTube channel for the Ministry of Agriculture, Forestry and Fisheries!
Japan is home to an incredible diversity of cuisine, and each region has its own unique culinary delights. Inspired by the idea of setting off on a whirlwind tour of Japan with Hatsune Miku, this video is sure to get your mouth watering. The Hatsune Miku song featured in the video is called "Oishii Trip" - oishii means "delicious" in Japanese, and you can bet that this video is filled with incredible Japanese cuisine that's the epitome of oishii! The song's lyrics were written by Aoyama Mio, a lyricist who's created songs for performers such as i☆Ris, Kakihara Tetsuya, and Zogo Saeko. The song was composed by Oguro Junichi, who creates music for advertisements in countries across Europe.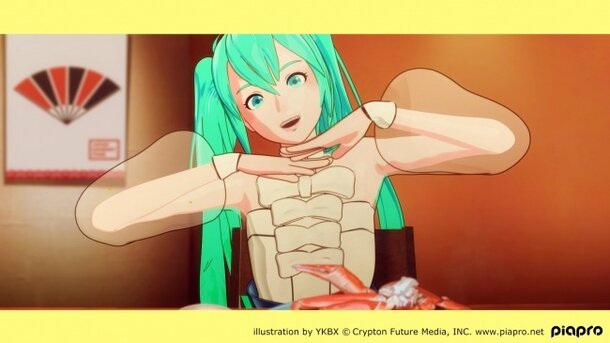 The video was directed by YKBX, who has worked on an amazing variety of titles including Hatsune Miku: The End - Vocaloid Opera. YKBX is involved in the worlds of illustration and graphic design as well as working on movies, and he's highly esteemed at film festivals and other events both within Japan and abroad. With a director like YKBX at the helm, this video is sure to prove a hit with foreign viewers, so make sure you check it out!
The number of foreign tourists traveling to Japan on holiday is growing every year, and in 2015 a record 20 million people visited the country. Recently, more and more people are visiting Japan so that they can enjoy authentic Japanese food, and this promotional video is probably also intended to entice these fans of Japanese cuisine back for more! Thanks to the cooperation of Xing Inc. and Daiichi Kosho Co., Ltd., the song will be available on Joysound and DAM karaoke systems complete with the original video from March 14, creating an exciting opportunity for both Japanese and foreign fans of Hatsune Miku to enjoy this fun food-themed song!
Song Details
Name: "Oishii Trip"
Lyricist: Aoyama Mio
Composer: Oguro Junichi
Arrangement by: Oguro Junich, Bighead
Vocals: Hatsune Miku