Curtains have risen on JoJo's year, 2017, and a special visual has been released of Yamazaki Kento as protagonist Higashikata Josuke! 30 long years after its creation, JoJo's Bizarre Adventure is finally being adapted into a live action film. JoJo's Bizarre Adventure: Diamond is Unbreakable - Chapter 1 will be opening nationwide on Aug. 4, 2017.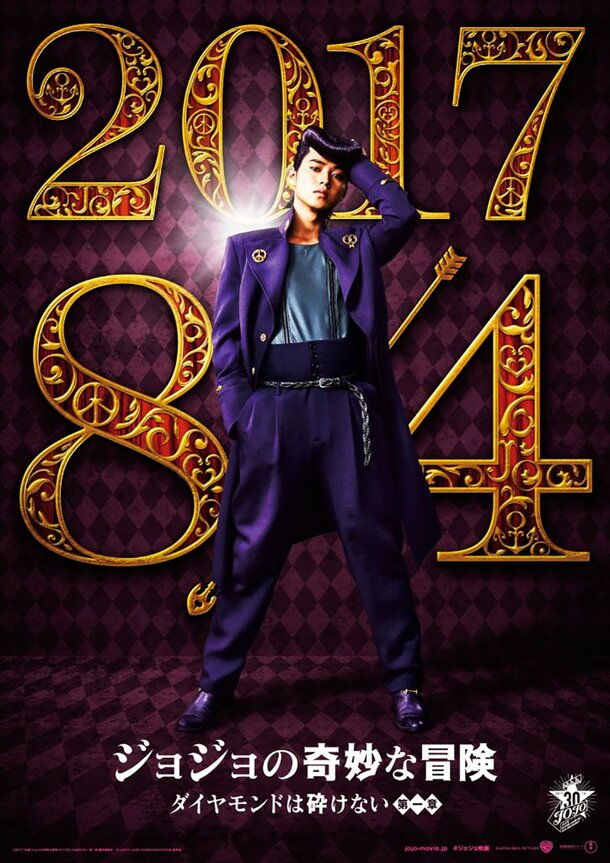 More than 100 million copies of Araki Hirohiko's original manga JoJo's Bizarre Adventure have been printed, and it earned 2nd place in the top 100 series in the manga category of the Japan Media Arts rankings. The series is also loved abroad, even seen as a "Bible for Life" by many celebrated creators and entrepreneurs. As such, Araki was chosen as the sole manga artist of Nikkei Business' list of "top 100 creators of the next era."
The 1st part of the JoJo series is set in England at the end of the 19th century, and the franchises introduces the battles of the Joestar family generations. This film is based on the 4th part, Diamond is Unbreakable. Protagonist Higashikata Josuke is a high schooler living in the town of Morioh. He's gentle and sociable, making him popular among his female classmates, but he also snaps if anyone disses his hair. That same famous hairstyle appears in the new visual, with Yamazaki looking confident in Josuke's purple school uniform and accessories.
Yamazaki said about the hair and costume, "Josuke himself is really picky about his hair and clothes, so I really put myself into this as Josuke. I'm acting as Josuke, but it's important to get the look right, as well. I think this hair and these clothes are very familiar to Sitges."
This film will also feature top Japanese actors including Kamiki Ryunosuke as Hirose Koichi, Komatsu Nana as Yamagishi Yukako, Okada Masaki as Nijimura Keicho, Maeda Mackenyu as Nijimura Okuyasu, Mizuki Alisa as Higashikata Tomoko, Kunimura Jun as Higashikata Ryohei, Yamada Takayuki as Katagiri Anjuro, and Iseya Yusuke as Kujo Jotaro.
Miike Takashi is putting everything as director into this production, which will hopefully become a series. Here's hoping for more updates as we get closer to the release date!
JoJo's Bizarre Adventure: Diamond is Unbreakable - Chapter 1 Film
Opens Nationwide on 8/4/2017
■ Original Work: Araki Hirohiko (Shueisha Jump Comics)
■ Director: Miike Takashi
■ Starring: Yamazaki Kento, Kamiki Ryunosuke, Komatsu Nana, Okada Masaki, Maeda Mackenyu, Mizuki Alisa, Kunimura Jun, Yamada Takayuki, Iseya Yusuke
■ Distribution: Toho / Warner Bros. Pictures
(C) JoJo's Bizarre Adventure: Diamond is Unbreakable - Chapter 1 2017 Film Production Committee (C) Lucky Land Communications / Shueisha