Mori Eto's light novel Dive!! is being adapted into a TV anime planned to air in July 2017 on Fuji TV's Noitamina block. This was revealed along with details about the main staff, cast, and a visual.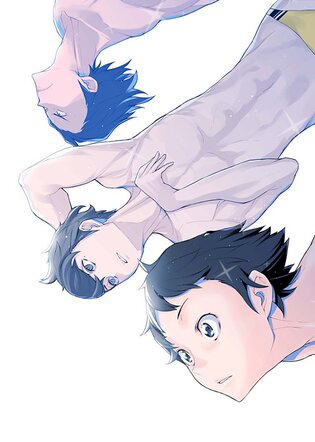 Dive!! is a light novel that was first published in 2000 by Mori Eto. Since then it's been adapted into a variety of media including a radio drama, film, and manga, but now it's finally being made into an anime.
The story follows the Mizuki Diving Club, a club that's barely getting by. The club can only continue if they make an appearance at the Olympics, and it follows the boys as they practice and grow.
The anime will be directed by Suzuki Kaoru (**Battery**, Pupipo!) and written by Machida Touko (**Show by Rock!!**, Endride). Character design will be done by Yasuda Suzuhito, also known for working on the manga Yozakura Quartet and light novel Durarara!!. Animation will be done by Zero-G. Protagonist Sakai Tomoki will be played by Kaji Yuuki.
Mori Eto commented, "Just 1.4 seconds. Diving is an instant sport. The dreams of these boys are hanging on that moment and passion, and from the bottom of my heart, I'm looking forward to seeing their everyday trials on the new stage of animation."
The official site for this work is also up, and a PV narrated by Kaji Yuuki has been released. It's catching everyone's attention as a summer movie.
(C) 2017 Mori Eto・Kadokawa Bunko / Dive!! Anime Product Committee