Yuri!!! on Ice is an unprecedented figure skating anime that began airing this past October. The series has been leading up to the Figure Skating Grand Prix Final, and Oda Nobunari will be performing as himself to explain it. This is the first time Oda has made an anime cameo like this.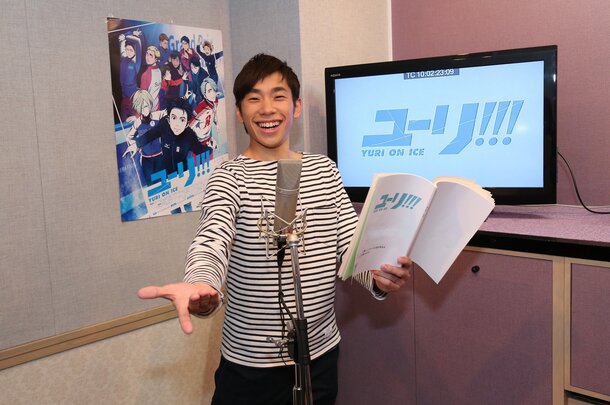 You can really feel the passion by the creators of this work like the choreography by former figure skater Miyamoto Kenji. In addition to Toyonaga Toshiyuki (Ryuugamine Mikado in Durarara!!, etc) as the protagonist Katsuki Yuri, Suwabe Junichi (Aomine Daiki in Kuroko no Basuke, etc) as the living legend known worldwide, Victor Nikiforov, and Uchiyama Koki (Tsukishima Kei in Haikyu!!, etc) as the "other Yuri," Yuri Plisetsky, a number of popular voice actors have been brought together for this instant hit including Fukuyama Jun, Yajima Akiko, Miyano Mamoru, and Ono Kensho.
Oda will be making an appearance in episode 11 airing on Dec. 15. He will be doing commentary on the short programs by Yuri and the other skaters during the Grand Prix Finals! Oda is a big fan himself, saying, "Even if it's just once, I want to appear as myself and narrate Yuri's performance!" He also commented, "Yuri (K.) is my favorite character. The way he has to overcome his weakness is something I experienced while competing, too." This anime has been a big hit among both current and former skaters, and he said, "I want to brag about them!"
The post dub voice of the hot-blooded Morooka Hisashi is Kato Taihei (TV Asahi announcer), and he acts as the announcer. It'll be just these 2 doing the commentary and play-by-play announcements during the Grand Prix series, and it'll feel just like you're watching the real Grand Prix Finals!
Oda said after recording, "I was there with Kato, so I was able to relax and give commentary as usual! The timing of the lines was also like using commentary, so so I think I was able to keep up with it." When asked about other characters he'd like to voice, he said, "I want to voice a cute character or animal I think. I actually like cats, so I'm good at copying their meows haha."
Episode 11 of Yuri!!! on Ice will air on TV Asahi on Dec. 15 at 2:00 am.