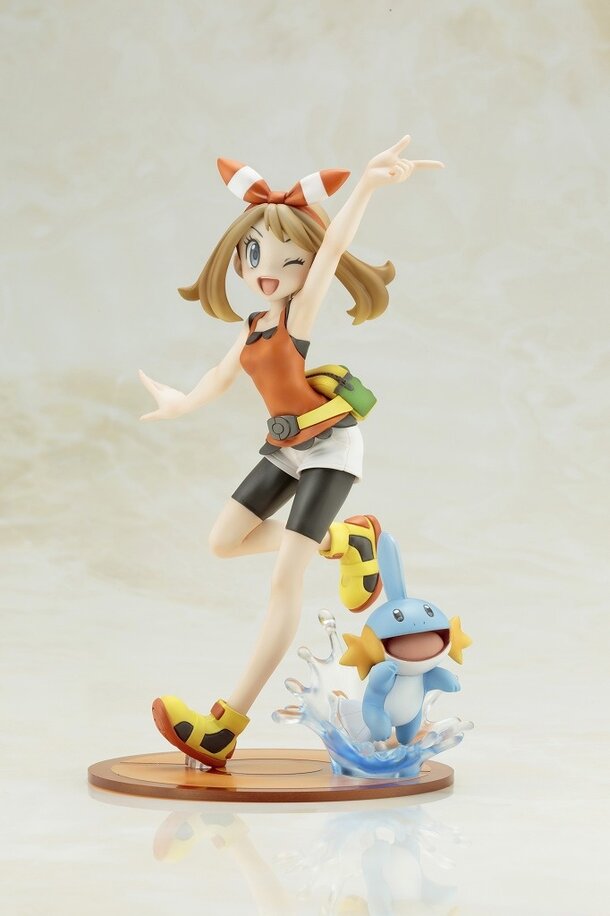 You might have caught all the Pokémon there is to catch, but have you collected all the Pokémon figures there are to collect?
Kotobukiya is releasing trainer May and her partner Mudkip as a two-character figure in their ArtFX J series in April 2017. Hitoshi Ariga, who has worked on a great number of illustrations for the worldwide phenomenon Pokémon, was behind the illustration this figure is based off of.
This lovely figure radiates a cheerful atmosphere right off the bat, with May sporting a fun pose with her long limbs stretched out, grinning with a playful wink. Beside May, her adorable Mudkip flies out of water with a big grin of its own.
May is dressed in her trademark clothes, which includes a tank, tights, cute ribbon, colorful sneakers, and even her handy waist bag! Everything from her face down to the particulars of her clothing have been perfectly created to appease even her biggest fans. The same can also be said of her Mudkip, especially so with the translucent materials used for the water that give off a refreshing and lifelike sensation.
Propped on a brown Pokéball base, this figure easily exudes the excitement and happiness that one must feel when they become a Pokémon Trainer! And if it's purchased from a Kotobukiya shop, it'll also come with a colored version with the illustration the figure was based off of, drawn specially by Hitoshi Ariga himself.
Product Details
・Name: ArtFX J May with Mudkip
・Heights (approx.): May (195 mm) / Mudkip (70 mm)
・Price: 8,500 yen (plus tax)
・Release Month: April 2017
©2016 Pokémon
©1995-2016 Nintendo / Creatures Inc. / GAME FREAK Inc.