News from upcoming rugby anime All Out!! is continuing to roll in! In addition to a second round of key visual reveals, details about the cast and advance screening events have also been released. The anime itself will be broadcasted from as early as October 6.
With the recent update, visuals are now available for Gion Kenji and all the main characters of the club, including coach Komori Shingo. Accompanied by the catchphrase "Give it everything you've got!", the team is shown as a confident and well focused unit in the latest image.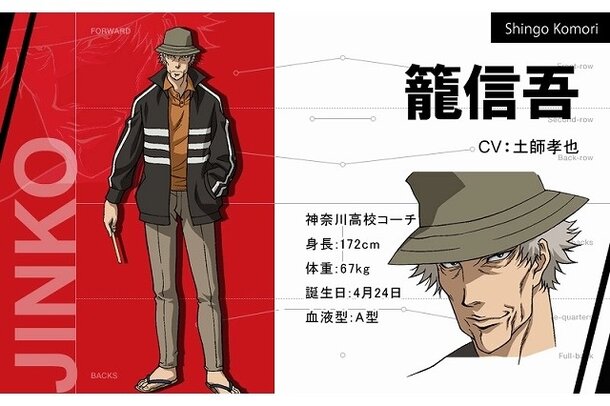 Komori Shingo will be voiced by Hashi Takaya, who will assume the role of Kanagawa High School's rugby coach. Just how Hashi will express the ultra tough love of coach Komori is something that we are certainly looking forward to.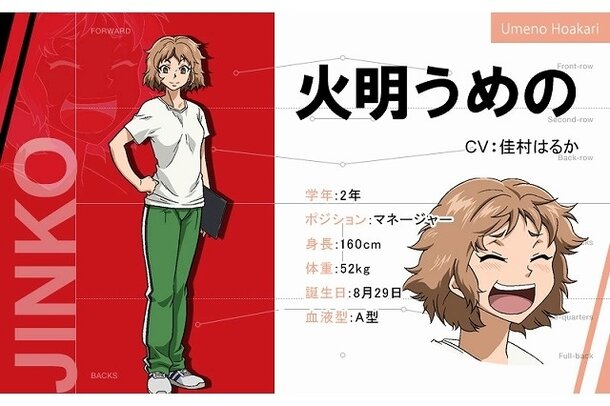 Second grade club manager Hoakari Umeno, another member supporting the club, will be voiced by Yoshimura Haruka. For those who don't already know, Umeno is an energetic support member who tackles problems effectively. She is also the one who teaches Kenji about rugby with a raging passion.
Broadcasting of All Out!! will begin from October 6 on TOKYO MX and run every Thursday. It will be made available on MBS from October 7, and on BS11 from the 8th. Before it all begins, fans will have a chance to take a sneak peek on September 25 during an advance screening event. Held at Cinema Sunshine Ikebukuro, the event will also include a talk show where main cast members Chiba Shoya, Adachi Yuto, Hosoya Yoshimasa, Osaka Ryota, and Murata Taishi will tell us all about the anime and its appeal. Tickets for the event will be open for pre-order from August 27, and regular sales will take place from September 3.
For those who cannot make it to the event, there is an official Kanagawa High Rugby Club campaign that can help you get in the game! By "joining the club" from the campaign website, fans will receive a special stamp that can be used over their Twitter icon to support the club. Exclusive character voice samples are also available on the site, so be sure to check it out!
Episode 1 Advance Screening and Talk Show Event
Date: Sunday, September 25 from 6:00pm
Venue: Cinema Sunshine Ikebukuro
Speakers: Chiba Shoya (Gion Kenji), Adachi Yuto (Iwashimizu Sumiaki), Hosoya Yoshimasa (Sekizen Takuya), Osaka Ryota (Hachioji Mutsumi), and Murata Taishi (Ebumi Masaru)
Tickets: 3,000 Yen
Broadcast Dates
TOKYO MX: Every Thursday from 12:00 am ~ 12:30 am from October 6
MBS: Every Friday from 5:10 am ~ 5:40 am from October 7
BS11: Every Saturday from 3:00 am ~ 3:30 am from October 8
(C)Amase Shiori・Kodansha / Kanagawa High Rugby Club
Adapted with permission from animeanime by Bill H.