Here are a few places previously featured on Tokyo Girls' Update that boast extra large helpings and are available in several locations throughout Tokyo.
If you are still feeling hungry after eating a box of bite-sized takoyaki (octopus dumplings), it might be time to step things up with a visit to Bakudan Yaki Honpo where they make things 8 times as big? With a diameter of 8cm and weighing in at 200g, one jumbo-sized takoyaki fills a small oyster pail. Popular with young people, and with about 30 stores all over Japan, this is one street food that may put the brakes on an all day stroll about town!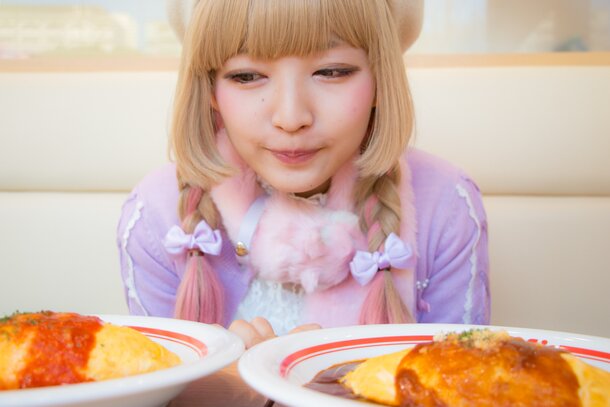 Omurice is one of Japan's original Western-style foods that can be found just about anywhere but, if you're feeling a bit adventurous and have an appetite that needs to be subdued, Pomme no Ki might be the place to go. They have 30 varieties of omurice and 5 different sizes as well as pasta, salads, and desserts on their menu so you can adjust according to your level of hunger. The 2 dishes in the picture above are SS-sized but the LL is 6 times as big! Does the idea of an omurice made with 8 eggs and 8 bowls of rice seem like something you want to check off your list?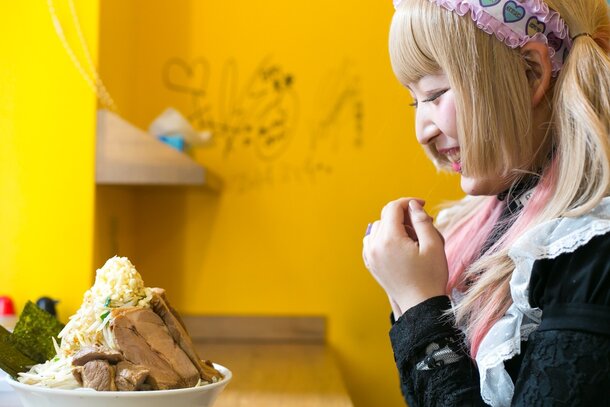 How can you not get slightly excited about a place that serves something called the "Mega Pork Yarou Ramen", especially when there's an "Otokomaemori" ("manly size")? It's literally a small mountain of ramen in a bowl big enough to fit your head inside! There are more than 20 locations of Yarou Ramen in the Kanto area so you are never too far from a food battle where only one can win! There are less intimidating sizes available for those with small children.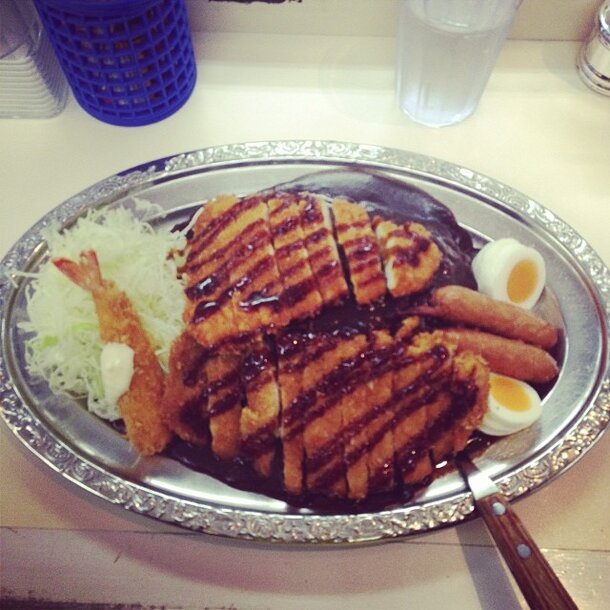 A Japanese chain with locations overseas, the regular orders at Go Go Curry are filling but, somehow they decided that was not enough. Their "Major Curry" (pictures above) has a pork cutlet, chicken cutlet, 2 sausages, a fried shrimp, and a sliced hard-boiled egg on top of a platter of rice and garnished with shredded cabbage. The "World Champion Curry", which is limited to 5 per day, kicks things up a notch with 1.5kgs of rice, 2 more sausages and an extra fried shrimp. If you're aiming to win the curry eating championship organized by Go Go Curry, this is where you need to begin.
In Japan, there are two main ways that hamburger meat is prepared. Hamburg is the general term for a hamburger steak (oddly enough, people don't call it a hamburger steak even though that's what it is) that is usually served on a sizzling grill with rice on the side. A burger is the variation that comes in a bun, like the kind you would typically see at McDonald's. Here are a few places that serve up hamburgers for people hungry enough to eat a cow.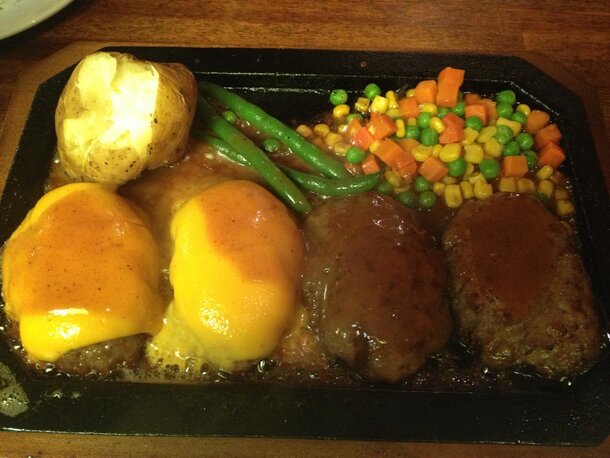 Gold Rush has been serving up sizzling hamburger steaks in Tokyo since 1980 and they show no signs of cooling off anytime soon! The servings come in 150g, 200g, 300g, and 450g so, no matter how hungry you think you might be, you will not be left wanting! Also located in the same building as their Shibuya location are several music venues so you can potentially try to shake off your food coma by getting out on the dance floor after.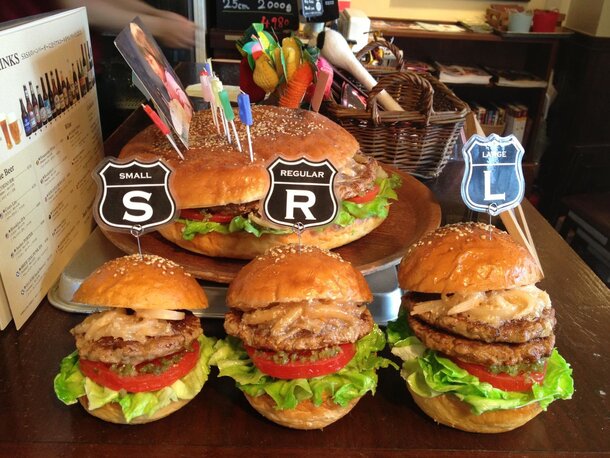 Ranging from 80g all the way up to the 2kg Birthday Burger, Sasa Burger has many options for those looking to wrap their lips around some handmade 100% Japanese beef burgers. Even if you elect not to make the commitment to what could be your "Last Supper" (the Birthday Burger must be ordered 5 days in advance), Sasa Burger is among the best in the Kanto area and features charming retro decor that manages to avoid being overbearing.
In the case where you want to eat big but try to stay healthy, here is a restaurant that attempts to do both at once.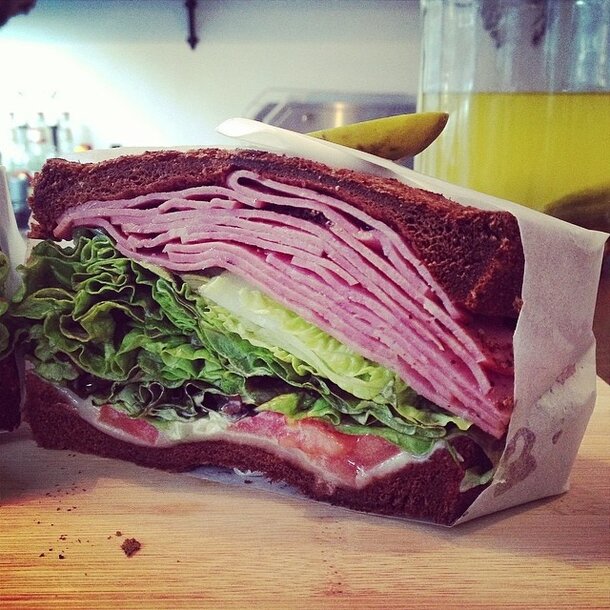 You can find sandwiches at conbini all over Japan but, sometimes crustless white bread can leave you craving some turkey or patrami on whole grain or dark rye. Located in the fashionable Daikanyama district of Shibuya, King George has been serving up healthy and filling sandwiches, salads, and smoothies as well as sophisticated cocktails since 2013. At least you can dispel some of the guilt associated with eating something that barely fits in your mouth by showing others all the fresh vegetables packed into a King George sandwich?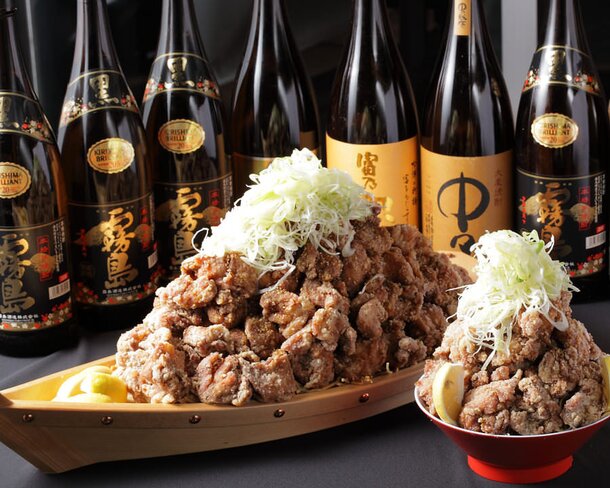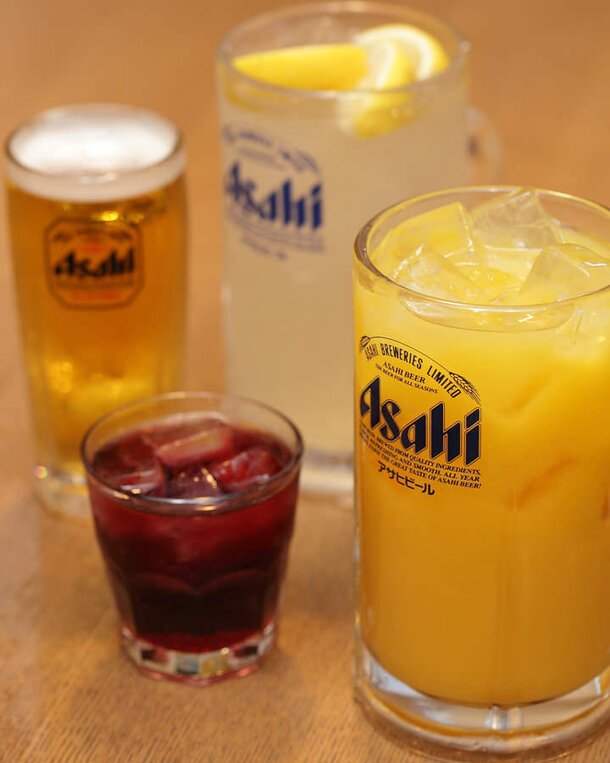 Known for their "bakamori" (ridiculous-sized) menu, the Chiba-chan chain of izakaya is well equipped to handle large gatherings and large-sized customers. Just look at how the "bakamori" portions tower over the regular-sized ones! However, the drawback of having a beer mug the size of a small barrel is that it tends to get warm before you finish drinking it. Chiba-chan is worth going to at least once just so you can shock and awe people with the boats of karaage chicken and mountains of fried potatoes piled upon pizza-sized plates.
Obviously, this is far from all the places in Japan or even Tokyo that have L-sized food but, just a small taste of what chefs have cooked up to capture the imagination of their customers. While Tokyo is a place where people tend to walk quite a bit, that shouldn't give you a green light to eat like this every day or every week because no matter how active you are, there is no way to outwork your fork (or chopsticks).