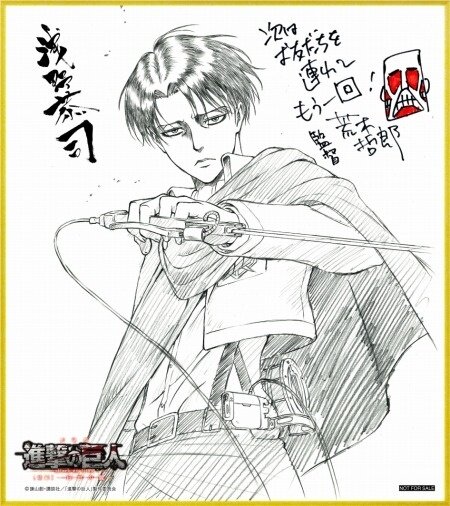 The week 3 present limited to first-come moviegoers to Attack on Titan Part 2: Wings of Freedom, which released in theaters June 27, has been announced. The present is a miniature art board of Levi, who's an especially popular character in the series.
For the movie, a lineup of presents for moviegoers have been created using illustrations drawn just for the occasion by character designer Kyoji Asano that are changed on a weekly basis. Week 1 was Erwin Smith, week 2 was Zoe Hange, and now we've come to the item for week 3.
The week 3 bonus features Levi, humanity's strongest soldier. This popular character who has incredible power and unshakable resolve finally appears in the bonus lineup. The art board features a comment from director Tetsuro Araki that reads "Next up is seeing it again with a friend!" and an illustration of a cute Colossal Titan. This bonus as well is another must-have collector's item for fans.
The presents for moviegoers are all limited in quantity, and distribution will end once quantities run out. Those who are certain they want it should get to the theater sooner rather than later. Also, only one is being given out per person, so even if you buy multiple tickets to the same screening you'll only get one. The week 3 present will begin being distributed in theaters on July 11.
The original work to Attack on Titan is a manga by Hajime Isayama that has broken through 40 million total copies in print. Attack on Titan Part 2: Wings of Freedom is a re-edit of episodes 14-25 of the TV anime broadcast in 2013, and features newly dubbed 5.1-channel remastered audio. Directing the movie is Tetsuro Araki of Death Note and Guilty Crown fame who continues his role from the TV anime.
The second season of the TV anime is also slated for sometime in 2016. With the first part of the live-action film Attack on Titan slated to be released Japan-wide on Aug. 1 and the second part on Sept. 19, it seems the series' momentum will only pick up from here.
Source: animeanime
Source article written by Katsunori Takahashi