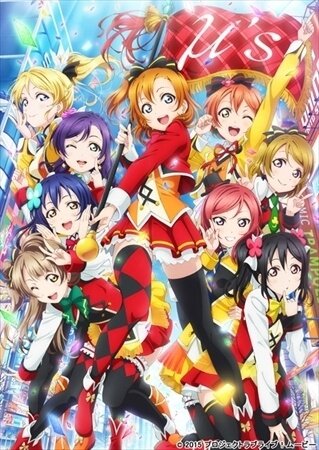 Love Live! is continuing to bring excitement in the form of events and games, on top of having two completed anime seasons. The movie fans have been anxiously awaiting, Love Live! μ's Go→Go! Love Live! 2015 - Dream Sensation, will be released on June 13. With less than a month left until the release, there are no doubt many Love Livers who can't wait.
Overseas releases of the movie have also been confirmed. Retitled Love Live! The School Idol Movie, it will be released in 13 countries this August.
Love Live! has a huge fanbase not just in Japan but worldwide as well. Overseas viewings of the concert event "μ's Go→Go! Love Live! 2015 - Dream Sensation" held in February of this year and featuring the main cast will be held in countries all over Asia. This alone is surely enough to make many fans happy.
The English title of the movie is Love Live! The School Idol Movie, and it will be released in August, roughly two months after its initial release in Japan. The movie will be released in 13 countries including Taiwan, Hong Kong, South Korea, Thailand, and Singapore for Asia, as well as the U.S., Australia, and New Zealand. In celebration of its overseas release, Emi Nitta, the voice of Honoka Kosaka, has released a video with a message for fans overseas.
On top of delightful words for overseas fans who support the series, she gave the following appeal: "I want to bring even more smiles and energy to everyone. I think that everyone will fall in love with Love Live! more and more with this movie. Please look forward to it!"
Also, coming before the release, a special countdown page has opened on the official site. Beginning nine weeks before the release, each character is being highlighted through special content on a rotating weekly basis. Cast comments are also available from Sora Tokui, Yurika Kubo, Aina Kusuda, Pile, and Riho Iida. They offer movie highlights and messages of gratitude to fans. Be sure to check out the updates from hereon.
[Overseas Release Schedule]
■ Taiwan: Early August 2015 (Taipei and other major cities)
■ Hong Kong: Aug. 6, 2015
■ South Korea: Early August 2015 (Seoul, Busan, and other major cities)
■ Thailand: Late August 2015 (Bangkok)
■ U.S.: Sept. 12, 2015 (Los Angeles, San Francisco, New York, Washington D.C., Dallas, and other major cities)
■ Australia: September 2015 (Weekend release in Melbourne, Sydney, Brisbane, Caberra, and other major cities)
■ New Zealand: September 2015 (Weekend release in Auckland, Welliton and other major cities)
■ Malaysia: Oct. 1, 2015
■ Philippines: Oct. 1, 2015
■ Singapore: Oct. 8, 2015 (Premiere Event)
■ Vietnam: Early October 2015
■ Indonesia: Oct. 21, 2015
Source: animeanime
Source article written by Shigeyoshi Okimoto