A live action film adaptation of the manga My Love Story!! has been announced, gathering instant attention online.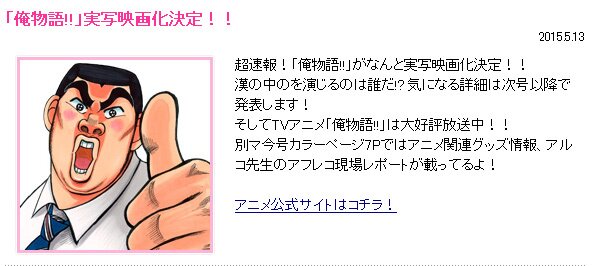 The film is based on the original work by Kazune Kawahara and illustrator Arco that has been serialized in Shueisha's Bessatsu Margaret since 2012. The work is a comedy that follows main character Takeo Goda, a high schooler who has a ferocious appearance but is kindhearted to everyone. When it comes to main male characters in shoujo manga, hunky guys are the standard fare, but in Takeo's case, when it comes down to it he's more like the character Jae An. Even still, the series' popularity grew, and in 2013 it won the Kodansha Manga Award in the shoujo category. A TV anime is also currently broadcasting.
The announcement this time is just to confirm a live action film has been greenlit, no information on the cast has been revealed. More details will be published in sequence beginning in the July issue of Bessatsu Margaret.
Regarding this announcement, attention has gathered online as to who will play the role of main character Takeo Godo who is, at rough estimate, said to be about 2 meters tall and 120 kilograms in weight, with names from all different fields flying about including Hideki Matsui, Koji Murofushi, Naoya Ogawa, Shingo Katori, Bob Sapp, Tetsu Inada, Nobuhiko Takada, Takamisakari, Riki Takeuchi, and others.
By the way, the series has plenty of absurd scenes, like Takeo running into a burning building and propping up the fallen rebar. Just how much of the original story will be adapted into the live action film will be a point of considerable interest from hereon.