The titans are coming, and they're hungry. Based on the anime and manga megahit, Attack on Titan, the newest Real Escape Game (REG) takes players to a world inhabited by giant, humanoid creatures that live for no other purpose than to make a snack of all of us. The high walls of the stadium are the only thing keeping you safe... for now.
Experience the latest edition of SCRAP's interactive storytelling and puzzle-solving games, ̈Escape from the Walled City, ̈ on a scale never seen before. Join thousands of other players as you decode clues inside a real stadium! Each REG requires participants to use their best detective skills as they race against the clock.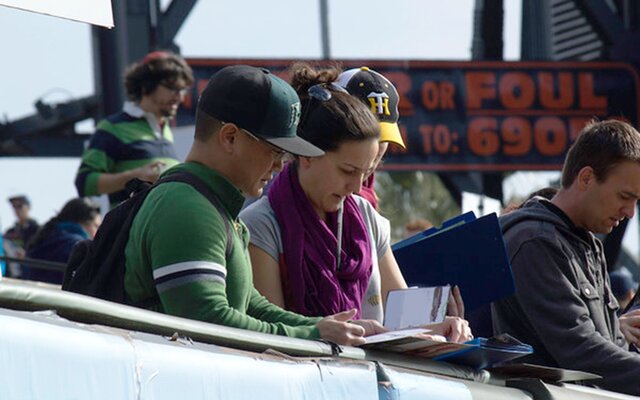 Be warned, though: survival isn't easy, and teamwork will be essential if you hope to survive. Escape or not, the game is going to be killer! ̈Escape from the Walled City ̈ will be held in stadiums in Los Angeles, and New York City. After already hosting over 40,000 players in the US to date, the SCRAP team is excited to present a new project with such a grand scope, keeping them at the forefront of live escape entertainment.
LA: WEINGART STADIUM AT ELAC
Mar 21st, 2015 Tickets : Advance $30/Door $35
SF: AT&T PARK
Feb 1st, 2015
What is "Attack on Titan"
Attack on Titan (進撃の巨人 Shingeki no Kyojin) is a Japanese manga written and illustrated by Hajime Isayama. Devastated by insatiable man-eating giants called Titans, the entire human race has retreated to the safety of a single city protected by 164 ft-high walls. But with the appearance of an immense Titan, humanity realizes that its defenses may no longer be enough, and it teeters on the brink of extinction.
What Makes Real Escape Games So exciting?
Real Escape Games place you physically inside the story being told. When you read a book, you can visualize the world being described. When you play a video game, you can be drawn in. But you're still not physically inside the story. REG successfully combines these elements by bringing the story to you in an active, engaging, and very real way. Just like the adventures you had reading your favorite books as a child, each REG is a window into a narrative world. It's an interactive tale that you and your teammates face head on. It's your chance to live the adventure, solve the mystery, and become a hero.
History of Real Escape Game 41,000 Players from 2012-2014
Real Escape Game made its US debut in San Francisco in 2012, and seven different games have been held since. In 2014, REG expanded to other cities including Los Angeles, Toronto, Seattle, and New York City. Most recently, a permanent Real Escape Room installation opened in San Jose. Across all seven games in the past two years, over 41,000 players have enjoyed solving SCRAP's puzzles.
About SCRAP
SCRAP Entertainment Inc., founded in 2012, is a relatively new and growing company that produces Real Escape Games in the United States. The staff is responsible for localizing the original Japanese games, organizing each event, running all live operations, and creating unforgettable game play experiences for their fans. The SCRAP office is located inside the NEW PEOPLE building, a 20,000 square foot entertainment complex situated right in the heart of San Francisco's Japan town.
SCRAP Official Web Site
SCRAP CO. (JAPAN)
SCRAP's Facebook Page
TWITTER @realegame
ADRESS 1746 Post Street, San Francisco, CA94115