Yuu is an illustrator who fastidiously draws each work, paying attention to the composition as a whole as well as the finest details. This time, we talked to Yuu about the curtain design that conveys the artist's take on the world of Alice in Wonderland.
––Please tell us about your illustration for this curtain design. What are your favorite aspects and is there some point that you want to bring to our attention?
Since this work will be hung on the wall, I made a composition that uses movement to draw your attention from the bottom to the top. Also, because the theme is a Japanese-style Alice in Wonderland, I carefully drew even the small items and characters with great detail because I wanted them to convey the story as well. Now that my work can be seen on a large scale, I'm very pleased that everyone can enjoy the details.
––How long did it take to create this piece?
It took about one month to complete the work from the initial sketches to the final version.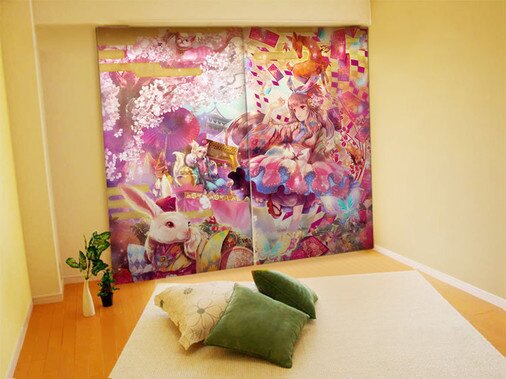 ––Were there any difficult parts with this piece?
Because I wanted to cram in many motifs, it was difficult to decide how to unify everything.
––Since this design would be used for a curtain, in comparison to a normal illustration, was there anything different that you needed to consider?
I made a conscious effort to have movement in the composition. In most of my work, I specialize in transforming two-dimensional parts, and doing something different for this curtain project was really fun.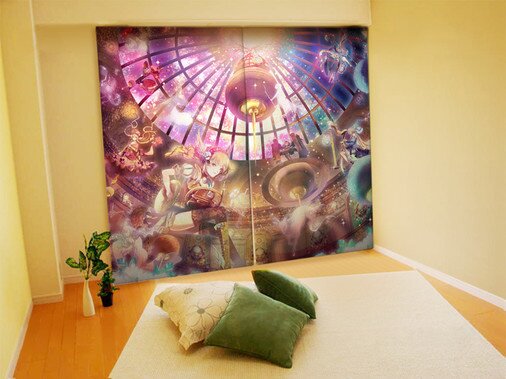 ––Have you seen the curtain in person? Please give your opinion on "ita-curtains."

I have not seen the printed curtain. However, I have received compliments from customers saying, "It's very gorgeous," and so on, so I'm very pleased.
––From here on, is there another product that you would like to collaborate with? If so, please share it with us.
I'm up for anything that is interesting. Since I'm currently creating many works that use light and are influenced by Art Nouveau, my dream would be to collaborate with something related to lighting.